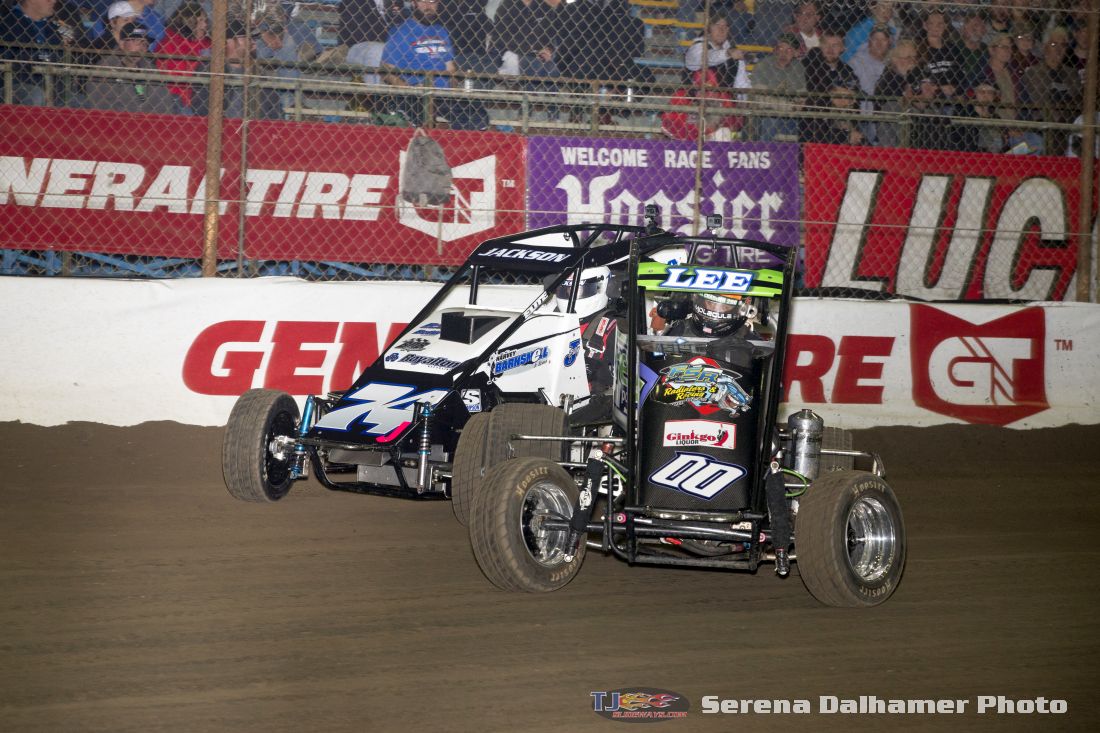 By T.J. buffenbarger
(January 16, 2018) — The 2018 Chili Bowl Nationals is in the history books and racing season is up to full speed at TJSlideways.com headquarters with schedules and news coming in a faster pace. Since my maiden trip to Tulsa in 2001 I've worked my way into jobs where the week of the Bowl is typically too busy for me to get away. While I much prefer being on site for an event the size of Chili Bowl the overview I get from the couch is a different perspective that I don't do all that often for major events.
Thankfully the online streams from Racinboys.com and lucasoilracing.tv kept me and race fans across the country in the loop. The stream quality from both entities was awesome from my end without a single blip the entire week of racing. While many companies seem to under spec or don't scale up their infrastructure for major events it was refreshing both entries were prepared for the user onslaught of one of the biggest events in motorsports.
Even losing the showdown between Christopher Bell and Kyle Larson for the win the racing couldn't damper five pretty decent main events. While the upsets outside of Andrew Felker making the main event after crashing during practice were few and far between, the racing was decent. It was clear all week with Keith Kunz Racing and Clauson Marshall Racing were the two favorites going into Saturday winning all the preliminary features. Even with the super teams domination of the top spots during feature time every night at least 2-3 races every night that seemingly had eye popping action from start to finish. That was just the on camera stuff for those of us that were not there.
Throw in Tanner Thorson and Ryan Bernal's charges through the field and from my perspective on the couch Saturday's program was highly entertaining. I did hear some grumbling among some friends of mine that go to an a lot of races during the year and contrast it with someone like NASCAR reporter Jeff Gluck's impression on his first visit and the quality 2018 Chili Bowl lands somewhere in the middle of that.
In this day and age you can find whatever perspective you want when it comes to the Chili Bowl or any other event. From my viewpoint the Chili Bowl is still the best way to start out every racing season. Someday work and family will work out for my return to the Tulsa Exposition center, but until then I was pleased viewing from my own living room.
Notes
I pointed out on Twitter immediately following Christopher Bell's winning interview that his visible disappointment in Kyle Larson's mechanical issue while racing for the lead was completely in line with his personality. Covering Bell for several years now you would be hard pressed to find a more humble person with his talent level. We should feel lucky to have such a great representative of midget and sprint car racing quickly rising up the highly visible NASCAR ranks.
Many of the same things said above apply to Larson. Comments earlier in the week on how important the Chili Bowl was got the NASCAR fans stirred up a bit and gave their press corps some mid-week material to write about. Being the Chili Bowl was that week it should be the most important race at that moment for Larson. Factor in as well that even though NASCAR drivers have what many consider an awesome job it's still just that, a job.
While the focus was on the Keith Kunz and Clauson-Marshall super teams
Rico Abreu's layoff following a crash at the 2017 4-Crown Nationals that left him with concussion symptoms and vertigo didn't seem to slow him down at all. Sporting a mullet haircut may have distracted from noticing Abreu could be in the best physical shape he's been in since joining the sprint car ranks. If he can stay healthy I'd look for a big season from Abreu.
Another name not mentioned often with the top mechanics, but should be, is Sean Michael. After making the transition from driver in Central Pennsylvania to his various mechanical achievements on the road with the World of Outlaws Michigan has most recently has visited victory lane with various sprint car and midget programs. Seeing Michael everywhere from the biggest midget and non-wing sprint car races to Greg Hodnett's team at the Knoxville Nationals last year with success I can only hope to have that awesome of a retirement someday.
Ryan Bernal career choice as fireman, but he still one of the "hottest" young commodities in sprint car racing. Bernal's run from the back of the field for a top five finish Saturday was impressive. Hopefully Midwest fans will have an opportunity to see him in action at some point this season.
Racers for Austim event raised a record $165,000 during the Chili Bowl Nationals. Kudos to the people involved that have kept that event going following the passing of Bryan Clauson.
Now that Chili Bowl is over its time to direct our attention down under to Australia's biggest week of sprint car racing leading into the Grand Annual Sprintcar Classic.