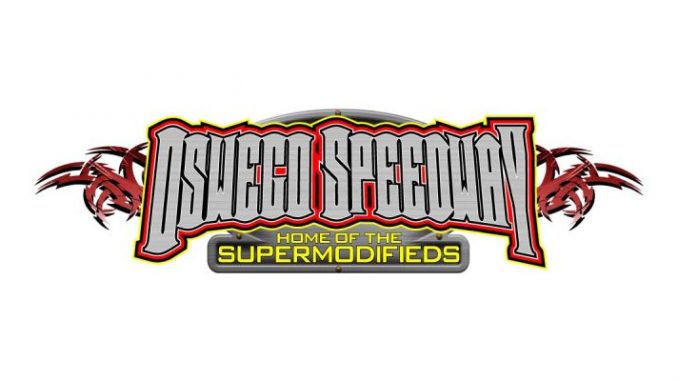 By Camden Proud
OSWEGO, NY (June 27, 2018) – Oswego Speedway has been off for two weeks following an exciting A&P Auto Parts 'Spring Championship, back on June 16, but this Saturday the track will come alive again for the 75-lap Independence Weekend 'Grand Prix' special presented by Century 21 Galloway Realty and Oswego D Bus.
With a total of five Novelis Supermodified feature events already completed this season due to the Twin 50's on May 26 and most recently the Twin 35's on June 16, three different drivers have visited victory lane including Dave Shullick Jr, Chris Perley, and Michael Barnes.
The race for the championship remains tight between Otto Sitterly and Keith Shampine out front, who have each finished in the top five for a total of four occasions to begin 2018 with Sitterly paying visits to the podium three out of those four times.
With his sweep of the Twin 35's, Barnes has jumped all the way up to third in the overall race to the championship with consistency and top tens paying off for Dave Gruel and Joe Gosek to complete the remaining spots in the top five three weeks in.
Rounding out the top ten are Dave Danzer and Aric Iosue in sixth and seventh with three top fives already racked up for Danzer and one trip to the podium for Iosue in last week's first Twin 35.
Defending champion Dave Shullick Jr. has two wins already, but is only eighth in points. He wrecked out of the second Twin 50 on May 26 after winning the first one, won on June 9, but the big story was the contact he had with Sitterly to brush the wall while leading the first Twin 35 on June 16 causing him to later retire from both feature events to take a major hit in the points race.
Rookie Tyler Thompson has been mighty impressive so far and sits ninth in the standings just ahead of Lou LeVea Jr's No. 83 in tenth.
This Saturday night, the championship hopefuls will be joined by a few fresh faces in former Indy Car star Davey Hamilton, who will pilot the reworked Nicotra Racing No. 7 in the 75-lapper for his first regular show in a handful of season.
Joining Hamilton as invaders for the extra distance main event are Canadian Dave McKnight as well as the No. 4 of Roger Clark, who will return to the speedway for the first time in just about twenty years when he makes his initial appearance this season with his reworked 1994 racer.
Brian Sobus will also be back in the driver's seat behind the wheel of the Schultzkie Racing No. 26 Supermodified. The car is Sobus' former No. 79 which was sold to Joe Schultzkie for his son Nathan prior to the start of the season. The Schultzkie family is on vacation this weekend and has tabbed Sobus as the temporary pilot.
Aiming for improvement after trying starts to their 2018 campaigns will be the No. 05 of Jeff Abold, the No. 02 of Brandon Bellinger, and the No. 01 of Dan Connors Jr, who will race this weekend with his backup car; the 2008 Xtreme Chassis that Doug Didero drove to victory on Classic Weekend of that year.
On the Pathfinder Bank SBS side of the pits, it appears as though Anthony Losurdo is currently the man to beat in the Missile Motorsports No. 1 machine owned by Mark Castiglia.

Losurdo is coming into the night as the points leader fresh off a victory on June 16, when he passed runner up point man Russ Brown and teammate Dan Kapuscinski to take the lead and go on to his sixth career Oswego victory. 'Hawk' has also been the D&S Landscaping Hard Charger for two out of the three races.
Brown, the original SBS champion when the class was formed in 1992, is looking for another championship this year and has been right there in contention just three points behind Losurdo in second with two podiums in three races to begin the season.
Defending Pathfinder Bank SBS champion Dave Cliff was caught up in an accident last week, but remains third in the standings after a win on Opening Night.
Kapuscinski is fourth in points and knocking on the door with two second place finishes in a row plus a heat win as 'Danny K' looks for his first career Small Block Super victory.

Veteran Jack Patrick, always a strong runner, rounds out the top five with three top ten finishes.
Sitting six through tenth are Mike Bond, the division's all-time win leader who added to that total with a win back on May 26, while David LaTulip, Barry Kingsley, Cameron Rowe, and Greg O'Connor are seventh on back.
Usual contenders Camden Proud, Dalton Doyle, and Mike Bruce are eleventh, twelfth, thirteenth and have had miserable starts to their seasons, but will each hope to turn that around come Saturday night.
Driver shake ups and additions in the Pathfinder Bank SBS division include former Mr. SBS AJ Bernys driving the Addison Bowman Racing No. 12 filling in for Dennis Richmond.
2015 Bud Light Classic 75 champion Bryan Haynes will fill the role of rookie Tyler Henry in the Pratt Racing No. 88.
Additionally, Brad Haynes is returning to drive the family owned No. 86 while Missile Motorsports team owner Mark Castiglia making his first start of the season with the David LaTulip No. 27 while LaTulip will be out of town for a wedding.
Fans are reminded that feature action this week will be 75 laps for the Novelis Supermodifieds and 35 laps for the Pathfinder Bank SBS in observance of Independence Weekend. The night's action will also include the second 'Fan Can Chase' of the year as well as a spectacular fireworks show to cap off the program which is free to all in attendance.
WHAT:
Novelis Supermodified 'Grand Prix' 75, Pathfinder Bank SBS 'Grand Prix' 35 Independence Weekend special plus FIREWORKS presented by Galloway Century 21 and Oswego D Bus.
WHEN:
Saturday, June 30, at Oswego Speedway in Oswego, NY. Pit gates will open at 3:00pm, grandstands at 4:30pm, hot laps at 4:30pm, time trials at 6:15pm, and racing at 6:45pm
WHERE:
Oswego Speedway is located at 300 East Albany St. in Oswego, NY.
TICKETS:
Padded reserved seats $22, general admission $17, Pit Passes $30, VIP $75. Tickets can be purchased in advance by calling (315) 342-0646. Kids 16 and under are FREE with a paid adult. Active military are free with proper ID.
ON THE INTERNET:
Oswego Speedway – www.OswegoSpeedway.com
Twitter – @OswegoSpeedway
Facebook – facebook.com/OswegoSpeedway
YouTube – OswegoSpeedwayOnline
Live updates can be seen on Twitter and Facebook. Live video can be purchased at AsphaltVision.com
ABOUT THE TRACK:
Oswego Speedway is a semi-banked 5/8 mile paved oval.  The non-wing Novelis Supermodified track record is held by Joey Payne with a time of 15.802 seconds at 142.397 mph, established on August 29, 2014.  The wing Supermodified track record is 14.730 seconds at 152.749 mph, set by Mike Lichty on May 28th, 2016. The official SBS track record is held by Russ Brown with a lap of 18.504 seconds at 121.595 mph set on September 2, 2016.
2018 Oswego Speedway – Novelis – Hoosier Tire – SUNOCO
Supermodified Driver's Championship:
POS. ## DRIVER PTS.
| | | | |
| --- | --- | --- | --- |
| 1 | 7 | Otto Sitterly | 485 |
| 2 | 55 | Keith Shampine | 483 |
| 3 | 68 | Michael Barnes** | 479 |
| 4 | 50 | Dave Gruel | 434 |
| 5 | 00 | Joe Gosek | 425 |
| 6 | 52 | Dave Danzer | 420 |
| 7 | 11 | Aric Iosue | 416 |
| 8 | 2 | Dave Shullick Jr.** | 413 |
| 9 | 98T | Tyler Thompson ® | 363 |
| 10 | 83 | Lou LeVea Jr. | 357 |
| 11 | 66 | Lou LeVea Sr. | 355 |
| 12 | 02 | Brandon Bellinger | 345 |
| 13 | 56 | Hal LaTulip | 344 |
| 14 | 71 | Bill Sharkey | 343 |
| 15 | 01 | Dan Connors Jr. | 328 |
| 16 | 26 | Nathan Schultzkie ® | 281 |
| 17 | 05 | Jeff Abold | 280 |
| 18 | 77 | Shaun Gosselin | 232 |
| 19 | 0 | Brent Murray ® | 207 |
| 20 | 44 | Chris Perley* | 187 |
| 21 | 25 | Dan Bowes | 150 |
| 22 | 94 | Logan Rayvals | 143 |
| 23 | 70 | Dave McKnight | 108 |