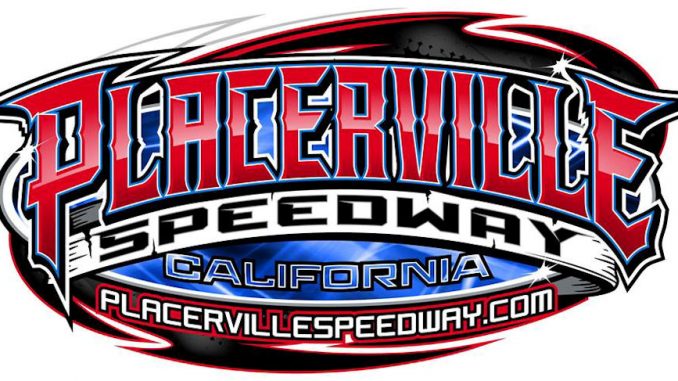 By Gary Thomas
Placerville, CA – July 25, 2020…After making the move under Andy Gregg on lap six Lincoln's Blake Carrick went on to lead the remaining distance in the feature to grab his first career Mark Forni Classic victory at the Placerville Speedway.
Sharing victory lane with Carrick at the 15th annual showcase was Jake Morgan, who captured a thrilling Joe Hunt Magnetos Wingless Tour main event, Jason Palmer with the Pure Stocks and Mike Miller with the Mini Trucks.
The 2013 winner of the Forni Classic Andy Gregg had a great night going by setting fast time, winning his heat race and then charging into the lead at the waving of the green flag in the feature. Gregg held command for the initial six laps before getting bound up on the cushion, which allowed Carrick to drive under him for the top spot. After that, the 16-year-old did a fabulous job working the cushion and drove off to claim the big triumph.
By winning from the pole Carrick also took home the Ken Nassi Tribute "Full Commitment Award" presented by the Gold Cup BBQ Crew. The award was worth an extra $675. Gregg hung strong to cap an impressive night in second, followed by Andy Forsberg, Shane Golobic and Colby Johnson rounding out the top-five. It was a very impressive run for Johnson who diced it up with several drivers up front. A total of 45 Winged Sprint Cars competed at the annual Forni Classic.
In the Joh Hunt Magnetos Wingless Tour portion of the night Jake Morgan had his way with things for much of the contest, but Tim Sherman and Bradley Terrell closed the gap towards the end. Multi-groove racing was seen for the non wingers and with a just a handful of laps left the fans watching at home were treated to excellent competition. Tim Sherman gave it everything he had but Morgan hit his marks and picked up yet another Placerville Speedway triumph.
15th Annual Mark Forni Classic
Placerville Speedway
Placerville, California
Saturday July 25, 2020
Winged 360 Sprint Cars
Qualifying:
1. 16X-Andy Gregg, 10.593
2. 2X-Chase Majdic, 10.620
3. 88N-D.J. Netto, 10.753
4. 56-Willie Croft, 10.753
5. 38-Colby Johnson, 10.766
6. 17W-Shane Golobic, 10.771
7. 5V-Sean Becker, 10.811
8. 9L-Cody Lamar, 10.827
9. 83V-Jodie Robinson, 10.836
10. 5T-Trent Canales, 10.837
11. 37-Mitchell Faccinto, 10.849
12. 38B-Blake Carrick, 10.876
13. 83T-Tanner Carrick, 10.876
14. 17X-Justin Sanders, 10.882
15. 1-Mitchel Moles, 10.890
16. 17-Kalib Henry, 10.913
17. 42X-Tim Kaeding, 10.923
18. 94X-Kyle Hirst, 10.927
19. 2XM-Max Mittry, 10.941
20. 7Z-Zane Blanchard, 10.956
21. 34-Ryan Bernal, 10.962
22. 5C-Colby Copeland, 10.966
23. X1-Andy Forsberg, 10.968
24. 7C-Justyn Cox, 10.974
25. 33T-Jimmy Trulli, 10.983
26. 14W-Ryan Robinson, 10.996
27. 23R-Tony Gualda, 11.008
28. 2-JJ Ringo, 11.050
29. 85-C.J. Humphreys, 11.051
30. 44-Jesse Love, 11.060
31. 88A-Joey Ancona, 11.066
32. 21-Shane Hopkins, 11.087
33. 9S-Landon Hurst, 11.108
34. 7H-Jake Haulot, 11.129
35. 93-Stephen Ingraham, 11.134
36. 72S-Brad Dillard, 11.135
37. 46JR-Joel Myers, 11.136
38. 94-Greg Decaires, 11.233
39. 12J-John Clark, 11.237
40. 2C-Cody Spencer, 11.306
41. 15-Michael Sellers, 11.449
42. 80N-Justin Bradway, 11.576
43. 98-Chris Masters, 11.580
44. 53-A.J. Alderman, 11.693
45. 5-Mike Cook, 12.348
46. 57A-Lonny Alton, 12.439
Heat Race #1:
1. 16X-Andy Gregg
2. 38-Colby Johnson
3. 88N-D.J. Netto
4. 37-Mitchell Faccinto
5. 2X-Chase Majdic
6. 42X-Tim Kaeding
7. 5T-Trent Canales
8. 23R-Tony Gualda
9. 12J-John Clark
10. 17-Kalib Henry
11. 9S-Landon Hurst
12. 57A-Lonny Alton
Heat Race #2:
1. 9L-Cody Lamar
2. 7Z-Zane Blanchard
3. 34-Ryan Bernal
4. 2-JJ Ringo
5. 83V-Jodie Robinson
6. 33T-Jimmy Trulli
7. 93-Stephen Ingraham
8. 94-Greg Decaires
9. 85-C.J. Humphreys
10. 72S-Brad Dillard
11. 5-Mike Cook
Heat Race #3:
1. 5V-Sean Becker
2. 17W-Shane Golobic
3. 83T-Tanner Carrick
4. 17X-Justin Sanders
5. 56-Willie Croft
6. 94X-Kyle Hirst
7. 5C-Colby Copeland
8. 44-Jesse Love
9. 88A-Joey Ancona
10. 2C-Cody Spencer
11. 98-Chris Masters
12. 7H-Jake Haulot
Heat Race #4:
1. X1-Andy Forsberg
2. 7C-Justyn Cox
3. 38B-Blake Carrick
4. 14W-Ryan Robinson
5. 21-Shane Hopkins
6. 1-Mitchel Moles
7. 46JR-Joel Myers
8. 15-Michael Sellers
9. 80N-Justin Bradway
10. 53-A.J. Alderman
11. 2XM-Max Mittry
C-Main:
1. 85-C.J. Humphreys
2. 88A-Joey Ancona
3. 80N-Justin Bradway
4. 9S-Landon Hurst
5. 2C-Cody Spencer
6. 7H-Jake Haulot
7. 12J-John Clark
8. 2XM-Max Mittry
9. 53-A.J. Alderman
10. 5-Mike Cook
11. 17-Kalib Henry
12. 72S-Brad Dillard
13. 98-Chris Masters
14. 57A-Lonny Alton
B-Main:
1. 42X-Tim Kaeding
2. 94X-Kyle Hirst
3. 5C-Colby Copeland
4. 1-Mitchel Moles
5. 33T-Jimmy Trulli
6. 5T-Trent Canales
7. 46JR-Joel Myers
8. 15-Michael Sellers
9. 44-Jesse Love
10. 23R-Tony Gualda
11. 88A-Joey Ancona
12. 93-Stephen Ingraham
13. 85-C.J. Humphreys
14. 94-Greg Decaires
A-Main:
1. 38B-Blake Carrick
2. 16X-Andy Gregg
3. X1-Andy Forsberg
4. 17W-Shane Golobic
5. 38-Colby Johnson
6. 88N-D.J. Netto
7. 83T-Tanner Carrick
8. 7Z-Zane Blanchard
9. 83V-Jodie Robinson
10. 34-Ryan Bernal
11. 42X-Tim Kaeding
12. 9L-Cody Lamar
13. 94X-Kyle Hirst
14. 14W-Ryan Robinson
15. 7C-Justyn Cox
16. 5C-Colby Copeland
17. 2-JJ Ringo
18. 21-Shane Hopkins
19. 2X-Chase Majdic
20. 17X-Justin Sanders
21. 37-Mitchell Faccinto
22. 1-Mitchel Moles
23. 5V-Sean Becker
24. 56-Willie Croft
Wingless Sprints
Qualifying:
1. 33B-Dylan Bloomfield, 12.511
2. 33-Matt Stewart, 12.558
3. 1J-Jake Morgan, 12.682
4. 3FT-David Lindt, 12.821
5. 73C-Cody Fendley, 12.883
6. 11M-Cameron Martin, 12.884
7. 22-Boy Moniz, 12.892
8. 14-Shawn Jones, 12.944
9. 33DJ-D.J. Johnson, 12.988
10. 1JR-Tim Sherman, 13.026
11. 6K-Daniel Whitley, 13.066
12. 7EJ-Josh Young, 13.082
13. 3-Nick Robfogel, 13.104
14. 11-Bradley Terrell, 13.112
15. 1-Terry Shank, 13.206
16. 551-Angelique Bell, 13.261
17. 1C-Jimmy Christian, 13.411
18. 50-Tony Bernard, 13.453
19. 69-Ron Laplant, 13.539
20. 9-Shayna Sylvia, 13.574
21. 5-Kaimi Moniz-Costa, 13.655
22. 60-Scott Clough, 13.702
23. R5-Rick Gutzke, 13.958
24. 49-Gary Cisco, 13.995
25. MR6-Rory McLaughlin, 15.703
26. 51-Shane Hopkins, NT
27. 3F-Matt Streeter, NT
28. 9V-Paul Vandenberg, NT
Heat Race #1:
1. 73C-Cody Fendley
2. 3-Nick Robfogel
3. 33DJ-D.J. Johnson
4. 1C-Jimmy Christian
5. 33B-Dylan Bloomfield
6. 5-Kaimi Moniz-Costa
7. MR6-Rory McLaughlin
Heat Race #2:
1. 11-Bradley Terrell
2. 1JR-Tim Sherman
3. 33-Matt Stewart
4. 50-Tony Bernard
5. 60-Scott Clough
6. 11M-Cameron Martin
7. 51-Shane Hopkins
Heat Race #3:
1. 1J-Jake Morgan
2. 1-Terry Shank
3. 69-Ron Laplant
4. 6K-Daniel Whitley
5. 22-Boy Moniz
6. R5-Rick Gutzke
7. 3F-Matt Streeter
Heat Race #4:
1. 551-Angelique Bell
2. 7EJ-Josh Young
3. 14-Shawn Jones
4. 9-Shayna Sylvia
5. 3FT-David Lindt
6. 49-Gary Cisco
7. 9V-Paul Vandenberg
B-Main:
1. 33B-Dylan Bloomfield
2. 22-Boy Moniz
3. 60-Scott Clough
4. 3FT-David Lindt
5. R5-Rick Gutzke
6. 5-Kaimi Moniz-Costa
7. 11M-Cameron Martin
8. 9V-Paul Vandenberg
9. 49-Gary Cisco
10. 3F-Matt Streeter
11. 51-Shane Hopkins
12. MR6-Rory McLaughlin
A-Main:
1. 1J-Jake Morgan
2. 1JR-Tim Sherman
3. 11-Bradley Terrell
4. 33-Matt Stewart
5. 33DJ-D.J. Johnson
6. 33B-Dylan Bloomfield
7. 14-Shawn Jones
8. 6K-Daniel Whitley
9. 22-Boy Moniz
10. 551-Angelique Bell
11. 9-Shayna Sylvia
12. 7EJ-Josh Young
13. 3-Nick Robfogel
14. 3FT-David Lindt
15. 1-Terry Shank
16. 50-Tony Bernard
17. 69-Ron Laplant
18. 60-Scott Clough
19. 1C-Jimmy Christian
20. 73C-Cody Fendley