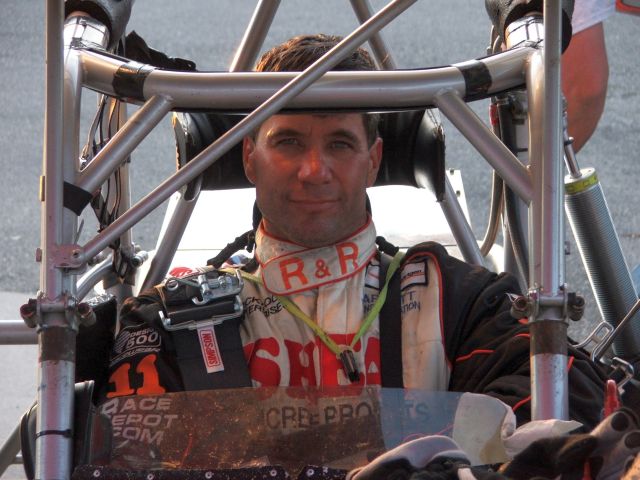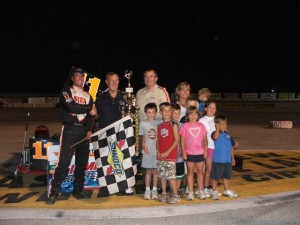 From T.J. Buffenbarger
Toledo, OH — (June 16, 2007) — Chris Perley won Saturday night's International Super Modified Association feature at the Toledo Speedway during the fastest short track race in the world.  Victory had eluded Perley, who has dominated the ISMA tour over the past two seasons.  This year Perley set fastest time overall in qualifications and took the lead from Dave McKnight with just over 20 laps to go and negotiated slower traffic to win his second ISMA feature of the 2007 season.
"I have to thank Vic Miller and the rest of the crew," said Perley afterwards.  "They give me a great car every time out."
Mark Sammut and Brad Litchy started on the front row for the 50 lapper.  Sammut jumped into the lead with Litchy and Dave McKnight on his back bumper.  The caution flat appeared immediately for Ryan Litt, who was unable to exit the track on the backstretch.
Sammut, Litchy, and McKnight continued to run up front when Burdette Bennett spun in turn two and D.J. Shullick also spun at the top of turn two, nearly collecting his teammate Moe Liljie.  Shullick was able to restart while Bennett went pitside.
Perley, who started ninth, began his charge through the field on the restart.  By lap 10 Perley had moved up to the fifth position and was running down the leaders.  Then on lap 14 the battle up front between the teammates heated up when McKnight took second from Litchy and Perley followed him through.
Litchy's run ended in spectacular style on lap 23 when his engine erupted in a ball of flame.  Thankfully Litchy was able to stop his car in turn one and exited without injury.  At the same time Litchy's teammate, NASCAR Craftsman Truck Series driver Johnny Benson, Jr., also experienced engine problems and retired while running in the top 10.
After the restart McKnight pressured Sammut and took the lead on lap 24 sneaking down to the bottom.  Perley sooned followed and began chasing McKnight for the top spot.  On lap 30 Perley got a run through turns three and four and took the lead from McKnight.  From there it was all Perley out front as he took the victory over McKnight, Sammut, D.J. Shullick after restarting at the tail of the field, and Ronnie Summers.
Perley was fast time overall with a lap of 13.116 seconds around the half mile at Toledo Speedway.  McKnight, Jeff Holbrook, and Bobby Manger won the heat race events.