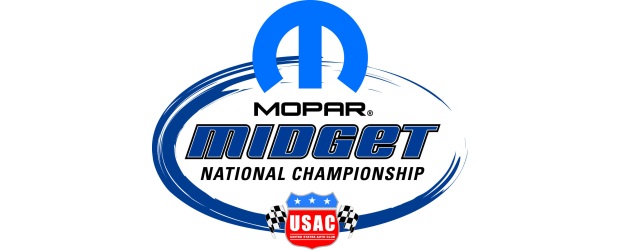 By Dick Jordan
At least four former winners of the "Turkey Night Grand Prix" USAC Mopar National/Western Midget race are planning to compete in Thursday's 70th running of one of America's most revered short-track races. The 98-lap race is slated at Toyota Speedway at Irwindale, Calif. as part of a "tripleheader" program also including the AMSOIL Western Sprint cars and the Western Ford Focuses.
Defending race winner Bryan Clauson will lock up the 2010 USAC Mopar National Midget championship while seeking to put a lid on the 2010 USAC National Championship, which carries with it a $40,000 cash bonus and a 2011 Firestone Indy Lights scholarship. A victory Thursday would make Clauson the first back-to-back race winner since Billy Boat won three in a row (1995-1996-1997).
Bobby Santos III (2008), Jason Leffler (1999 and 2005) and Bobby East (2004) are the others looking to repeat as winners of the storied race.
Alex Schutte hopes to enhance his chances for the 2010 USAC Mopar Western midget title, carrying a 31-point lead over Cory Kruseman and a 44-point lead over Robby Josett into Thursday's race with a possible rescheduling of last Saturday's rained-out Ventura race yet to be announced. If rescheduled, the Ventura race would be Friday night.
Thursday's race is the 12th "Turkey Night" to be held at Irwindale. Other tracks which have hosted the event are Gilmore Stadium (1934-1950), Gardena Stadium (1955-1959), Ascot Park (1960-1974 and 1976-1990), 605 Speedway in Irwindale (1975), Saugus Speedway (1991), Bakersfield Speedway (1992-1995 and 1998), Perris Auto Speedway (1996) and Ventura Raceway (1997).
A number of drivers will also be gunning for the prestigious Don Basile "Rookie of the Race" award in Thursday night's classic.
USAC MOPAR NATIONAL MIDGET SERIES POINT STANDINGS
1-Bryan Clauson-1,508, 2-Jerry Coons Jr.-1,408, 3-Tracy Hines-1,385, 4-Brad Kuhn-1,350, 5-Darren Hagen-1,318, 6-Dave Darland-1,171, 7-Bobby East-921, 8-Brad Sweet-860, 9-Zach Daum-819, 10-Brad Loyet-795.
USAC MOPAR WESTERN MIDGET SERIES POINT STANDINGS
1-Alex Schutte-692, 2-Cory Kruseman-661, 3-Robby Josett-648, 4-Randi Pankratz-398, 5-Jake Swanson-387, 6-Kody Swanson-354, 7-Cody Swanson-348, 8-Scott Pierovich-309, 9-Brad Loyet-254, 10-Sean Dodenhoff-250.
FINAL USAC MOPAR MIDGET SERIES DIRT POINT STANDINGS
1-Bryan Clauson-1,204, 2-Jerry Coons Jr.-1,163, 3-Brad Kuhn-1,125, 4-Tracy Hines-1,056, 5-Dave Darland-920, 6-Darren Hagen-918, 7-Brad Loyet-795, 8-Bobby East-671, 9-Zach Daum-631, 10-Brad Sweet-629.