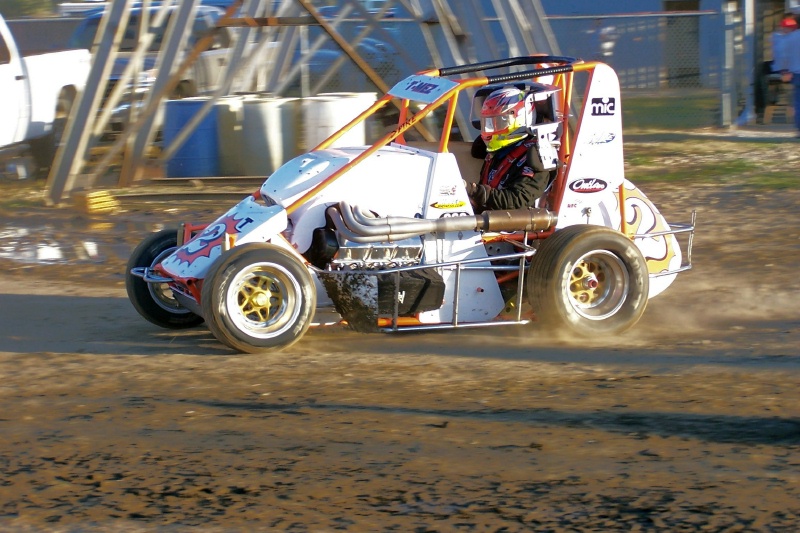 By T.J. Buffenbarger, Mudclodbob Photo
Before Christmas I stated on our Facebook page that Wednesday night's program appeared to be the most evenly matched of all of the Chili Bowl preliminary nights. I stand by that statement and completely believe that picking favorites to transfer into Saturday's A-Main from this group has a higher degree of difficulty. After large amounts of caffeine and debate during lunch over this and the best place to get a hamburger in Michigan, I bring you my Wednesday predictions for the Chili Bowl Nationals.
My favorites to win and/or move into Saturday's "A" feature include…
Brad Sweet – Sweet is electrifying in any open wheel car he straps into. Sweet has plenty of midget experience and an enthusiastic Kasey Kahne Racing team that would like nothing more than to take home a Golden Driller. Sweet is my pick to win Wednesday's prelim.
Bobby East – Even before spending more time on the dirt in recent years with his non-wing sprint car East has always sniffed around the Chili Bowl A-Main when opting to compete. East's dirt skills are over shadowed by his pavement success at times. Do not discount his chances to win on Wednesday night.
Damion Gardner – Gardner is a former winner of the Chili Bowl Nationals and is on the powerful Loyet racing team for the 2011 edition. This should propel Gardner back to the front of his Chili Bowl preliminary and lock him solidly into the field for Saturday.
It would not surprise me if….
…Zach Daum repeated his preliminary win from the 2010 edition of the Chili Bowl. Due to staying in the Midget and Silver Crown ranks Daum is not as much of a household name as many of the other Chili Bowl entries. Daum's prelim win from last year still doesn't compel me to place him in the favorites, but I would not be surprised if he earned a transfer spot into Saturday's feature based on his preliminary night finish.
…Gary Taylor makes me look bad for not placing him in my "favorites to win" category. Taylor is a lot like Sweet in the fact that winged or non-winged he just gets the job done. Taylor is also on the Loyet team this year and could have a break out Chili Bowl Nationals. Taylor being placed in our second tier of picks is a product of a very evenly matched Wednesday field.
…Thomas Meseraull's Gas City magic translates well over to the Chili Bowl. Drivers that run well at Gas City and Kokomo have a tendency to run well in Tulsa. Add in the fact that Meseraull wheeled midgets on a regular basis on the West Coast before moving to Indiana. It might surprise some if T-Mez piced up a direct ticket to Saturday's A-Main, but not us.
My dark horse picks to look out for on Wednesday include…
…Johnny Herrera ended up in our dark horse category simply because of a lack of experience in midget car racing over his lengthy career. Herrera has run well winged and non-winged over the past several years. If things come together Herrera could slide up into a transfer spot for Saturday.
…Cole Whitt simply because he has been wheeling taxi cabs all year and not racing open wheel cars. Whitt will knock the rust off, but will it be in time to make a big move during his preliminary night? Participating in the Race of Champions on Tuesday surely helped. I expect Whitt to do well and make the feature, just not through Wednesday's prelim.
…J.J. Yeley, just to see if I get burned again listing him in my Chili Bowl predictions. Every year I make some sort of prediction on the positive side involving Yeley and the Chili Bowl has ended up in alphabet soup or an early end to Yeley's Chili Bowl run. Yeley has not forgotten how to wheel a race car and if he can find a little bit of the magic he's used in the past to wade through the Chili Bowl gauntlet during Saturday programs and apply it to his preliminary night he could slide into a good position to make Saturday's feature.