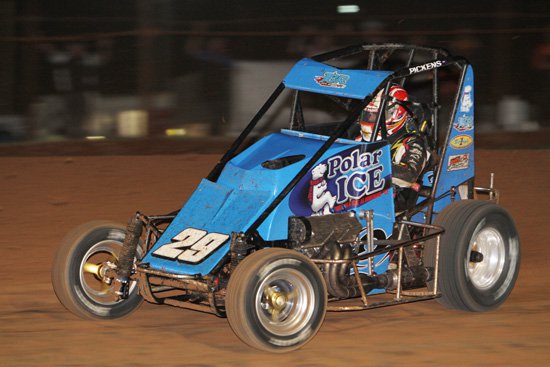 From Sydney Speedway
Sydney, AU — New Zealand's Michael Pickens took out the 69th New South Wales Speedcar Championship at Tyrepower Sydney Speedway on Saturday night, April 2.
Pickens becomes the first Kiwi to win the state midget title since the late Barry Butterworth took the crown driving the ex-Blair Shepherd Offenhauser at Liverpool City Raceway in 1971.
Second man home in the 2011 NSW championship was Matthew Jackson, while Tim Evans came from deep in the field to finish third.
The race belonged to Pickens after he took full advantage of his starting spot near the front of the field and raced into the lead in the early laps. He handled the slick track conditions superbly as he hugged the pole line and was never headed after lap four despite several yellow light periods.
"The car was excellent, the car had good speed all night," Pickens said after the win.
"There was enough track at the bottom to work with after we moved forward in the early laps."
Jackson looked impressive in the early laps as he made good use of the high line and raced into contention.
Defending titleholder Troy Jenkins made a strong forward move in the initial part of the race but was tagged from behind by Queensland's Adam Wallis in turn three. Both cars were sent to the rear of the field for the restart and with it went Jenkins' chances of a repeat state title win.
Two times NSW Championship winner Mark Brown also looked good in the early stages and was right at the forefront of the challengers before his race ended after he was spun out of contention in a traffic snarl in the charge to turn one. His car was too badly damaged and it was a disconsolate Brown who was forced to watch the remainder of the race as a spectator.
Nathan Smee and Darren Jenkins, both former winners of the state title, also were near the head of the field as they relentlessly chased Pickens before they both fell out of contention.
Meanwhile heats went to Brown, Matt Smith, Smee and Pickens. Smith struck engine problems after the heats and never figured in the championship final.
Brett Hignett dominated the Super Sedan heats with two wins and then took out the 15 lap feature, while the other heat winner was Paul Krinitis.
Runner-up in the Super Sedan feature race was Lachlan Onley, while John Brown was third.
Meanwhile the Lightning Sprint main event was dominated by Scott Lewin who claimed the victory from Jay Hall and Dean Meadows.
Lightning Sprint heats went to Glenn Shaw and Lewin.
The Street Stock feature race was won by Glenn Mitchell from Shane Carlson. Both drivers figured in an exciting battle which went right to the chequered flag. Third man home in the Street Stock feature race was David Giffen.