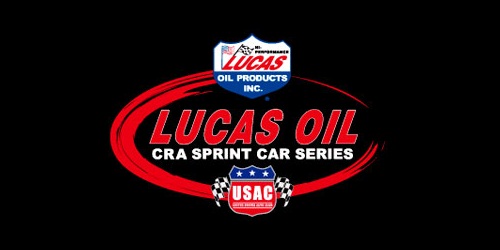 By Lance Jennings
SANTA MARIA, CA – JUNE 21, 2011… Officials with the Amsoil USAC/CRA Sprint Car Series and Canyon Speedway Park have announced the return of Traditional 410 Sprint Car Racing to Arizona. Scheduled for October 28th and 29th, the popular "Hall of Fame Classic" will host an incredible roster of talent from USAC/CRA, Arizona, New Mexico, and travelers with the USAC National Series a week before the Perris Oval Nationals.
"Kevin Montgomery and I have been working on this event for a while now and we are happy to see USAC coming back to Arizona," commented USAC/CRA Director Chris Kearns. "This will be a great event with an impressive purse and a great start to the USAC Western Swing."
Formerly held at Manzanita Speedway, the Hall of Fame Classic not only honors an elite group of racers to the Arizona Motorsports Hall of Fame, it showcases some of the best drivers in the country. Since Manzanita's closing in April 2009, track promoter Kevin Montgomery and his staff have pledged to continue the rich tradition and spirit of racing in Arizona. Past honorees include Hank Arnold, Roger McCluskey, Buddy Taylor, Lealand McSpadden, Ron Shuman, Larry Clark, and Windy McDonald.
Canyon Speedway Park's 3/8-mile facility will host two compete USAC/CRA programs. Starting on Friday, the 30-lap feature will pay $2500-to-win and $300 to-start. The purse for the Saturday night 40-lap finale will pay $5000-to-win and $500 to start. USAC/CRA rules are in effect.
Local 360 iron-block powered Sprint Cars are welcome to race with USAC/CRA. The 360s can run their local approved Hoosier tires, but must meet series tech standards and race track muffler rules. The Amsoil USAC/CRA Sprint Car Series does not have an entry fee or charge for transponders, but drivers must have one-way radios.
Canyon Speedway Park is located in North Peoria, Arizona off Lake Pleasant Parkway, then 1.3 miles west on Carefree Highway. For more event information, visit www.canyonspeedwaypark.com or call (602) 258-RACE (7223).
The Amsoil USAC/CRA Sprint Car Series would like to thank Hoosier Tire, Circle Track Performance, Competition Suspension Inc., DJ Safety, Donovan Engineering, Electro Tech Powder Coating, Extreme Mufflers, Hilborn Fuel Injection, Huntington Beach Glass & Mirror, Keizer Wheels, Rod End Supply, Saldana Racing Products, Sander Engineering, and So-Cal Performance for their support. For more information, visit www.usacracing.com/cra or follow the series on facebook.
AMSOIL USAC/CRA SPRINT POINTS:
1. Matt Mitchell 371; 2. Mike Spencer 366; 3. Nic Faas 348; 4. Greg Bragg 303; 5. Austin Williams 290; 6. Rickie Gaunt 281; 7. Blake Miller 277; 8. David Cardey 273; 9. Cory Kruseman 246; 10. Cody Williams 231; 11. Rip Williams 209; 12. Richard VanderWeerd 193; 13. Jace VanderWeerd 185; 14. Ronnie Gardner 157; 15. Danny Sheridan 155; 16. David Bezio 131; 17. Greg Alexander 107; 18. Rodney Argo 90; 19. Cody Kershaw 77; 20. Danny Faria Jr. 69.
AMSOIL USAC/CRA SPRINT SCHEDULE:
July 2: Perris Auto Speedway – Perris, CA
July 30: Perris Auto Speedway – Perris, CA
August 13: Santa Maria Speedway – Santa Maria, CA
August 20: Perris Auto Speedway – Perris, CA
September 3: **Calistoga Speedway – Calistoga, CA
September 4: **Calistoga Speedway – Calistoga, CA
September 8: **Silver Dollar Speedway – Chico, CA
September 24: Perris Auto Speedway – Perris, CA
October 8: Perris Auto Speedway – Perris, CA
October 28: Canyon Speedway Park – Peoria, AZ
October 29: Canyon Speedway Park – Peoria, AZ
November 3: *Perris Auto Speedway – Perris, CA
November 4: *Perris Auto Speedway – Perris, CA
November 5: *Perris Auto Speedway – Perris, CA
November 12: *Giant Chevrolet Kings Speedway – Hanford, CA
———————————————–
* = Co-Sanctioned Event With USAC National Sprints.
** = Co-Sanctioned Event With USAC Western Classic Racing Series.
This schedule is subject to change.
——————————————————–
NEXT AMSOIL USAC/CRA SPRINT CAR RACE:
July 2 – Perris Auto Speedway – Perris, California – "Firecracker 30"
—————————————-