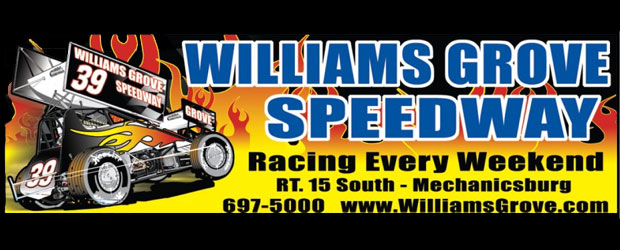 From Williams Grove Speedway
Mechanicsburg, PA — (June 24, 2011) — "The Hammer," Doug Esh of Lancaster hammered his way through the field to pick up his first sprint car win of the season at Williams Grove Speedway Friday night, chiseling his way past Aaron Ott with eight laps to go in the 25-lap main for 410 sprint cars.
In the 20-lap 358 sprint feature, Logan Schuchart of Hanover claimed his second checkered flag of the season after starting 10th in the field.
The 410 sprint feature got underway with second starter Ott of East Berlin taking the lead before a volley of cautions on laps five, six and seven found Justin Henderson in second with Esh up to sixth after taking the green from the eighth position.
Greg Hodnett flexed his muscle on the lap six restart and took third as Alan Krimes took second only to bring out the next caution after contact between he and Henderson gave him a left rear flat tire.
Krimes took his shots at Ott as the race moved toward the halfway point all the while watching Esh advance on the leader board and move into third.
Aboard the Leach No. 30, Esh motored into second with nine laps to go and was all over Ott for the lead when another caution flag with eight to go turned red for refueling.
The restart saw Esh drop to Ott's inside as the pair entered the first corner and easily drive into control down the backstretch.
After starting 11th, Brian Montieth came on strong late in the race to move into second on the final circuit but still finish a half straightaway behind at the checkers.
Esh claimed a $500 bonus for winning from row four and combined with lap monies, took home some $4,180 for his 19th career win at the oval.
"It's all a team effort," Esh said.
"I felt good from the get go. I felt good in warm ups and usually that sets your tone for the night."
Following Montieth across the line in third through fifth was Ott, Krimes and Fred Rahmer.
Sixth through 10th went to Mark Smith, Lance Dewease, Tyler Walker, Cory Haas and Steve Buckwalter.
Heats were taken by Nicole Bower, Ott and Billy Dietrich.
Schuchart watched as leader Tim Berkheimer spun with seven laps completed, handing control to Rodney Westhafer in the 358 sprint main while he held down the fourth spot.
Westhafer was still in control with nine laps to go when a restart found Schuchart on his bumper for the return to action.
The green flag was all Schuchart needed to see following the caution period as he quickly took the lead from Westhafer before pulling away to what ended up a straightaway lead at the finish.
Westhafer held on to second followed by Rich Eichelberger, Pat Cannon and Kevin Nouse.
Sixth through 10th went to Amy Ott, Davie Franek, Nate Hammaker, Chad Trout and Brian Garland.
Heats went to Adrian Shaffer, Tim Berkheimer and Bill Schoffstall with Eric Tomecek taking the consolation race.
Feature Finishes: June 24, 2011 –
410 sprints, 25 laps: 1. Doug Esh, 2. Brian Montieth, 3. Aaron Ott, 4. Alan Krimes, 5. Fred Rahmer, 6. Mark Smith, 7. Lance Dewease, 8. Tyler Walker, 9. Cory Haas, 10. Steve Buckwalter, 11. Greg Hodnett, 12. Chad Layton, 13. Brent Marks, 14. Justin Henderson, 15. Nicole Bower, 16. Gerard McIntyre Jr., 17. Ryan Bohlke, 18. Frank Cozze, 19. Mark Zimmerman, 20. Danny Dietrich, 21. Bobby Howard, 22. Troy Fraker, 23. Derek Sell, 24. Don Kreitz Jr.
358 sprints, 20 laps: 1. Logan Schuchart, 2. Rodney Westhafer, 3. Rich Eichelberger, 4. Pat Cannon, 5. Kevin Nouse, 6. Amy Ott, 7. Davie Franek, 8. Nate Hammaker, 9. Chad Trout, 10. Brian Garland, 11. Adrian Shaffer, 12. Austin Reed, 13. Kyle Moody, 14. Michael Ruttkamp, 15. Glenndon Forsythe, 16. Kyle Purks, 17. Matt Boland, 18. Aaron Eichelberger, 19. Eric Tomecek, 20. Tim Berkheimer, 21. Scott Geesey, 22. Billy Schoffstall, 23. Ricky Stonebraker, 24. Jay Galloway