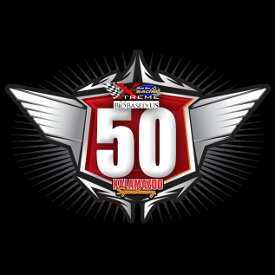 From Must-See XTreme Sprint Car Series
HOLLY, Mich. – The Must See Racing Xtreme Sprint Series will travel to Kalamazoo Speedway on Saturday night, July 16, and locals are preparing for an unprecedented onslaught of speed and thunder.
Known affectionately as "the Zoo," Kalamazoo is an ultra-fast and challenging 3/8-mile high-banked oval, perfectly suited to the high-tension overpowered winged sprint cars of the BIOBASED USA/Xtreme Sprint Series. The feature event is expected to see close competition and hair-raising encounters with lapped traffic.
The program features a full card of practice, time trials, heat races, and a 50-lap feature race. Practice begins at 3:00 on Saturday afternoon, with time trials scheduled for approximately 5:15 and racing beginning at 7 p.m.
The Kalamazoo visit follows a memorable series appearance last year that saw 17 MSRXSS teams break the track record led by Jason Blonde of Litchfield, Mi. with a blazing lap of 10.270.
The BIOBASED USA/Xtreme Sprint Series regulars will be joined by a number of area favorites, as Kalamazoo is situated in the heart of a strong region for the winged sprint cars.
All eyes will be on Toledo's Jimmy McCune, who became the first series repeat winner of 2011 at Dells Raceway Park in Wisconsin and Illinois's Rockford Speedway. McCune will face a growing roster of talented racers, led by series point leader Troy DeCaire, as well as Jeff Bloom, Jason Blonde, Canadian Ryan Litt, California's Jo Jo Helberg, Tim Cox, Mike Larrison, Aaron Pierce, Jason Cox, Jacob Wilson, Dave Baumgartner, Brian Gerster, Rich Vogler scholarship recipient Kyle Flint, Jerry Caryer, Ron Kohler , Ryan Myers , Tom Tolbert , Hank Lower and Florida's Travis Miniea.
Fans will be treated to a host of entertaining activities during the event, including a "hands-on" show car, t-shirt and merchandise giveaways, along with driver autograph sessions. The MSRXSS RACE FAN CONTEST will award one lucky race fan a day driving a sprint car.
The event will be telecast on a tape-delayed basis to over 90 million U.S. homes. Airdates and other information can be found at www.mustseeracing.com.
The Xtreme Sprint Series features powerful winged sprint cars with 800-plus horsepower and are considered the world's fastest short track racing machines. Based in Holly, Michigan, the series continues its third season of competition in 2011.
The series is presented by North Carolina biotechnology company BIOBASED USA ( www.biobased.us), a leading manufacturer of Soy Soap and other green products. BIOBASED USA is owned and operated by sprint car entrants Don and Suellen Wilshe.