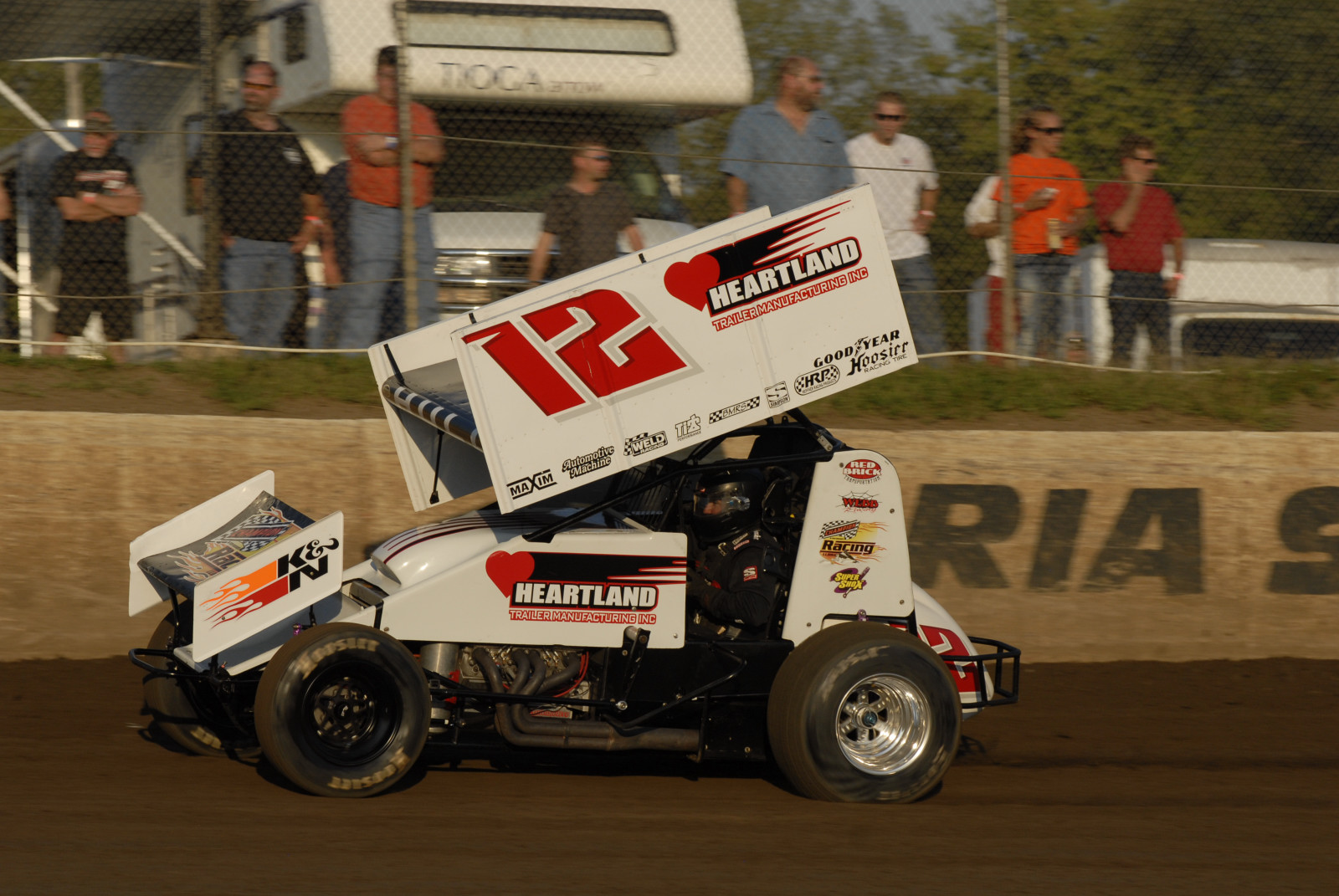 From Bill W
September 17, 2011 – Jerrod Hull led from green to checker to capture his fourth career Tom Knowles Memorial win, and his fourth Monster Energy™ Sprint Car Series win of 2011. The victory at Spoon River Speedway near Canton, Illinois on Saturday night paid him $2,000.
The event had a rough start, as before a lap could be completed, Justin Springer spun, collecting Robbie Standridge, and a three-car incident involving JC Bland, Chris Urish and Joey Moughan slowed things. Only Moughan did not continue.
While Hull led from his pole position earned by winning the dash, and second row starter Ryan Bunton moved in behind him. A second spin by Springer with four laps down, set up a restart that saw Hull ahead of Bunton, Bland, Urish and Nathan Charron.
Urish slid in front of Bunton for second on the eleventh lap, but it was negated for a caution involving Mike Hess. Two more cautions involving AJ Bruns and Matt Harms slowed things, but nothing would deter Hull from the win.
"We had to stay smooth," said Hull in Victory Lane standing in front of his Midland Performance #12. "I was a little worried about the tires, so we kept it straight. Scott Bonar had the car set up really nice. I also have to thank Jeff Hicks, Colton and Roger for helping us tonight. Canton is one of my favorite places to race. It's high-banked and I love it."
Bunton held on in the Morton Collision Repair #6R for second. "We can't complain," he said. "The car was good. We were battling some brake issues the whole race. I'm glad we could get it together. I'd like to thank my family for coming out here, and my crew. Hats off to Jerrod, he does a great job."
Urish was third. "We've had a rough year, so anytime we can run top three is good," he said. "Especially to Jerrod and Ryan. There's nothing to be disappointed about. That yellow fell at the wrong time. That's just the way it goes sometimes."
Jim Moughan Jr. was fourth ahead of Robbie Standridge, up from row eight. Bland, Korey Weyant, hard-charger Bret Tripplett, Matt Sutton and Mike Hess rounded out the top ten. Bunton, Bland and Urish won heats, and Robbie Standridge took the B.
The Monster Energy™ Sprint Car Series heads to the 34 Raceway in West Burlington, Iowa, Saturday night, September 24, for a $4,000 to win show that should draw a formidable field. Many drivers will also be participating in Friday's Shaheen's "Blast from the Past" at the Jacksonville Speedway in Illinois.
Monster Energy™ Sprint Car Series Main Event (started), 25 laps: 1. 12, Jerrod Hull, Sikeston, MO (1) 2. 6R, Ryan Bunton, Morton, IL (3) 3. 77u, Chris Urish, Elkhart, IL (5) 4. 1m, Jim Moughan Jr., Springfield, IL (6) 5. 23, Robbie Standridge, Springfield, IL (15) 6. 98, JC Bland, Springfield, IL (2) 7. 83, Korey Weyant, Springfield, IL (12) 8. 22, Bret Tripplett, Lincoln, IL (19) 9. 3s, Matt Sutton, Macomb, IL (18) 10. 51, Mike Hess, Springfield, IL (10) 11. 35, Jimmy Hurley, Springfield, IL (20) 12. 10s, Jeremy Standridge, Springfield, IL (8) 13. 6B, Andy Baugh, Mason City, IL (17) 14. 53H, Matt Harms, Lacon, IL (11) 15. 44, AJ Bruns, Lincoln, IL (14) 16. 96, Nathan Charron, Lincoln, IL (4) 17. 84, Ben Wagoner, Emden, IL (16) 18. 28, Justin Springer, Pekin, IL (13) 19. 1, Mitch Wissmiller, Saybrook, IL (7) 20. 14, Joey Moughan, Springfield, IL (9) Lap Leaders: Hull 1-25. Bulldog/DMI Hard Charger: Tripplett.
Super Shox Heat one (started, *qualified for A, 10 laps): 1. Ryan Bunton (2*) 2. Jeremy Standridge (1*) 3. Jerrod Hull (9*) 4. Korey Weyant (4*) 5. AJ Bruns (5*) 6. 3, Scott Young, Union Grove, WI (3) 7. Matt Sutton (7) 8. Jimmy Hurley (8) 9. 52F, Logan Faucon, Elkhart, IL (6)
RaceBumpers Heat two (started, *qualified for A, 10 laps): 1. JC Bland (2*) 2. Nathan Charron (4*) 3. Jim Moughan Jr. (8*) 4. Mitch Wissmiller (7*) 5. 95, Tommy Rockwell, Towanda, IL (1) 6. Matt Harms (9*) 7. Ben Wagoner (3) 8. 5, Kory Bales, Fredericktown, MO (6) DNS – 7s, Wade Seiler, Alton, IL (5)
GPC Race Products Heat three (started, *qualified for A, 10 laps): 1. Chris Urish (2*) 2. Joey Moughan (1*) 3. Mike Hess (3*) 4. Justin Springer (4*) 5. Robbie Standridge (5) 6. Andy Baugh (6) 7. Bret Tripplett (8) 8. 99, Jimmy Davies, Oquawka, IL (7) 9. 28K, Jason Keith, Fredericktown, MO (9)
Kreitz Oval Track Products B Main (started, top six to A, 12 laps): 1. Robbie Standridge (1) 2. Ben Wagoner (7) 3. Andy Baugh (3) 4. Matt Sutton (6) 5. Bret Tripplett (4) 6. Jimmy Hurley (8) / 7. Tommy Rockwell (2) 8. Logan Faucon (12) 9. Jimmy Davies (9) 10. Wade Seiler (11) 11. Scott Young (5) 12. Kory Bales (10) DNS – Jason Keith
Dash (started, 6 laps): 1. Jerrod Hull (4) 2. JC Bland (2) 3. Ryan Bunton (1) 4. Nathan Charron (3) 5. Chris Urish (5) 6. Jim Moughan Jr. (6)