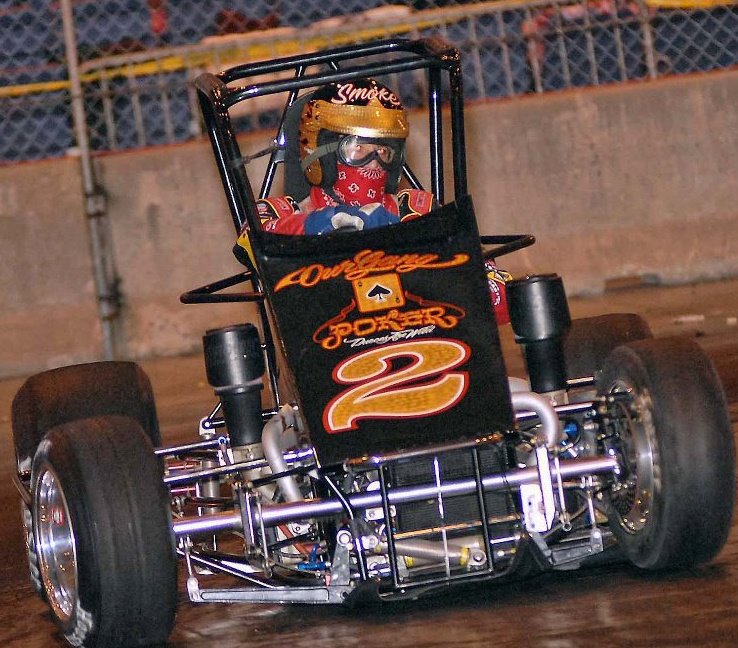 By RON WARE Classic Motorsports
FORT WAYNE, Ind. — Race car drivers surely are among the most fearless competitors on the planet.
But as Jon Stanbrough watched ATV stuntman Henry "The Pitbull" Rife prepare to jump 10 cars at last winter's Rumble in Fort Wayne indoor auto races, he placed Rife in a class of his own.
"That guy," Stanbrough declared, "is crazy."
As if to prove the point, Rife charged up the ramp, reaching an estimated 62 mph on his Honda quad, and sailed over all 10 cars in an indoor world-record attempt — only to crash hard when his bike touched down unevenly and a bit off-center on the landing ramp. He cartwheeled head over heels, cracking his collarbone and sliding to a stop mere feet from the concrete barriers that line the makeshift race track at the Memorial Coliseum Expo Center.
A shaken and embarrassed Pitbull had bitten off more than he could chew.
Rife – who gained national attention when he appeared on "Late Show with David Letterman" in 2007, jumping six taxis on a New York City street – most remembers the sheer pain of hitting a concrete floor at that speed.
"That was probably the most brutal 'get-off' I've had, next to the house trailer," he said, referring to a 1995 jump in which he broke both legs and his collarbone while trying to clear a trailer. "I hit that pavement – it hurts so bad. It hurts too much to cry."
Crazy or not, Rife isn't ready to quit. In fact, he'll return to attempt the same feat on Saturday, Dec. 31 during the final night of the 14th annual Rumble in Fort Wayne, which opens Friday, Dec. 30. Evans Toyota of Fort Wayne, a longtime sponsor of the event, will supply the 10 new cars.
Newly crowned NASCAR Sprint Cup champion Tony Stewart, a seven-time Fort Wayne feature winner, is among the nearly 300 drivers who will be racing. He is entered both nights in a Munchkin midget built by Mike Fedorcak of nearby Roanoke, Ind.
Rife's 1995 accident occurred at Baer Field Speedway, making him 0-for-2 in Fort Wayne with the X-rays to prove it. He is determined to even the score.
"I owe Fort Wayne," the 43-year-old from Van Wert, Ohio, said. "I gotta get some revenge there. It's got me twice now. I'm going to make three jumps – that way I'll be one up."
Although Rife jumped the length of eight cars in practice last year, he regrets not building up to his 10-car jump. This time, he plans to jump eight cars, then nine, then finally 10. The world indoor record on an ATV is six, he said. A rider must land cleanly to set a record.
"Bottom line is, rider error," he said in analyzing last year's crash. "The right side of my bike caught the edge of the ramp – I was probably three inches off. As soon as I took off, I knew I was going to land crooked. … The track was so tacky, and with the soft tires I had on, it threw me right off."
Rife, a truck driver when he's not pursuing his lifelong hobby, performs 20-25 shows a year.
"(My) track record is pretty good," he said. "But it only takes one to kill you. If you go out and think it's child's play, you're crazy.
"And I'm not crazy. I know a lot of people think I am, but I'm not."
The Rumble in Fort Wayne features complete racing programs each day, with the main portion of the event after 7 p.m., and includes midgets, winged outlaw modified midgets, mini-sprints, karts and quarter midgets. Jim Anderson of Joliet, Ill., and Dave Darland of Lincoln, Ind., are the defending midget champions.
Fans are encouraged to purchase tickets in advance at the Memorial Coliseum box office, at Ticketmaster.com or by calling (800) 745-3000.
Reserved seating, on the middle sections of the frontstretch, is available only in advance and is $22.50 for one day or $41 for both days. General admission is $19.50 for one day or $35 for both days. Kids 12 and under are admitted for $10 for one day or $16 for both. Pit passes, available only at the event, are $30 for one day or $55 for two.
More information, including entry forms and special motel rates, is available at rumbleseries.com, by calling (317) 418-3216 or by e-mailing tbracefest@aol.com.
Fans can find out more about Rife on his Facebook page (facebook.com/hrife) and watch many of his jumps on youtube.com.