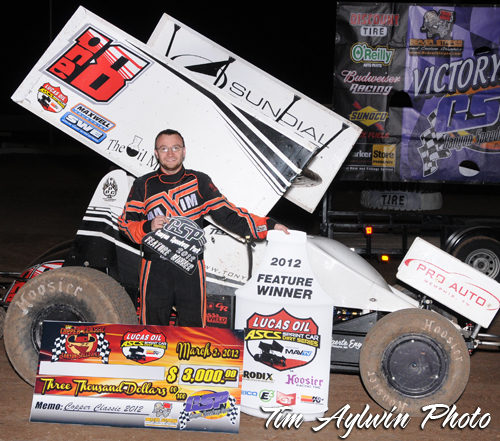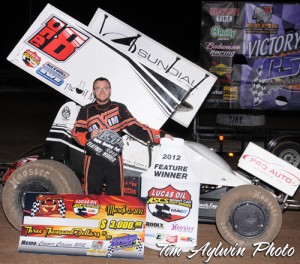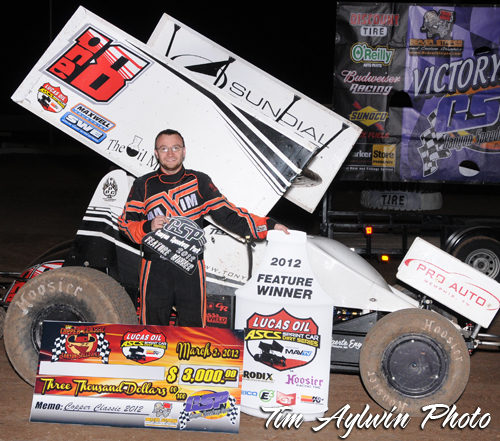 From Peterson Media
Tony Bruce, Jr made a statement to open the 2012 Lucas Oil ASCS National Tour as the Owasso, OK resident picked up a win on the opening night of the Copper Classic in Peoria, AZ and followed it up with a fourth place on the final night.
After drawing the number one pill for the 25-lap feature, TBJ made the most of it aboard his One Eight Motorsports/Hinchman Racewear/Pro Auto machine as he led all 25-laps and opened his season the way everyone hopes to- in victory lane.
"It feels nice to open the season with the trophy," said Bruce. "I think 2011 was the worst season I've ever had, so to start it off with a win, you really can't complain."
It wasn't a cake walk for Bruce, Jr however, as he was pressured early by Danny Wood, and late by Brady Bacon.
As Danny Wood began to pressure Bruce, a pair of lapped cars collided in front of the duo, and they were both forced to take evasive action to avoid the wreck.
Once back underway, Bruce continued to work to low side of the Canyon Speedway Park comfortably, until the last two laps when a hard charging Brady Bacon began to pressure Bruce.
Bruce held Bacon off and picked up the win, locking him into the Saturday night finale.
Drawing a four pill, Bruce lined his Oil Medics/Maxwell Industries/Smiley's entry up in the fourth row.
As the preferred line was on the bottom of the track, Bruce held his spot and kept his nose clean for the duration of the race.
Bruce closed out the opening weekend with a fourth place run.
"Saturday night wasn't a bad night, but we really didn't have much for the guys up front," said Bruce. "My guys gave me a good car all weekend and we will for sure take this momentum into next weekend."
Bruce would like to thank all of his sponsors, Hinchman Racewear, Pro Auto, The Oil Medics, Smileys, SWE, Maxwell Industries, FK Rod Ends, Butlerbuilt, Factory Kahne Shocks, Randy's Racing Filters, DriversWebsites.com, Racinboys.com, Wilwood, Zemco Headers, Hoosier Tires, Gaerte Engines, Pro Powder Coating, PPC, Fuel Safe, Bell, Weld Wheels, and ISC Racer's Tape for their support through the 2012 season.
ON TAP: The One Eight Motorsports team will now set their sights on the Cocopah Speedway March 9th and 10th.
STAY CONNECTED: Stay updated with TBJ by visiting his website at
www.tonybrucejr.com, or by following him on twitter @tonybrucejr
SPONSOR SHOUT OUT: Hinchman Indy
Specializing in driver safety, Hinchman Racewear has been around since 1925 and still lead the industry in style, but more importantly lead the industry in safety. Hinchman changed the game in 1965 as they were the first suit to use Nomax exclusively. In 1999 the company led the push to used Carbon-X in their suits, and then in 2004 Hinch introduced "Comfort Tech". This lining creates a 3-layer suit that is lighter, thinner, comfortable and more protective than most 2-layer suits.
"After meeting Nancy this winter I knew that Hinchman Racewear would be the perfect company to put my trust in to keep me safe," explained Bruce. "Every time that I strap into my car this year I know that I'm going to be protected and that alone is worth .2 on the stopwatch!"