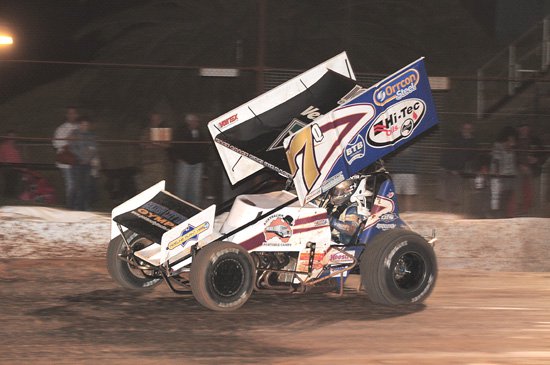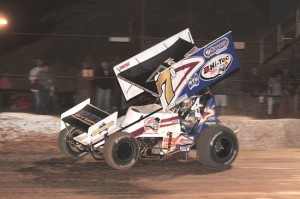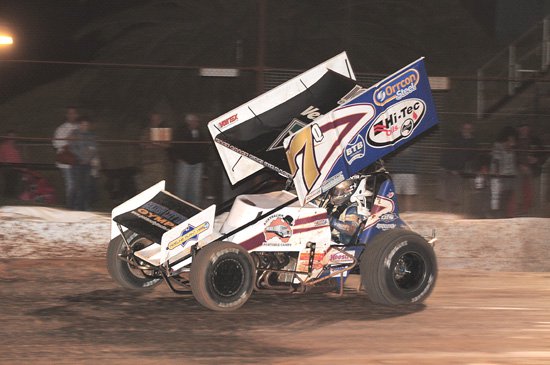 From Sydney Speedway
Sydney, AU — (March 24, 2012) — In a night that had it all – Robbie Farr has claimed tonight's Sprintcar A-Main, charged by CC's Energy Chips at Tyrepower Sydney Speedway. Second to the finish line was Ian Loudoun and third was Max Dumesny.
It was a race clouded in controversy, as Garry Brazier was sensationally black-flagged from the final after contact with Ben Atkinson with just three laps remaining. Brazier was initially sent rear-of-field but refused the order. After a warning, Brazier didn't budge and was therefore shown the black flag. He stopped on the main straight and showed officials what he thought of the decision before being pushed back to the pits.
Farr, who started from position eight in the A-Main moved forward from the outset and was inside the top three within twelve laps. He took the lead ten from home after Ben Atkinson slid off the back of turn four. Garry Brazier did come close on numerous times to Farr, but ultimately he was never headed and took victory.
"I just love to come home and race on a track that produces great racing," said an elated Farr. "I'll be back next week, for sure," he concluded.
Ian Loudoun was as far back as sixth with three laps remaining before the double file restart proved to work in his favour. Another second place finish for Loudoun might just prove to be the Track Championship decider tonight.
Max Dumesny, although third was still happy to be on the podium. He fought hard all the way to the chequered flag and will look at building on the momentum next week.
Rounding out the top ten was Adrian Maher, Grant Tunks, Trevor Green, Matt Young, Max Johnston, Mark Blyton and Rod Bright.
In earlier heat race action, Farr, Matt Young, James Thompson and Mark Blyton claimed wins in the opening round of heats. Farr, Loudoun, Tunks and Atkinson took the final four heats.
In the Speedcars, Matt Smith took the A-Main win over Mark Brown and Nathan Smee was third.
Brett Morris claimed another Legend Cars win over Glenn Mitchell and Brad Mock was third.