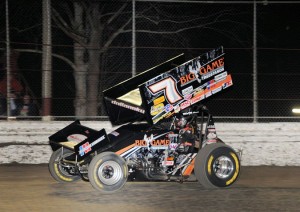 From CDR
Sunny California weather finally greeted Craig Dollansky and the Big Game Treestands #7 team on Friday as they returned to Merced Speedway for just the second World of Outlaws event at the tight bullring.
With the track slightly reconfigured after last year's inaugural event, 29 cars signed into the pit area for competition. In qualifying time trials the Aggressive Hydraulics Maxim stopped the clock at 11.440 seconds, missing the heat inversion by a couple positions. Lining up fifth on the grid for heat two, 'The Crowd Pleaser' used a great restart to race up to third and then close in on Jason Sides. Battling for a spot in the dash, Dollansky raced with Sides on the final circuit but contact sent the MobileStar #7 flipping out of turn four.
After rebounding to win the B-Main, the Eaton's Aeroquip Performance Products backed sprinter lined up outside of row seven for the 40-lap A-Main. Following two cautions in the first ten circuits, Dollansky ran eleventh before another yellow flag on lap 14. The Elk River, Minnesota native continued to battle early cautions and chip away by cracking the top-ten on lap 16 and then using a great restart to take ninth from Terry McCarl. The Big Game Treestands sprinter kept charging to the front passing Chad Kemenah around the halfway point and then stealing seventh from Joey Saldana a few circuits later.
Making the highside work best, 'The Crowd Pleaser' then narrowed the gap on sixth place running Steve Kinser and claimed the spot with five laps to go. In the remaining circuits the MobileStar #7 closed on Jason Meyers for a spot in the top-five but crossed the finish line in 6th to earn the KSE Hard Charger Award.
Racing was supposed to resume Saturday at Calistoga Speedway but significant amounts of rain postponed the event. With the early season West Coast swing in the books the Big Game Treestands #7 team will now travel back to the shop in Minnesota before action continues at Paducah International Raceway in Kentucky on April 13th.
Be sure to check out the latest CDR wallpaper for April HERE!