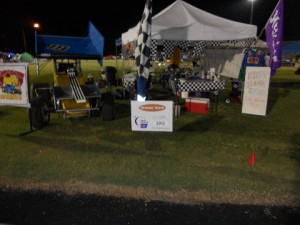 From the Top Gun Sprint Car Series
Top Gun Sprints had a night to remember in the fight against cancer. Our own Dot Brady was there as a survivor and inspiration, looking quite beautiful in her new 'shorter' hair style. It was a long, arduous adventure – 18 hours of walking the quarter mile track at Armwood High School in Seffner.
Our campsite was 'the place'. French Fries, now better known as 'Fast Fries', was our fundraiser and money maker for the night and racing with our theme.
We won't have all the totals on monies raised until the awards banquet on Wednesday night, but we do have preliminaries. Our team goal was $2,500.00. We beat that – to date we have raised $2,926.00! Not bad for our band of merry men and ladies. Top Gun also was awarded a Bronze plaque to put at our campsite for our fundraising efforts, and we were the lucky team to win 10 Relay for Life sweat shirts. We were on a roll. We were not as lucky in the egg relay as depicted in an attached photo.
There are a lot of people to thank for our success. Our online fundraising was fabulous. Thanks to Rick Gabor and Eagle Jet International, to Jeff and Lee Barfield, to Taylor Andrews with Dayton Andrews just to name a few. Thank you to everyone, including the anonymous donors, for what you helped us accomplish.
Thanks to Mickey Kempgen for the banner that we carried and displayed at our campsite. Thanks to Jim and Beverly Reid for all the support and donations they secured. Thanks to Tommy Holloway for the 'loan' of his sprint car.
It's not over yet. Anyone that would like to donate to support this cause can still go on line to www.relayforlife.org/seffnerfl and make a contribution. Our own Don Rehm is hanging tough in the Top Online Fundraising category. He's in second place, less than $30.00 out of first place.
The team has decided that we are onboard for 2013! Top Gun will do it again so look forward to some fun fundraising events in the near future.