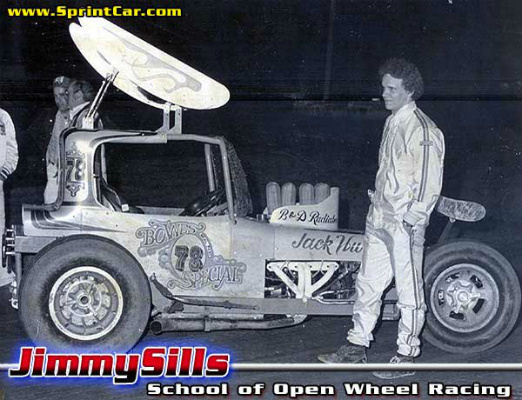 By Gary Thomas
By Gary Thomas
Marysville, CA – April 16, 2012…A legend will be reborn on Saturday night at the Marysville Raceway Park when three-time USAC National Silver Crown champion Jimmy Sills makes his return to 410 Winged Sprint Car competition with the Cancen Oil KWS Series presented by Goodyear.
The National Sprint Car Hall of Fame member spent last season driving a wingless spec sprint, but it's been a number of years since he has climbed into a 900 horsepower winged sprint car for competitive action in California. At the Marysville KWS event, Sills will sit behind the wheel of the DES Racing No. 6up machine, as normal driver Danielle Simpson has other commitments.
In his storied career Sills has tallied a number of major accomplishments including six wins at the Dirt Cup in Washington, which ranks number one all time at the prestigious event. In addition to that and his three Silver Crown titles, the "Professor" has also scored wins at the Mini Gold Cup, the Oval Nationals, the Jayhawk Nationals, the Tribute to Gary Patterson and countless other major events.
Sills was also the all-time leader in victories at the now defunct Baylands Raceway Park and throughout the years has claimed wins in the US, Canada, Australia and New Zealand. All in all the Elverta, California driver has been one of the most respected short track racers to ever come out of the state.
"I remember Jimmy being almost untouchable at Baylands Raceway when I was an announcer there," KWS Operations Manager George Hague said. "He practically owned the place and watching him get around that track was a thing of beauty. What he accomplished in the Silver Crown Series was also something special and we hope all the fans will come out to see him at Marysville on Saturday."
The multiple-time World of Outlaws winner is also owner and operator of the Jimmy Sills School of Open Wheel Racing at the Marysville Raceway Park and has trained many of today's young drivers. Showing skills early on in his career, the man also known as "Buckwheat" was the first rookie driver to win a main event at Sacramento's famous West Capital Raceway in 1973.
Fellow National Sprint Car Hall of Famer Brent Kaeding will also be in action at the Marysville Raceway Park on April 21. The driver of the familiar Al's Roofing Supply No. 69 mount has raced to a number of victories in his career at the MRP quarter-mile bullring and will be looking to add another.
Last year's KWS winner at the Marysville Raceway Park, Willie Croft of Sacramento, will be gunning to defend his home turf on April 21. Last season's win for "Double Down" was a popular one among the racing community and came at the track where Croft began his sprint car career.
Many of the state's top sprint car wheel-men will be in competition with the Cancen Oil KWS Series presented by Goodyear at the Marysville Raceway Park. Included in the field will be two-time & defending series champion Tim Kaeding, two-time titlist Jonathan Allard, '04 champ Jason Statler, former MRP main event winner Andy Gregg, '96 Speedweek champion Bobby McMahan, young star Rico Abreu, Australian native Peter Murphy, "Sherm Toller Memorial" winner Kyle Hirst and many more.
Adult tickets will cost $18 on Saturday with juniors, seniors, disabled and active military $15, kids 6-12 $10 and children 5 and under free. The pit gate opens at 3pm on Saturday, the front gate will open at 5pm and cars will be hitting the track for wheel packing around 6pm, with qualifying and racing to follow.
The Marysville Raceway Park is located in Marysville, California. From the Junction of HWY 70 and HWY 20 (12th Street), go a quarter-mile east on HWY 20. Turn south onto Ramirez Road for 1.5 miles. The physical address is 1468 Simpson Ln, Marysville, CA 95901. Directions & hotels can be found at http://marysvilleracewaypark.com/maps.html
Don't forget to "like" the Cancen Oil King of the West Series on Facebook at http://www.facebook.com/kingofthewestsprints and follow us on Twitter @kwssprintracing for the most timely and up to date information on the series.
Also check out our official website at http://www.kwssprints.com for the latest news, results, history and more on the Cancen Oil King of the West 410 Sprint Cars presented by Goodyear.