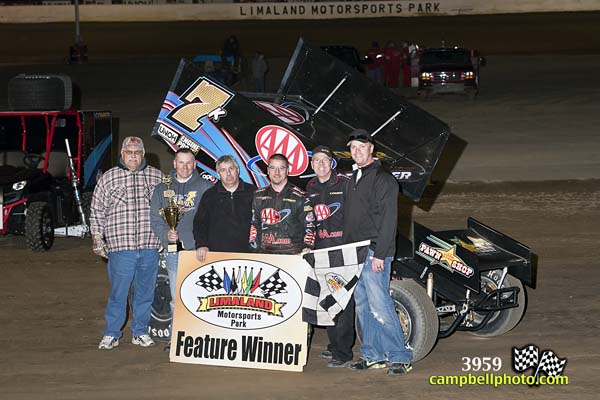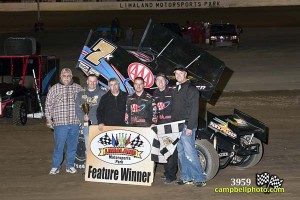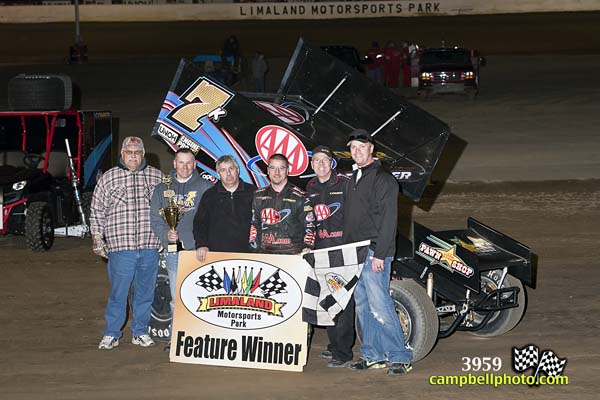 From Mike Campbell
Lima, OH — (April 27, 2012) — On a clear yet cool evening at Limaland Motorsports Park, racers in the Thunderstocks and Modified divisions were set to compete in rare double features. It provided the equally rare chance of winning two features in a single evening.
Shawn Valenti completed that unique double in the Budweiser Thunderstocks, while defending track K&N UMP Modified champion Todd Sherman and newcomer Jake Reufer (reefer) both achieved half of the difficult feat and nearly the other half.
The modifieds began the night of racing with their 20-lap event and Reufer leading the field to the green flag. The blue #16 powered its way around and wasn't being seriously challenged. The yellow flag came out on lap number eight with Reufer still in front of Jerry Bowersock, Terry Hull and Todd Sherman. Hull and Sherman were engaged in the best of the on-track battles as they both looked to at least control the third running position.
Reufer appeared he might make it flag-to-flag in his first ever Limaland Motorsports Park appearance until he became collected with both Jerry Bowersock and Terry Hull between turns three and four on lap 18. A stunned crowd watched as Todd Sherman took over the race lead with two laps remaining. The 2011 champion easily held off Ryan Ordway and Tony Anderson to capture the season's first modified feature.
"I got a little congested on the start, got into somebody and fell way back there," said Sherman about the early race. "My car was good, but after I gradually got up to those first three guys I thought I'm in trouble now because they are all really fast. It's good to see Jake running here and Jerry and Terry are always fast running."
On the late race trouble for the leaders, Sherman said, "the track was heavy and at the end I put my hand up in front of my face and sailed it wide open and it worked. I knew giving up the bottom was going to be a risk, but I got to the lead on the outside. There was some oil down there (between turns 3 & 4) so I eased off the gas a little so as to not dump into it and then just dragged raced into the checker." It marked Sherman's 27th career feature win at the track.
The night's regularly scheduled modified feature was dominated by Jake Reufer as he bolted to the lead from an outside front row starting position. Reufer's only serious threat came from UNOH Racer athletic motorsports driver Kody Weisner. The lead two cars largely stayed by themselves at the front of the field with Todd Sherman and Terry Hull in a spirited matchup for the third position.
A pair of caution flags didn't slow down Reufer's charge to a checkered flag finish in his first-ever appearance at Limaland Motorsports Park. "My car was great tonight," exclaimed the Roanoke, Ind. Driver. "I was lucky enough to start up front and took advantage of it. This is the nicest facility in the country and to get one here is a nice deal."
The Budweiser Thunderstocks division saw 2011 season points runner-up Shawn Valenti resume his dominance of the late season from a year ago. Valenti powered to a pair of feature wins. He posted three wins during the entire 2011 campaign.
Despite a fifth row starting position in the opening stocks feature, Valenti moved quickly behind primary race leader Jeff Koz through the opening circuit of the 15-lap battle. Koz held off Valenti until he made contact with a slower car. The damage to Koz's car forced him to the infield. Valenti took over the lead on lap 12 and that was all it took to set up the first of an eventual two conquests in the same evening.
"Starting the year off like this, I can't ask for more," Valenti told the front straight crowd. "I didn't have a very good starting spot, but was still able to capitalize. It means a lot to get this first one early and hopefully we can keep this going."
The second Budweiser Thunderstocks feature saw 2011 champion Tony Anderson and Valenti swap the lead on three occasions during a caution filled finale. Valenti stuck to the top of the race track with Anderson working to the inside for most of the race.
Although the race lacked good rhythm with a series of yellow flags, Anderson led Valenti at the restart on Lap number 11 and the two produced an exciting finish. Valenti made an outside pass of Anderson as the white flag was unfurled and then roared to the checkers. "To pull off two in one night is unbelievable," stated Valenti in the winner's circle.
The Elwer Fence Sprints feature had 2011 NRA champion Randy Hannagan start on the pole of the field with hard charging Butch Schroeder, Jared Horstman and Kyle Sauder all holding positions in the first five of the starting grid.
Hannagan suffered a mechanical break on the third lap and surrendered the lead. By the sixth lap, the front of the field had settled with Schroeder, Horstman, Dallas Hewitt and 2011 track champion Kyle Sauder all racing high and fast on the track.
Schroeder held off the field until the orange #17 of Jared Horstman made a pass on lap 14. For the next four circuits Horstman made it look like he might be on the way to his first feature win in a sprint car at Limaland Motorsports Park. With two laps remaining, Kyle Sauder executed a clean pass outside of Horstman to win a thrilling and hotly contested affair with Dallas Hewitt finishing third.
"Jared gave me a heck of a race," said Sauder. "I understand he stepped up his program this year and it showed tonight. My car wasn't quite right at the beginning and the other guys had my line. I just waited and finally got up there." It was Sauder's 12th career win at Limaland Motorsports Park.
Action resumes on Friday, May 4, with Late Model Mania, as Limaland Motorsports Park will host the Sunoco American Late Model Series, K & N UMP Modifieds and the Budweiser Thunderstocks. Gates open at 5:00 p.m. with hot laps beginning at 6:30 p.m. Racing starts promptly at 7:30 p.m.
All the latest news and information about America's premier quarter-mile dirt track, can be found at www.limaland.com. You can also find 2012 Limaland Motorsports Park on Facebook and Twitter.
Modifieds from 4/20/12
A-Main – (25 Laps)
1. 65-Todd Sherman; 2. 19-Ryan Ordway; 3. 22t-Tony Anderson; 4. 93-Tyler Stump;
5. 03-Cory Seeling; 6. 18N Derrick Noffsinger; 7. L5-Casey Luedeke; 8. 01-Ryan O'Dette; 9. 40-Terry Hull; 10. F16-Jake Reufer; 11. 95-Greg Socha; 12. 5x-Jerry Bowersock; 13. 22B-Andy Bibler; 14. 00-Kody Weisner; 15. 10-Tom Jacobs; 16. 17-Dillon Nussbaum; 17. 69-Tommy Beezley; 18. 20W-Matt Westfall; 19. 33-Clint Reagle; 20. 28-Chad Rosenbeck;
Stocks from 4/20/12
A-Main – (15 Laps)
1. 7B-Shawn Valenti; 2. 74d-Craig Dippman; 3. 00N-Dwight Niehoff; 4. 48-Tim Cole;
5. 22t-Tony Anderson; 6. 57s-Billy Siferd; 7. 93-Zach Gustatson; 8. 82-Chris Douglas;
9. 89-Keith Schockency; 10. 327-Randy Crossley; 11. 99-Andy King; 12. 19-Bill Reimund; 13. 52b-Sam Bodine; 14. 6p-Bill Keeler; 15. 01-Brent Weaver; 16. 16-Jeff Koz; 17. 00m-Bryan Martin; 18. 12g-Garry Domoe; 19. 1w-Dan Wooten; 20. 2-Shane Wolf; 21. 1k-Brad Kemp; 22. 26-Justin Long;
Limaland Motorsports Park – 4/27/2012
Sprints
Heat 1 – (8 Laps – Top 5 Transfer)
1. 49-Shawn Dancer; 2. B20-Butch Schroeder; 3. 28H-Hud Horton; 4. 4U-Rick Boughan; 5. 5M-Max Stambaugh; 6. 35-Ron Blair; 7. 23-Devon Dobie; 8. 2-Brent Gehr; 9. 29S-Marques Huffer
Heat 2 – (8 Laps – Top 5 Transfer)
1. 7K-Kyle Sauder; 2. 2M-Dallas Hewitt; 3. 7-Darren Long; 4. 22D-Dennis Yoakam; 5. 18-Todd Heuerman; 6. 4J-Bob Gehr; 7. 27B-Brad Lamberson; 8. 23M-Jack Miller; 9. 27-Beau Stewart
Heat 3 – (8 Laps – Top 5 Transfer)
1. 17-Jared Horstman; 2. 22H-Randy Hannagan; 3. 22-Ben Rutan; 4. 11-Tim Allison; 5. 82-Mike Miller; 6. 10J-Jarrod Delong; 7. 34-Jimmy Snead; 8. 32M-Derek Hastins
B-Main – (10 Laps – Top 5 Transfer)
1. 35-Ron Blair; 2. 10J-Jarrod Delong; 3. 27-Beau Stewart; 4. 4J-Bob Gehr; 5. 23-Devon Dobie; 6. 27B-Brad Lamberson; 7. 34-Jimmy Snead; 8. 2-Brent Gehr; 9. 29S-Marques Huffer; 10. 23M-Jack Miller; 11. 32M-Derek Hastins
A-Main – (25 Laps) [#]-Starting Position
1. 7K-Kyle Sauder[5]; 2. 17-Jared Horstman[4]; 3. 2M-Dallas Hewitt[2]; 4. 28H-Hud Horton[7]; 5. 22-Ben Rutan[9]; 6. 35-Ron Blair[16]; 7. 49-Shawn Dancer[6]; 8. 11-Tim Allison[12]; 9. 82-Mike Miller[15]; 10. B20-Butch Schroeder[3]; 11. 5M-Max Stambaugh[13]; 12. 22D-Dennis Yoakam[11]; 13. 4U-Rick Boughan[10]; 14. 4J-Bob Gehr[19]; 15. 27-Beau Stewart[18]; 16. 18-Todd Heuerman[14]; 17. 7-Darren Long[8]; 18. 23-Devon Dobie[20]; 19. 10J-Jarrod Delong[17]; 20. 22H-Randy Hannagan[1]
Modifieds
Heat 1 – (8 Laps – Top 5 Transfer)
1. 65-Todd Sherman; 2. 19-Ryan Ordway; 3. 22B-Andy Bibler; 4. 18N-Derrick Noffsinger; 5. 95-Greg Socha; 6. L5-Casey Luedeke; 7. 19B-Brandon Ordway; 8. 33-Clint Reagle
Heat 2 – (8 Laps – Top 5 Transfer)
1. O3-Cory Seeling; 2. F16-Jake Reufer; 3. 65x-Tommy Beezley; 4. 22T-Tony Anderson; 5. 25-Josh Lolmaugh; 6. 28-Chad Rosenbeck; 7. 17-Dillon Nusbaum; 8. 20W-Matt Westfall; 9. 10-Tom Jacobs
Heat 3 – (8 Laps – Top 5 Transfer)
1. OO-Kody Weisner; 2. 40-Terry Hull; 3. 20K-Bill Keeler; 4. 47-Nick Rosselit; 5. O1-Ryan Odette; 6. 93-Tyler Stump; 7. M1G-Matt Twining; 8. 5X-Jerry Bowersock
B-Main – (8 Laps – Top 5 Transfer)
1. 93-Tyler Stump; 2. L5-Casey Luedeke; 3. 28-Chad Rosenbeck; 4. 19B-Brandon Ordway; 5. 33-Clint Reagle; 6. M1G-Matt Twining; 7. 17-Dillon Nusbaum; 8. 20W-Matt Westfall; 9. 5X-Jerry Bowersock; 10. 10-Tom Jacobs
A-Main – (20 Laps) [#]-Starting Position
1. F16-Jake Reufer[2]; 2. OO-Kody Weisner[4]; 3. 65-Todd Sherman[6]; 4. O3-Cory Seeling[5]; 5. 22T-Tony Anderson[11]; 6. 40-Terry Hull[1]; 7. 65X-Tommy Beezley[8]; 8. 20K-Bill Keeler[9]; 9. 18N-Derrick Noffsinger[10]; 10. 33-Clint Reagle[20]; 11. 47-Nick Rosselit[12]; 12. 28-Chad Rosenbeck[18]; 13. 95-Greg Socha[13]; 14. 19-Ryan Ordway[3]; 15. 22B-Andy Bibler[7]; 16. 25-Josh Lolmaugh[14]; 17. L5-Casey Luedeke[17]; 18. O1-Ryan Odette[15]; 19. 93-Tyler Stump[16]; 20. 19B-Brandon Ordway[19]
Stocks
Heat 1 – (8 Laps – Top 5 Transfer)
1. 7B-Shawn Valenti; 2. 48-Tim Cole; 3. 2-Shane Wolf; 4. 19-Bill Reimund; 5. 1-Brad Kemp; 6. 17-Corey Wooten; 7. O1-Brent Weaver; 8. 1W-Mark Wooten; 9. OOM-Bryan Martin
Heat 2 – (8 Laps – Top 5 Transfer)
1. 74D-Craig Dippman; 2. 57S-Billy Siferd; 3. OON-Dwight Niehoff; 4. 6P-Bill Keeler; 5. 7-Dan Wooten; 6. 99-Andy King; 7. 89-Keith Shockercy; 8. 12G-Garry Domoe; 9. 26-Justin Long
Heat 3 – (8 Laps – Top 5 Transfer)
1. 16-Jeff Koz; 2. 22T-Tony Anderson; 3. 88-Zach Bowen; 4. 82-Chris Douglas; 5. 52T-Cody Timmerman; 6. 93-Zach Gustatson; 7. 52B-Sam Bodine; 8. 327-Randy Crossley
B-Main – (8 Laps – Top 6 Transfer)
1. 99-Andy King; 2. 93-Zach Gustatson; 3. O1-Brent Weaver; 4. 89-Keith Shockercy; 5. 12G-Garry Domoe; 6. OOM-Bryan Martin; 7. 17-Corey Wooten; 8. 52B-Sam Bodine; 9. 1W-Mark Wooten; 10. 327-Randy Crossley; 11. 26-Justin Long
A-Main – (15 Laps) [#]-Starting Position
1. 7B-Shawn Valenti[6]; 2. 22T-Tony Anderson[1]; 3. 57S-Billy Siferd[2]; 4. 48-Tim Cole[3]; 5. 19-Bill Reimund[10]; 6. OON-Dwight Niehoff[8]; 7. 93-Zach Gustatson[17]; 8. O1-Brent Weaver[18]; 9. 2-Shane Wolf[7]; 10. 89-Keith Shockercy[19]; 11. 82-Chris Douglas[12]; 12. OOM-Bryan Martin[21]; 13. 12G-Garry Domoe[20]; 14. 74D-Craig Dippman[5]; 15. 6P-Bill Keeler[11]; 16. 1-Brad Kemp[13]; 17. 99-Andy King[16]; 18. 52T-Cody Timmerman[15]; 19. 7-Dan Wooten[14]; 20. 88-Zach Bowen[9]