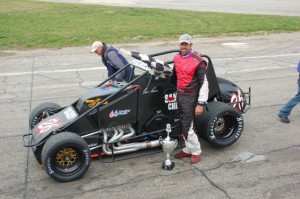 From Anderson Speedway
ANDERSON, Ind. (April 29, 2012) – Daleville's Aaron Pierce picked up his second "Glen Niebel Classic" victory on Sunday at Anderson Speedway by leading all 100 laps.
Pierce posted the second quick time behind Jimmy McCune, but got the jump at the start and never looked back in the first ever sprint car race sanctioned by the United States Speed Association.
Cool temperatures and the threat of rain kept the number of teams competing to 11, but there was good racing behind Pierce for second place between McCune and Florida driver Brian Gingras.
Anderson's Jim Sheets brought out the first of five caution flags when he got loose entering turn one and made contact with the outside retaining wall while running fifth on lap 24. The second caution flag waved three laps later when Kyle Hamilton made contact with the turn two retaining wall.
With Pierce pulling away, McCune and Gringras raced nose to tail with Gingras looking several times on the high side in an attempt to make the pass.
On a restart on lap 77, Gingras attempted to get inside of McCune entering turn one and spun, dropping him into fourth behind Jason Cox. Gingras used the outside groove on lap 87 to pass Cox and retake the third spot.
Over the final ten laps McCune, Gingras and Cox staged a tight battle for positions two through four.
Pierce won by about half a lap, followed by McCune, Gingras, Cox and Kyle Feeney.
With the next pavement sprint car race being the Pay Less Little 500 on May 26, Pierce captured the tune-up race in dominating fashion.
"This car is fast," Pierce said following the win. "I love this place. I'm looking forward to the Little 500; I've ran that race ten years and led every time. Something always happened."
Nick Hamilton led all 30 laps to win the Kenyon Midget feature chased the entire distance by Cordy Horn and Grant Galloway.
On the start Travis Young bounced off the front straight retaining wall but was able to maintain control of his car and finished fourth behind Hamilton, Horn and Galloway with Tim Taylor rounding out the top five.
The race was only slowed twice by caution flags both coming on lap 21 when first an engine fire put Grant Simpson out of the race and then Chris Dickey made contact with the turn one retaining wall.
Anderson Speedway returns to racing action on Saturday, May 5 with EDCO Welding Street Stocks, IOFS Figure 8's, WMDH ThunderCars, Thunder Roadsters and IOFS Front Wheel Drive Compacts.
For additional information on Anderson Speedway, visit www.andersonspeedway.com or contact Anderson Speedway at (765) 642-0206.
– www.andersonspeedway.com –