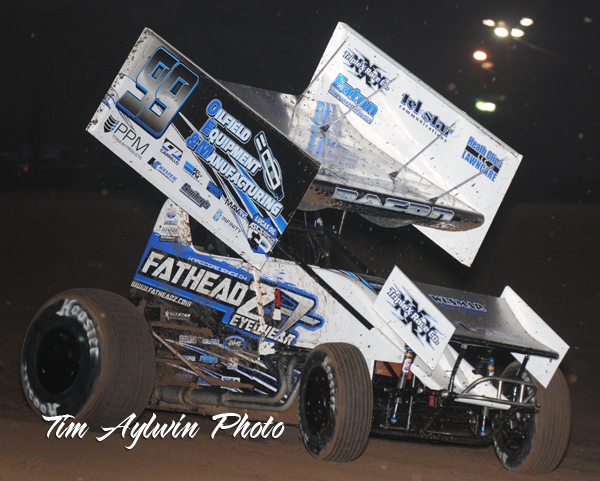 By Bill W
April 30, 2012 – Brady Bacon has been fast with the World of Outlaws lately, and he was again last Wednesday night, posting a fifth place finish at Farmer City (IL) Raceway. He added a pair of top ten finishes over the weekend with the Lucas Oil ASCS National Series to maintain his third place point standing as well. This weekend, the Broken Arrow, Oklahoma driver will compete in the USAC National Midget Series in Dodge City, Kansas.
Things started Wednesday in Farmer City. "We were feeling confident after our run at Haubstadt with Farmer City being a short track too," says Brady. "We had a coil wire going bad for qualifying. The motor wasn't running at full power. We still managed 17th, just one spot out of the (heat) invert which wasn't bad considering we were down on power to start with."
It took time to diagnose the problem, and Brady rebounded by B main time. "We changed the fuel pump, the MSD box, and we checked the fuel nozzle," he says. "We weren't able to finish the heat race. That didn't affect us that much; we just had to run the B (which he won)."
Starting 17th, Brady diced his way forward amongst the best in the business. "We were able to work our way up to fifth," he says. "There was obviously a crash that took out four cars, but we still passed a lot of good cars to get to that point. We were really good at the beginning of the race, and the track started tapering off towards the end. Everyone was the same speed at that point, and it was hard to pass."
Many with the WoO are taking notice of Brady's runs. "We were really happy to finish fifth with the Outlaws," he says. "Without our problems the previous two nights, we could have had a top five at Sedalia and should have won at Haubstadt. Obviously, our car is working well right now."
Switching back to the 360, the Brady Bacon Racing #99 team hit the Salina High Banks in Salina, Oklahoma. Brady finished fourth in his heat. "Salina is a fast track," he says. "It is hard to pass there unless someone messes up, and that's kind of hard to do sometimes. We drew a loaded heat, and it was tough."
Starting fifteenth, he would work forward to an eighth place finish in the main event. "It was wide open around the top," says Brady. "You would get up to somebody, and you'd try to slide somebody. Your momentum would be cut down, and then they would slide you back. You just get bottled up and slowed down. It's hard to gain positions that way. Wayne (Johnson) obviously started up front and just set sail."
Another fourth place heat race finish at Riverside International Raceway's "Rock 'N Roll 50" on Saturday night in West Memphis, Arkansas set the stage for a tough night. "It was a standard West Memphis heat race," says Brady. "There wasn't much passing at all. We got another stout heat and we didn't have enough passing points to make the A. The top five in ASCS National points ended up with us in the second B feature. We were leading that by a good margin and had a U-joint break on the last lap."
A provisional was necessary to start the main event, and Brady shot from 24th to a ninth place finish. "We had to replace the whole driveline to take the provisional," he says. "We had to start 24th instead of 18th and that hurt us a bit. We had a good car all night. We just started too far back, and we didn't catch any breaks on cautions. We had one early on where we passed three cars and it was brought back on a caution."
Through it all, Brady still sits third in the ASCS National standings. "We've had a few things beyond our control happen this year," he says. "We are still able to get some solid finishes and that's a good sign. We just need to capitalize on our opportunities when they come. Right now, Wayne is going really well. I don't think he's finished out of the top five all year. I hope he's feeling better after Saturday night at West Memphis."
This will be a weekend away from the sprint car and into a midget. "We'll use the week off to drive the Wilke-Pak midget at Dodge City this weekend," says Brady. "We'll go through everything and make sure it's all ready for Little Rock in two weeks."
Follow Brady on his Website, Twitter and Facebook!
Follow Brady at his website located at www.BradyBaconRacing.com! Also keep up with him on Facebook and Twitter (which also can be accessed at the website) at the following links…
Twitter Link – http://twitter.com/BradyBacon
Facebook Link – www.facebook.com/pages/Brady-Bacon-Racing/278125555137
Partner of the Week – Oilfield Equipment and Manufacturing
Oilfield Equipment and Manufacturing, headquartered in Shawnee, Oklahoma, specializes in quality oilfield services, drilling and steeping. Give them a call today at 405 275-4500!
Associate Marketing Partner of the Week – Lightning Wings
Lightning Wings are made by racers for racers. Each one is built to your car's specifications and is constructed from aircraft quality aluminum! Whether you drive a sprint car or mini-sprint, or need trailer accessories, choose Lightning Wings! Visit them online at www.LightningWings.com!
If you would like to receive Brady's weekly releases, send an e-mail to sprntcar@hotmail.com with the subject "Brady".
Brady Bacon Racing would like the following sponsors for all their help: Fatheadz Eyewear, Oilfield Equipment and Manufacturing, Tel-Star Communications, PPM Titanium Products, Triple X Race Co., Infinity Shocks, Smiley's Racing Products, Heath Clips Lawn Care, Keizer Aluminum Wheels, Eaton Industrial Coatings, Pattison Precision Products, Wesmar Racing Engines, Butlerbuilt Seats, Hoosier Tire Southwest, Diversified Machine Inc., Brown and Miller Racing Solutions, Lightning Wings, Simpson, Pro Pan, CP Pistons, Schoenfeld Headers, Carrillo Rods, KSE Steering, All Star Performance, King Racing, Schroth Racing, FSR Radiators, Three-wide Clothing and Fuel Safe.