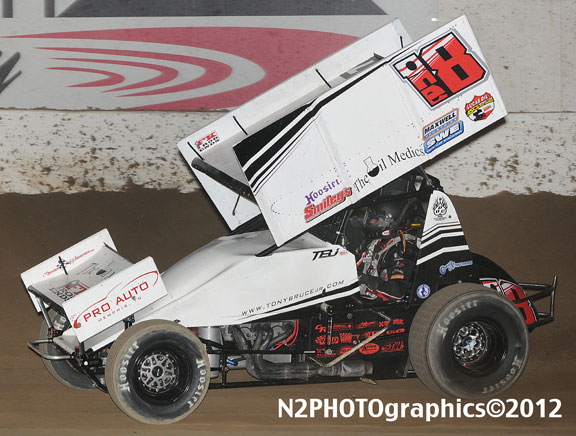 PETERSEN MEDIA
– Tony Bruce, Jr had a crazy weekend that saw the Liberal, KS turned Owasso, OK native charge from the B to a 10th place finish Friday night and failing to make the show in the TBJ Promotions Rock-N-Roll 50 on Saturday.
"It was a wild weekend for sure," said Bruce, Jr. "Racing wise we were okay, but promotionally with TBJ Promotions it was awesome."
Friday night saw the Lucas Oil ASCS National Series invade the Salina Highbanks in Salina, OK for the first time since 2001, and problems early forced TBJ to show the crowd how to charge from the rear.
Issues in his heat, forced Bruce and his one8 Motorsports/Oil Medics/Pro Auto mount to tag the B in the 16th spot.
"The B was hairy," said TBJ. "Cars were everywhere so I was just hoping to keep my nose clean and make it through."
Bruce was a stout force in the B, as he charged up through the field and grabbed the fourth spot, transferring him into the feature, but putting him in the 20th starting spot.
In the feature, Bruce had his hands full with the star studded field, but was able to put his right rear on the cushion and work the tip top of the track aboard his Wayne Priddy tuned machine, and hard charged his way to a 10th place finish.
"We passed some cars tonight, that's for sure" said TBJ. "It's not an easy thing to start in the back of one of these races and move forward, but luckily we snuck out of here with a 10th."
Saturday night the series traveled to the Riverside International Speedway for the 4th Annual Rock-N-Roll 50, an event that is promoted by TBJ Promotions.
"What a horrible night for the race team," said Bruce.
The night got started off on the wrong foot as Bruce, who started on the pole in his heat, thought he had an opening under Zach Pringle, and ended up taking both drivers out of the event.
"I thought I had an opening, and ended up taking both of us out, and feel bad for him. It was nothing intentional, just a very costly mistake," explained Bruce.
Marred in the back of another B, Bruce was unable to get through the B, and failed to transfer into the feature.
"It was a stout field of cars tonight, and it was a tough B and we were in the back," he continued. "It was an awesome event overall with a great crowd, and I commend Seth Bergman on his first win, it was awesome to see."
Bruce would like to thank all of his sponsors, Hinchman Racewear, Pro Auto, The Oil Medics, Smileys, SWE, Maxwell Industries, FK Rod Ends, Butlerbuilt, Factory Kahne Shocks, Randy's Racing Filters, DriversWebsites.com, Racinboys.com, Wilwood, Zemco Headers, Hoosier Tires, Gaerte Engines, Pro Powder Coating, Fuel Safe, Bell, Weld Wheels, and ISC Racer's Tape for their support through the 2012 season.
ON TAP: The one8 Motorsports team will now take a look at various schedules and decide what to do with their weekend off from Lucas Oil ASCS National Series competition.
STAY CONNECTED: Stay updated with TBJ by visiting his website at
www.tonybrucejr.com, or by following him on twitter @tonybrucejr
SPONSOR SHOUT OUT: ButlerBuilt
Located in North Carolina, ButlerBuilt continues to put out the safest racecar seat on the market. Specializing in all types of racecar seats, ButlerBuilt simply puts drivers in the most comfortable situation to win races.
"I will never strap into any sprint car unless it has a ButlerBuilt seat," said TBJ. "Brian and Jeannie truly care about their product and what it protects. All the safety features that ButlerBuilt has to offer there is no reason to run anything else."