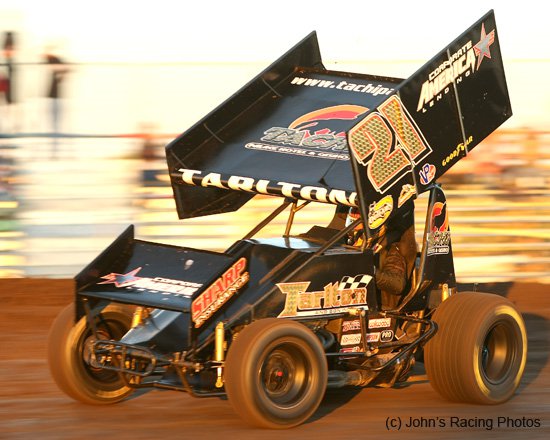 PETERSEN MEDIA
– In his second straight weekend filling in for Tommy Tarlton, Clovis, CA driver, Jason Meyers again posted a second place finish with the Rebel Cup Series as they were in action at the Thunderbowl in Tulare, CA.
"We've been really good the last two weeks, but we grabbed another second," said Meyers.
With a subpar 12 cars on hand, Meyers flexed his muscle early as he timed the Corporate Lending America/Tachi Palace and Casino/Sharp Insurance entry in with the quickest lap in qualifying and set himself of nicely for the rest of the night.
Starting fourth in his heat, Meyers made quick work of the field, and grabbed the lead, which he would not relinquish, and put himself in the night's inversion.
With the six being drawn, Meyers lined the Bandy and Associates/Pro Signs/BG Lubricants entry up in the third row of the Rebel Cup feature event.
As Meyers worked his Tarlton and Son entry up into the top three, he again got into a heated battle for the second week in a row with Steven Tiner.
Race leader, Bud Kaeding had the race at hand, and all eyes were on the Meyers/Tiner battle for second.
As the white flag flew, Meyers through a picture perfect slide job on Tiner, to grab the second spot for the second consecutive week.
"Paul and the rest of Tarlton's guys gave me another awesome car, and I wish we could of gotten the W," said Meyers. "We're communicating well and that's good as we continue to prepare for the Nationals together later this summer."
Tommy would like to thank Corporate Lending America, Tachi Palace and Casino, Sharp Insurance, Bandy and Associates, Pro Signs, BG Lubricants, Pro Shocks and Astro Titanium for their continued support.
VIDEO: Check out some behind the scenes action as well as some of the racing action from Tommy's opening night of action at the Marysville Raceway Park at http://vimeo.com/37919846
STAY CONNECTED: Stay connected with Tommy by visiting www.tommytarlton.com or follow @Tarlton_Racing on Twitter.