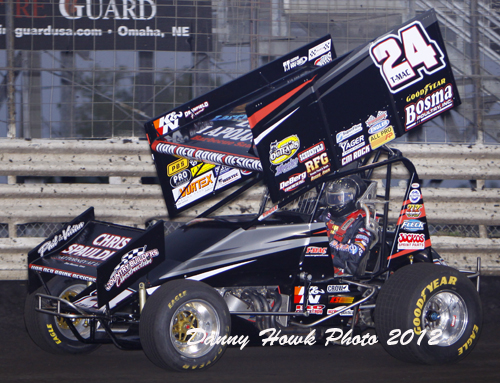 By Bill W
May 1, 2012 – A solid top ten finish with the World of Outlaws at Knoxville Raceway highlighted the weekend for Altoona, Iowa's Terry McCarl. The TMAC Motorsports #24 team plans on racing at the Jackson Spring Nationals on Friday, before returning for Knoxville Championship Cup Series action on Saturday.
After an impressive showing in practice, TMAC registered the 15th quick time of the night amongst the 42 WoO entries at Knoxville on Saturday. "This motor has fourteen nights on it, and it's running great," he says. "It felt good hot-lapping. It seemed the late number hurt us a bit, but then again, Brian Brown went out later and was quicker. The track was in great shape all night long."
Qualifying put TMAC on the pole of his heat, which he was able to win and qualify for the Dash. "The guys on the outside had been getting good starts," he says. "We were able to get the jump on Kraig Kinser and the motor and car felt great out in the open. My setup the last little bit just hasn't worked. With the Goodyears, I need to figure it out. I'm still stubborn. When they switched in 2010, I didn't race that much, so everyone got a year jump on me."
Starting in the back of the Dash, TMAC struggled with his setup. "I tried to go back to my normal stuff in the Dash and we were horrible," he says. "We went backwards. I went back to our heat race setup in the feature, and though we weren't perfect, we were closer."
Starting in row five, TMAC climbed as high as eighth in the 25-lapper. In the end, he would checker tenth. "I don't think tenth showed how fast we were," he says. "We lost a couple spots towards the end. We were faster than tenth. I thought we had Brad Sweet there at end, but he got loose in front of me, and (Jason) Sides got by too. I wish we were outside on the last restart too. I think we had a shot at a top five."
Overall, he was excited about the speed shown. "I think we definitely made some strides," says TMAC. "I'm excited about the rest of the year."
The team traveled to the Salina High Banks in Salina, Oklahoma on Friday to test an d tune a motor with the ASCS National series. TMAC finished seventh in his heat. "Some days it's your day, and some days it isn't," he says. "We had some truck problems going down there, and drew the last number in the toughest heat. But my dad always told me, 'If you're fast, you're fast.' And we weren't fast. I was real loose. I didn't get it tightened up. We had a cracked u-joint, so we didn't get to hot lap or get a feel for the car."
The night ended in the B. "I really love the racetrack," says TMAC. "I can't wait to go back. We were using Carson's new Rider Engine. We were taking it down there to break it in and get it fueled right. We felt better in the B, but the motor cut out. We think it was the mag box. It was better to find out there than Carson at Knoxville, or up at Jackson."
Plans this weekend are to head to Jackson, Minnesota and the $5,000 to win Spring Nationals before returning to Knoxville Saturday.
To check out opportunities to partner with TMAC Motorsports on a nightly basis, visit www.TerryMcCarl.com or call 515 957-0020!
Websites for the McCarl Gang!
Driverwebsites.com develops the websites for the McCarl boys. Check out www.TerryMcCarl.com, as well as www.AustinMcCarl.com and www.CarsonMcCarl.com!
In"Terry"gation
Junior Shelton asks: What did you think of Carson's run on Saturday night?
TMAC Answers: I'll tell you what, I'm biased, but he amazes me every time. It was his fifth time in a 360. He's out there racing with some tough competition. The Knoxville 360 class is tough. I'm a proud Dad, but he has a lot of talent. I wish we could go Jackson, Knoxville, Huset's with him this weekend, but we'll have to wait for a better budget. That's what he needs is laps. He's unbelievably talented, but he has a lot to learn. And the only way to learn is to do it. I have so much fun taking he and Austin racing with me. They both amaze me how good and smart they are out there. I am really looking forward to the future with them.
Got a question for TMAC? Send it to us at sprntcar@iowatelecom.net , and we may answer it in this section! Put "? for TMAC" in your subject line.
This Month in TMAC History!
On May 13, 2001, TMAC registered quick time of the night (11.16 seconds) and won the feature event at Huset's Speedway near Brandon, South Dakota. On that night, he topped Wade Nygaard, Jake Peters, Kenny Hansen and Tim Monson. TMAC won his fifth track championship in six years in 2001 by 20 points over Gary DeWall. He won ten features in 18 tries at Huset's that season.
"Tuesdays with TMAC"!
"Tuesdays with TMAC" is an up close and personal look at colorful sprint car veteran Terry McCarl. To receive "Tuesdays with TMAC", send an e-mail to sprntcar@iowatelecom.net with "TMAC" in the subject line.
TMAC Motorsports would like to thank sponsors "Lord I Apologize BBQ Sauce", Deanfield Farms, Bosma Poultry, Eagle Chassis, DeBerg Concrete, AmeriCashAdvance.com, RFG, Phil and Vivian, Ryan Yager Trucking, 212 The Boiling Point Bar & Grill, Vortex Racing, Hoosier Tire, Chris Spaulding – Attorney at Law, Schoenfeld Headers, K&N Filters, Don Ott Engines, HRP, All Pro Cylinder Heads, Bob and Beulah Elder, Country Builders Construction, Engler Injection, Superflow Technologies, T&P Brothers, Larry Fleck Trucking, Winters, DriverWebsites.com, CM Rock, Jocko's Sprint Parts, Sander, Brown and Miller, Chase Graphics, Pro Shocks, Ben Cook, Bell Helmets, Burnett's Rock and Landscaping, Fatheadz Eyewear, Morgan Strawberry Farms, Bulldog Pest Control, Aurora Rod Ends, Crow Safety, Justice Brothers, KSE Steering, Strange Performance, Saldana Racing Products, Scribner Plastics, Waterman Fuel Pumps, Weiland Racing, Butlerbuilt, PBS Bushings.