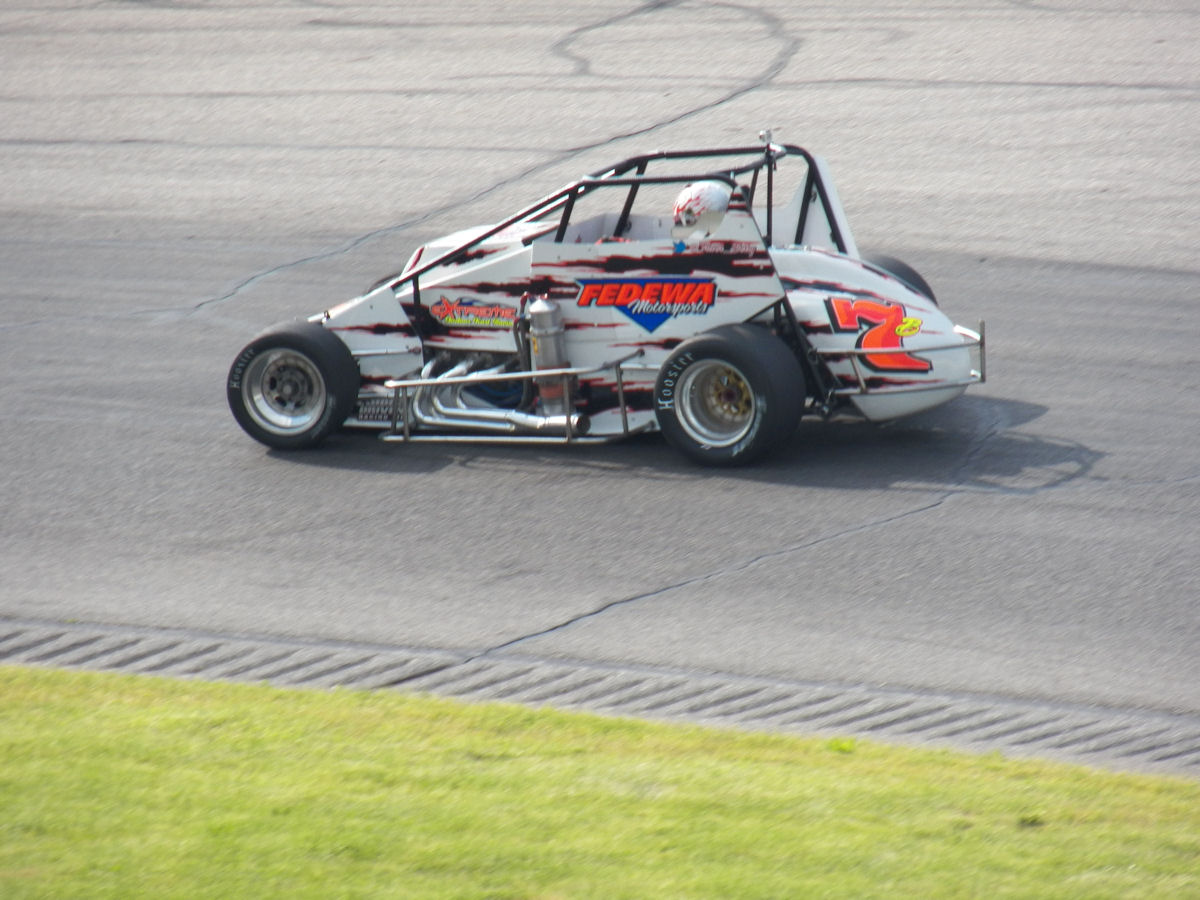 By Matt Pruier
Clio, Michigan (Friday, May 18th, 2012): Never in his wildest dreams did 19-year-old Trevor Berry expect to be standing where he was at the end of his first career start in a Non-Winged Sprint Car on May 4th at the fast ¼ (0.250) mile semi-banked paved oval of Spartan Speedway, located south of Lansing in Mason, Michigan. After all, his Car Owner, veteran Tom Fedewa swept the entire season one year ago having never lost a Feature all year long en route to the Track Championship.
Where Berry was standing was in victory lane at the historic oval near the Michigan State Capital as the Clio, Michigan driver had the best possible outcome in his Non-Winged Sprints debut as he outdueled his car owner and teammate to score the upset Feature Win and vault him to the top of both the Overall and the Rookie of the Year title chases in the tracks' weekly Non-Winged Sprints division.
"To race for a caliber race team like Fedewa Motorsports and come out on top is an amazing feeling. To Win on the very first night out is amazing," Stated Berry. "I can't thank Tommy enough for the opportunity. My racing career was on a stand still until I got this shot and I'll do whatever it takes to make sure I please the team and myself." He added.
For the 2012 racing season, Berry will make a run at the 2012 Non-Winged Sprint Cars Track Championship at Spartan for Fedewa Motorsports as well as make limited appearances in the Non-Winged Sprinter at near-by Springport Motor Speedway in Springport, Michigan. When not running the Sprint car, Berry will pull his open-wheeled Modified out of the Clio, Michigan race shop and race a limited schedule with the Full Throttle Modifieds Series as well as make limited appearances in weekly competition close to home.
Berry's next racing action will see him shift gears and refocus his efforts on his open-wheeled Modified for the weekend as he, along-with his Father and Car Owner, legendary retired Super Late Models competitor, Dennis Berry will make the short trip to the fast 4/10s (0.400) mile progressively banked paved oval of Dixie Motor Speedway in Birch Run, Michigan for the tracks twice rescheduled Opening Night.
"Going into Dixie this weekend I know we have a good shot to win there! The car is ready, the team is prepared and the future is looking bright right now, so it's pretty much just up to me!" The Great Lakes State driver continued. "I can't make any mistakes and I have to take advantage to all of my opportunities." Berry ended.
In 2011 in limited appearances behind the wheel of his Modified, Berry scored two Feature Wins with one of those coming at his hometown track, Auto City Speedway in Clio, Michigan while his second victory occurred at Dixie. He also registered seven Fast Qualifier Awards during the year. He made his full-size stock car debut in 2010 in his Modified.
From 2006-2009 he was an accomplished Micro Sprints competitor registering 20 Feature Wins spread out through Michigan, Indiana, and Illinois with the biggest win during that span coming in the Restrictor Nationals in Logansport, Indiana. In 2005 while racing Bandoleros, he scored three Feature Wins in seven starts including the K.O.I.L. Tour Nationals triumph at Kentucky Motor Speedway. He also raced in Quarter-Midgets from the beginning of his career in 2002 as a nine-year-old up to that 2005 season.
It was in Quarter-Midgets were he enjoyed a mass amount of success as he was the Rookie of the Year in 2002 at Waterford Speedway and then was crowned the Mid-Michigan Racing Association Driver of the Year on two occasions. He scored an impressive four (4) Championships in that highly successful 2005 season including; Limited 160 MMRA Champion, Senior Honda MMRA Champion, Limited 160 Region 4 Champion, and Limited 160 Tri-City Champion.
He scored over 50 Feature Wins during that time with three of those highlighted victories including the Motor City Meltdown in 2003, the Ft. Wayne Indoor Rumble Limited 160 Winner in 2005, and the Buckeye Winter Nationals Limited 160 Winner in 2005.
For the 2012 racing season, Berry's #7 Non-Winged Sprint Car from the Fedewa Motorsports stable as well as his #7 open-wheeled Modified with a Port City Racecars chassis has sponsor decals on each machine from; Extreme Indoor Kart Racing, Rat-Tech Engine Service, Davis Racing Equipment, Joe Gibbs Driven Racing Oil, Go Pro Cameras, Monogramming by Martha, Andrea's Place Styling Salon, and M.P.H. Promotions.
For more information about Trevor Berry and the entire Berry Racing Team and to inquire about additional sponsorship opportunities for the remainder of the 2012 racing season, log onto the teams' website at: www.berryracing.com. You can also follow Berry by becoming a fan on his Facebook Fan Page. Just go to: www.facebook.com search "Berry Racing Incorporated and click on "Like". Finally you can also follow the team on Twitter by going to: www.twitter.com/trevor_berry and click on the "Follow" button.