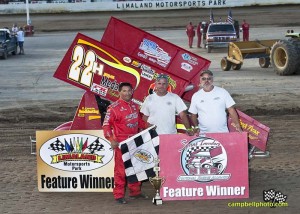 Lima, OH — (May 12, 2012) —
For the second time in three weeks, spectators at Limaland Motorsports Park were treated to Double Features due to a rain shortened evening dating back to the April 20th Season Opening Shootout. The touring NRA Sprint Invaders provided the competitors, with the series defending champion and a Michigan invader taking the coveted checkered flags.
The night began with the first of the NRA Sprints 25-lap showcases. California native Randy Hannagan proceeded to take full advantage of the preferred outside front row starting grid. "I had a great starting spot up front on the outside," he said. "But nonetheless, this car is a treat to drive and a lot of fun."
Hannagan grabbed the lead through the event's opening circuit and never surrendered it. Veteran racers Kyle Sauder and Darren Long held the outside starting positions in the second and third rows. They produced some exciting side-by-side action until the yellow flag came out when all-time leading Limaland Motorsports Park sprints winner Tim Allison suffered a mechanical break after 8 laps.
When green flag racing resumed, Hannagan again moved to the front, but this time Darren Long was able to put some pressure on him on the outside. Although Long was never able to take over the lead, the action at the front was spirited until another caution flag brought the field of cars back together. Hannagan proved to be too strong for anyone to threaten as he rolled for a 3-lap dash to the finish.
"Darren Long gave me a slide job there and it made my alarm clock go off, so I had to get up on the wheel," exclaimed an excited Hannagan. "I figured it might be Long or Sauder or somebody coming up through there." It was his first win of the season and third in two years at the track. Long took second with Michigan's Gregg Dalman finishing third.
Later in the evening, both Dalman and Hannagan would emerge as prime contenders in the second of the NRA Sprint features. The order of finish was different as Dalman prevailed in a thrilling chase from behind, while Hannagan carved out a runner-up result after he also was behind the leaders for much of the race.
Beau Stewart propelled himself to the lead from his outside front row starting grid. The blue winged #27 car navigated three caution periods and ran up front until lap 20.
Suddenly it was apparent that Gregg Dalman had set up Stewart for a brilliant passing maneuver on the bottom of turn four. With three laps remaining, Dalman made his move and it appeared both cars may have brushed tire barriers on the edge of the infield. Stewart became out-of sorts while Dalman calmly got squared away and stormed through the final laps to secure the triumph.
"We kept working on the car it and improved it through the night," stated the Grand Ledge, Michigan driver. "I kind of stayed with the bottom of the track. I knew the top was going to get tricky for those guys. It did and we won!" Dalman added this win to another from early last season for his pair of career conquests at Limaland Motorsports Park. Randy Hannagan finished second and his teammate/car owner Dennis Yoakam finished third after starting from the pole.
If the early 2012 racing season in the K&N UMP Modifieds and Budweiser Thunderstocks divisions is any true indicator, the names of Jake Reufer and Shawn Valenti will be regularly spoken. Both drivers battled their way up through the extremely competitive field to achieve status as multiple feature winners before the middle of May.
Reufer, who nearly won both features a couple of weeks ago, flawlessly moved from his row 5 starting position to the third running slot after just three laps of the 20-lap Modified main event. Reufer's blue colored #16 machine rooted out Clint Reagle on the bottom of the track and took the lead on lap 9. A pair of yellow flags didn't slow the charge to his second win of the early campaign.
"This one is nice as me and my dad are both under the weather right now," said the Indiana native Reufer. "I thought I was in trouble with my starting position, but we overcame and worked our way up there. I guess we were lucky to come home with the win." Former champion Terry Hull wound up finishing second and point's runner-up Cory Seeling took third.
The Budweiser Thunderstocks are becoming Shawn Valenti's private playground this season as the Lima driver posted an impressive third consecutive win. "It's amazing to come out here with this field of cars and to get three in row is unbelievable," said Valenti, now with 8 career wins at Limaland Motorsports Park.
A five car pile-up during the opening lap thinned out the field of cars in the 15-lap stocks feature. Valenti moved to the lead on lap 5 with an outside pass of Barney Craig coming off of turn 2.
A pair of cautions didn't affect Valenti on his dominant winning performance. "The restarts with Barney Craig behind me were important that I maintain my composure," said Valenti. "Who would have thought that we would come out this strong to start the season? We've had some breaks go our way, especially tonight coming up through the field, but we'll take it." Craig, Tony Anderson, Jeff Koz and Chris Douglas rounded out the top five finishers.
Action resumes on Friday, May18, with Modified Mayhem, as Limaland Motorsports Park will host the Elwer Fence Sprints, the K&N UMP Modifieds compete for $1,500 to win, and the Budweiser Thunderstocks. Gates open at 5:00 p.m. with hot laps beginning at 6:30 p.m. Racing starts promptly at 7:30 p.m.
All the latest news and information about America's premier quarter-mile dirt track, can be found at www.limaland.com. You can also find 2012 Limaland Motorsports Park on Facebook and Twitter.
Engine Pro/NRA Sprints from 4/20/12
A-Main – (25 Laps)
1. 22H-Randy Hannagan; 2. 7-Darren Long; 3. 49T-Gregg Dalman; 4. 28H-Hud Horton; 5. 35-Ron Blair; 6. 27-Beau Stewart; 7. 3T-Tony Beaber; 8. 22D-Dennis Yoakam; 9. 5M-Max Stambaugh; 10. B20-Butch Schroeder; 11. 49-Shawn Dancer: 12. 2M-Dallas Hewitt; 13. 7K-Kyle Sauder; 14. 18-Todd Heuerman; 15. 10J-Jarrod Delong; 16. 27R-Ryan Ruhl; 17. 17-Jared Horstman; 18. 22-Ben Rutan; 19. 57-Dylan Cisney; 20. 11-Tim Allison
Stocks
Heat 1 – (8 Laps – Top 8 Transfer)
1. 16-Jeff Koz; 2. 22T-Tony Anderson; 3. 71C-Barney Craig; 4. O1-Brent Weaver; 5. 52T-Cody Timmerman; 6. 7-Dan Wooten; 7. 57S-Billy Siferd; 8. 1W-Mark Wooten
Heat 2 – (8 Laps – Top 8 Transfer)
1. 7B-Shawn Valenti; 2. OOM-Bryan Martin; 3. 99-Andy King; 4. 1-Brad Kemp; 5. 327-Randy Crossley; 6. 88-Zach Bowen; 7. 17-Corey Wooten
Heat 3 – (8 Laps – Top 8 Transfer)
1. 82-Chris Douglas; 2. OON-Dwight Niehoff; 3. 2-Shane Wolf; 4. 12G-Garry Domoe; 5. 74D-Craig Dippman; 6. 93-Zach Gustafson; 7. 27-Frank Paladino; 8. 52B-Sam Bodine
A-Main – (15 Laps) [#]-Starting Position
1. 7B-Shawn Valenti[8]; 2. 71C-Barney Craig[3]; 3. 22T-Tony Anderson[6]; 4. 16-Jeff Koz[9]; 5. 82-Chris Douglas[7]; 6. 57S-Billy Siferd[19]; 7. OON-Dwight Niehoff[4]; 8. 99-Andy King[2]; 9. 12G-Garry Domoe[12]; 10. 27-Frank Paladino[21]; 11. 2-Shane Wolf[1]; 12. O1-Brent Weaver[10]; 13. 93-Zach Gustafson[18]; 14. 327-Randy Crossley[14]; 15. 1-Brad Kemp[11]; 16. 52B-Sam Bodine[23]; 17. 17-Corey Wooten[20]; 18. 88-Zach Bowen[17]; 19. 7-Dan Wooten[16]; 20. OOM-Bryan Martin[5]; 21. 74D-Craig Dippman[15]
Modifieds
Heat 1 – (8 Laps – Top 8 Transfer)
1. 41-Ty Dillon; 2. 22T-Tony Anderson; 3. 28-Chad Rosenbeck; 4. 33-Clint Reagle; 5. 18N-Derrick Noffsinger; 6. O1-Ryan O'Dette; 7. 17-Dillon Nusbaum; 8. 19B-Brandon Ordway
Heat 2 – (8 Laps – Top 8 Transfer)
1. F16-Jake Reufer; 2. 40-Terry Hull; 3. L5-Casey Luedeke; 4. OO-Kody Weisner; 5. 69-Tommy Beezley; 6. 47-Nick Rosselit; 7. 93-Tyler Stump; 8. 19-Ryan Ordway
Heat 3 – (8 Laps – Top 8 Transfer)
1. 65-Todd Sherman; 2. 22B-Andy Bibler; 3. O3-Cory Seeling; 4. 37-Jd Francis; 5. 15-Nick Katterhenry; 6. 95-Greg Socha
A-Main – (20 Laps) [#]-Starting Position
1. F16-Jake Reufer[9]; 2. 40-Terry Hull[6]; 3. O3-Cory Seeling[2]; 4. OO-Kody Weisner[11]; 5. 22T-Tony Anderson[7]; 6. 22B-Andy Bibler[5]; 7. 41-Ty Dillon[10]; 8. 28-Chad Rosenbeck[4]; 9. 65-Todd Sherman[8]; 10. 37-Jd Francis[12]; 11. L5-Casey Luedeke[3]; 12. 93-Tyler Stump[20]; 13. 69-Tommy Beezley[14]; 14. 18N-Derrick Noffsinger[13]; 15. 47-Nick Rosselit[17]; 16. 95-Greg Socha[18]; 17. O1-Ryan O'Dette[16]; 18. 19-Ryan Ordway[22]; 19. 15-Nick Katterhenry[15]; 20. 33-Clint Reagle[1]; 21. 19B-Brandon Ordway[21]; 22. 17-Dillon Nusbaum[19]
NRA Sprints
Heat 1 – (8 Laps – Top 5 Transfer)
1. 40-Caleb Helms; 2. 49T-Gregg Dalman; 3. 27-Beau Stewart; 4. 35-Ron Blair; 5. 5M-Max Stambaugh; 6. 10J-Jarrod Delong; 7. 23-Devon Dobie; 8. 27R-Ryan Ruhl; 9. 18-Todd Heuerman; 10. 98J-John Kettlewell; 11. 23M-Jack Miller
Heat 2 – (8 Laps – Top 5 Transfer)
1. 22H-Randy Hannagan; 2. 28H-Hud Horton; 3. 22D-Dennis Yoakam; 4. 82-Mike Miller; 5. 22-Ben Rutan; 6. 4U-Rick Boughan; 7. 34-Jimmy Sneed; 8. 2M-Dallas Hewitt
Heat 3 – (8 Laps – Top 5 Transfer)
1. 7K-Kyle Sauder; 2. 3T-Tony Beaber; 3. B20-Butch Schroeder; 4. 7-Darren Long; 5. 17-Jared Horstman; 6. 12-Kent Wolters; 7. 49-Shawn Dancer; 8. 4J-Bob Gehr; 9. 27B-Brad Lamberson; 10. 2G-Joe Geibe
B-Main – (10 Laps – Top 5 Transfer)
1. 10J-Jarrod Delong; 2. 2M-Dallas Hewitt; 3. 4U-Rick Boughan; 4. 18-Todd Heuerman; 5. 27R-Ryan Ruhl; 6. 49-Shawn Dancer; 7. 12-Kent Wolters; 8. 4J-Bob Gehr; 9. 27B-Brad Lamberson; 10. 34-Jimmy Sneed; 11. 98J-John Kettlewell; 12. 2G-Joe Geibe; 13. 23M-Jack Miller; 14. 23-Devon Dobie
A-Main – (25 Laps) [#]-Starting Position
1. 49T-Gregg Dalman[5]; 2. 22H-Randy Hannagan[7]; 3. 22D-Dennis Yoakam[1]; 4. 27-Beau Stewart[2]; 5. 7K-Kyle Sauder[6]; 6. B20-Butch Schroeder[9]; 7. 17-Jared Horstman[15]; 8. 28H-Hud Horton[4]; 9. 3T-Tony Beaber[3]; 10. 35-Ron Blair[10]; 11. 82-Mike Miller[11]; 12. 7-Darren Long[12]; 13. 40-Caleb Helms[8]; 14. 2M-Dallas Hewitt[17]; 15. 22-Ben Rutan[14]; 16. 5M-Max Stambaugh[13]; 17. 27R-Ryan Ruhl[20]; 18. 18-Todd Heuerman[19]; 19. 10J-Jarrod Delong[16]; 20. 4U-Rick Boughan[18]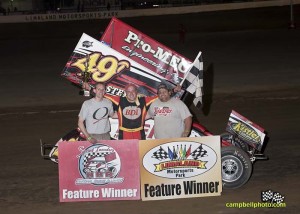 Photo Gallery