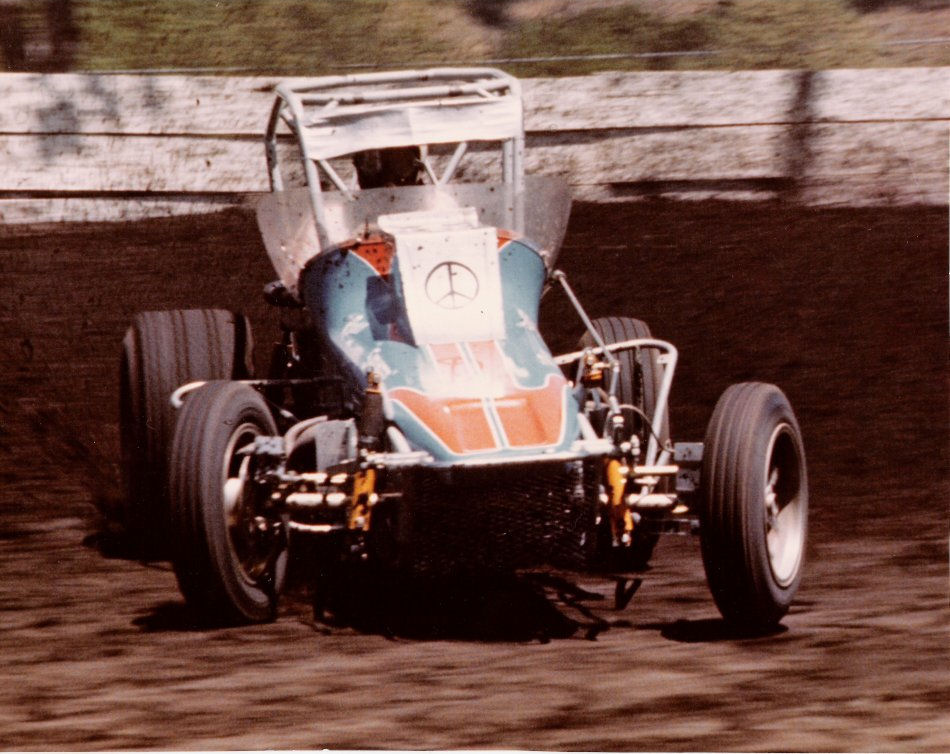 By Gary Thomas
Calistoga, CA – May 21, 2012…For many fans and teams in the Northern California sprint car community there is no place other than the Calistoga Speedway to spend their Memorial Day weekend. With that said this coming Saturday & Sunday the tradition lives on, as the Cancen Oil KWS Series presented by Goodyear will invade the famed half-mile for two nights of high-octane competition.
Adult tickets will be $20 each night, with all kids 12 and under being free, as part of the Calistoga Speedway "75th anniversary Special." On Saturday & Sunday May 26 & 27 the front grandstand gate will open at 4pm, with cars hitting the track for wheel packing at 4:30, qualifying around 5:30 and racing scheduled to begin around 6. Please be advised of the earlier start time for both nights of racing.
Saturday's event will be the 21st running of the "Salute to Walter T. Ross," a night of action paying respect to the former Northern Auto Racing Club President and long time car owner.
Ross' famous No. 56 graced victory lane at the Calistoga Speedway on 11 occasions and was one of the most recognizable sprint cars of its era. His car was driven by some of the biggest names in Northern California sprint racing including Gary Patterson, Dave Bradway Jr., Leroy Van Connett, Mike Andreetta, Rendy Boldrini and others.
As president of NARC Ross was crucial in moving the club forward following the retirement of Louis Vermeil in the mid-1980's. He was also named one of the 40 most influential people in Northern Auto Racing Club history. Ross passed away in 1987 from A.L.S. and a race recognizing him has become a tradition on Memorial Day weekend at Calistoga.
Former Calistoga Speedway & Napa County Fair manager Mike Kenney said of Ross in a past racing program, "As a former president of NARC, Ross brought the racing club into the era of sponsorship, but most of all Walter T. Ross was best known for his heart. He cared about people, sprint car racing and his friends and family."
On Sunday night we will then honor the memory of National Sprint Car Hall of Famer Gary Patterson with the return of the "Tribute to GP" at Calistoga Speedway.
Known as the "Dancing Phantom," the "Preacher," the "Hostile Hippie" or just simply "GP," Patterson was one of the most colorful characters of his time and captured a number of major wins in his career including the Gold Cup Race of Champions, the Super Dirt Cup in Washington and the Turkey Night Grand Prix at Ascot Park among others.
Patterson unfortunately lost his life in a sprint car crash at Calistoga Speedway on Memorial Day weekend 1983 and an event in his memory had been held at the half-mile ever since, up until 2007 when the "Tribute to GP" was moved to Silver Dollar Speedway. In 2012 however, the decision was made to bring the race back home to Calistoga and on Sunday night we'll pay respects to the 29th anniversary of GP's passing.
Two-time state 410 champion Jonathan Allard will lead the Cancen Oil KWS Series presented by Goodyear into the Calistoga Speedway this weekend. Now in his eighth season driving for Morrie & Katie Williams the Chico, CA wheel-man holds a 27-point advantage at the top of the standings, following a pair of runner up finishes at Tulare on May 11 & 12. Allard was the winner of the "Tribute to GP" in 2007.
Now finding himself second in the series standings, San Jose's Tim Kaeding will look for a strong weekend in Calistoga to help close the gap back up. The driver of the Roth Motorsports No. 83 mount has won six career races at the half-mile, including last year's "Salute to Walt Ross." That victory also tied the defending King of the West with Ronnie Day & Steve Kent for most all-time wins in event history.
Last year's KWS runner up Evan Suggs has moved to third in points and will be gunning for his first Calistoga Speedway win this weekend aboard the Suggs Racing No. 33e sprinter. The 25-year-old Scotts Valley resident had one of his best career runs at the track last season, bringing home a fourth place finish in the main event.
National Sprint Car Hall of Famer Brent Kaeding ranks fourth in the Cancen Oil KWS Series presented by Goodyear standings going into the weekend. "BK" is the second winningest driver in Calistoga Speedway history, having scored 21 career victories and is tied with Steve Kent for most wins in "Tribute to Gary Patterson" history.
Rounding out the top-five in points coming into Calistoga is Elk Grove's Bobby McMahan, who is just nine-digits out of fourth and will be gunning for a strong two nights of racing at one of his favorite tracks. The pilot of the American Tool & Mfg No. 25 machine has captured four Calistoga Speedway wins in his career.
Completing the top-10 in the Cancen Oil KWS Series presented by Goodyear standings going into Memorial Day weekend are Clovis, CA's Peter Murphy, Placerville's Andy Gregg, three-time Calistoga winner Jason Statler of Grass Valley, Rookie of the Year contender Chad Compton from Fair Oaks and Sacramento's Willie Croft.
After winning his first ever KWS main event two weeks ago in Tulare, locally based driver Rico Abreu of St. Helena will be in action on Sunday night at Calistoga aboard the Abreu Vineyards No. 89 sprinter. The 20-year-old will compete in the "Night Before the 500" at Lucas Oil Raceway in Indianapolis on Saturday, before flying home Sunday for the "Tribute to Gary Patterson."
Other drivers set for the Calistoga Speedway double-header will include 2010 "Salute to Walt Ross" winner Bud Kaeding of Campbell, Fresno's Craig Stidham, White Rock, BC's Toni Lutar, Rio Linda's Cody Lamar, St. Helena's Jeff Griffin, Elk Grove's Sean McMahan, Oakhurst's Doug Gandy, Rio Vista's Danielle Simpson, Laton's Geoffrey Strole, Grass Valley's Pat Harvey and more.
Sunday morning from 7am till 11am will also feature the Calistoga Boy Scout Troop 18 Annual Pancake Breakfast in the Butler Pavilion on the Napa County Fairgrounds. Enjoy two pancakes, scrambled eggs, Sausage & fresh fruit. Your choice of coffee, tea, milk or orange juice. Come enjoy a delicious breakfast and support Calistoga Boy Scout Troop 18. Breakfast is $8.00 for adults & $5.00 for children under 10. For more info call 707-328-7545.
The Calistoga Speedway is located on the beautiful Napa County Fairgrounds in Calistoga, California. The physical address is 1435 North Oak Street and the track number for more information is (707) 942-5111. The track website can be found at http://www.calistogaspeedway.org
Don't forget to "like" the Cancen Oil King of the West Series on Facebook at http://www.facebook.com/kingofthewestsprints and follow us on Twitter @kwssprintracing for the most timely and up to date information on the series.
Also check out our official website, which is under construction at http://www.kwssprints.com for the latest news, results, history and more on the Cancen Oil King of the West 410 Sprint Cars presented by Goodyear.
–