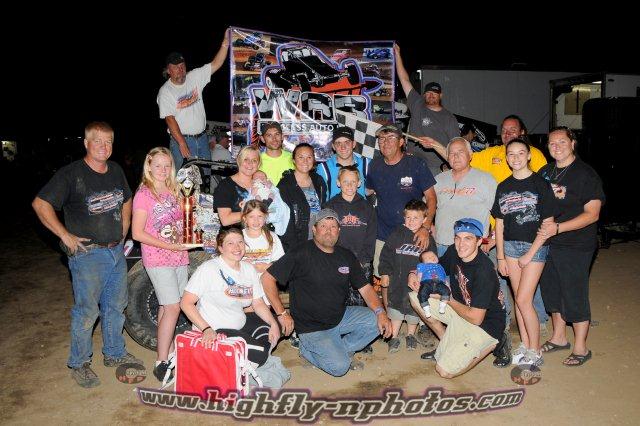 By Bill W
May 28, 2012 – Maybe they should call Brady Bacon "The Jet". For the third time, he has won the finale at the Steve King Memorial in Jetmore, Kansas. He did it again on Sunday night. Earlier in the week, he added a non-wing win in the Jesse Hockett Racing #77 at the Valley Speedway in Grain Valley, Missouri. The two-win week encompassed five features in four nights in three different states. This Saturday night, the Broken Arrow, Oklahoma pilot will be aboard the Wilke-Pak #11 midget at the Hut Hundred at the Tri-State Speedway near Haubstadt, Indiana.
Brady has had enormous success in Jetmore and it continued in the Brady Bacon Racing #99. "It always seems to be the place that we turn our year around," he says. "This is the third time we've been able to win the Sunday night Steve King Memorial feature. We've been able to win four features in the six times we've been there."
Saturday nights prelim saw wind blowing across the plains. "The wind was a big factor," says Brady. "It was blowing about 25 miles per hour the whole time. That made a big difference in the way the car handled. Our package works really well there. We were able to get the heat race win. We started by getting in a wreck and knocking down the front end. We were able to fix that, and still come back through and get the win."
Brady drew the pole for the preliminary main event. "I don't know that the pole was the best place to start," he admits. "It was pretty fast on top. I had some guys passing me up there. Fortunately, for once, I caught some cautions right. We were able to get up in position to hold our spot and get by Jeff Swindell for second. I wasn't quite able to get (Jason Martin) and get past him, but finishing second locked us in for Sunday."
The luck of the draw continued for Sunday's big finale! "I think I've been in the redraw four times at Jetmore, and I've drawn a one four times!" says Brady. "The track was racy. We tightened things up, and we were really good by ourselves on the bottom. We got clogged up a bit in lapped traffic. We moved around a little bit."
Brady thwarted a late challenge from Swindell. "With about ten laps left, Jeff was able to get beside us on the back straightaway, and we were able to hold him off on the top of three and four," he says. "After that, we were able to hold on, and find the racetrack on top a little better."
The week started on Wednesday at the Valley Speedway in Grain Valley, Missouri. Brady did double-duty driving with the Lucas Oil ASCS National Series and with the WAR series aboard the Jesse Hockett Racing #77. "We've had the non-wing racing under control this year for some reason," says Brady, who won his heat and the feature. "We were able to get that win for Jack Hockett so that was good."
Brady runs a similar racing schedule as the one "The Rocket" made famous. "It was definitely special," he says of the win. "Jesse and I were close because of the type of racing we were doing the last few years. We'd be running USAC at the same time, or ASCS or both. We got pretty close to him before he passed, and I'm close to the Hockett family. It was great to get them that win. Jack was definitely pumped up about that."
It was a lack of fortune for Brady that plagued him in ASCS action at Valley. He started seventh in his heat. "We were in a wreck at the start of the heat race and broke a shock," he says. "Fortunately, we were able to come back to fifth and get ourselves into the A. We were close to getting upside down. We bent the frame. We found that out a few days later."
A mechanical gremlin derailed the feature and Brady rode around to finish 18th. "On about the second lap of the feature, we had the inboard caliper come off," he says. "We rode around with no brakes the whole race. That was really tough. We just had to kind of ride around there."
The ASCS National Series returned Thursday night to run at I-80 Speedway near Greenwood, Nebraska. After a third place heat run, Brady had things rolling in the feature after starting 15th. "Once again, we had a really good car," he says. "We didn't have a great heat race, but we had a really good car in the feature. We were able to roll the bottom really well."
The charge was halted by a mechanical problem again. "We got up to fifth or sixth," says Brady. "We had a nose wing strap break for some reason. Nothing was hit…it was just a parts failure I guess. The wing fell down and that affected the car dramatically, making it really tight."
The problems at Valley and I-80 were disappointing. "What should have been a top five finish, turned into a twelfth place finish," says Brady. "We're definitely glad we got rid of the bad luck in Jetmore. It's frustrating when you have things happen beyond your control like we had at I-80 and Valley."
Follow Brady on his Website, Twitter and Facebook!
Follow Brady at his website located at www.BradyBaconRacing.com! Also keep up with him on Facebook and Twitter (which also can be accessed at the website) at the following links…
Twitter Link – http://twitter.com/BradyBacon
Facebook Link – www.facebook.com/pages/Brady-Bacon-Racing/278125555137
Partner of the Week – Triple X Race Co.
At Triple X Race Components, we don't just build race parts – we race too. We know how expensive it is to race. That's why we offer the most common Sprint Car, Midget, and 600 Mini Sprint parts. We keep our costs down by building thousands of each part. We build the parts that get damaged the most. With our discounted pricing, you can afford to race hard and race to win. All Triple X components are produced in our ISO 9001 certified factory. They are laboratory tested, race tested, and universally approved. Whether you are a new customer or a repeat customer, you can be assured that you're buying race-proven products at great prices. We guarantee it. Triple X has established a large network of dealers coast to coast and internationally to serve your needs. Please stop by your local dealer and check out our newest products. Check Triple X Race Co. out on the web at www.XXXRaceCo.com!
Associate Marketing Partner of the Week – CP Pistons
CP Pistons and Carrillo industries have joined forces with one goal in mind: offer high quality performance products with excellent customer service. CP has built a reputation of high-end quality pistons, built to perform and outlast; especially in power-sport and sport compact. They are recognized as a technological leader in piston design and development for all venues of motorsports. They focus on providing industry-leading products and performance while maintaining the highest level of customer service.
Nearing their 50th Anniversary, the name Carrillo is synonymous with connecting rods. Carrillo has won more races in virtually every format of motorsports than any rod manufacturer in the world. They carry a full line of stock replacement rods and specialize in custom applications. They focus on providing industry-leading products and performance while maintaining the highest level of customer service. All products are proudly made in USA. Visit them online at www.CP-Carrillo.com!
If you would like to receive Brady's weekly releases, send an e-mail to sprntcar@hotmail.com with the subject "Brady".
Brady Bacon Racing would like the following sponsors for all their help: Fatheadz Eyewear, Oilfield Equipment and Manufacturing, Tel-Star Communications, PPM Titanium Products, Triple X Race Co., Infinity Shocks, Smiley's Racing Products, Heath Clips Lawn Care, Keizer Aluminum Wheels, Eaton Industrial Coatings, Pattison Precision Products, Wesmar Racing Engines, Butlerbuilt Seats, Hoosier Tire Southwest, Diversified Machine Inc., Brown and Miller Racing Solutions, Lightning Wings, Simpson, Pro Pan, CP Pistons, Schoenfeld Headers, Carrillo Rods, KSE Steering, All Star Performance, King Racing, Schroth Racing, FSR Radiators, Three-wide Clothing and Fuel Safe.