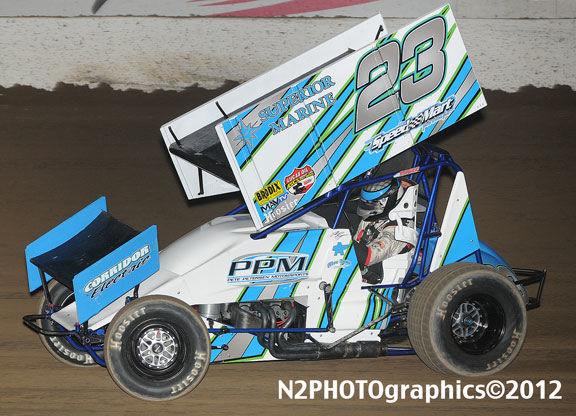 PETERSEN MEDIA
Snohomish, WA driver, Seth Bergman spent his holiday weekend traveling the Midwest with the Lucas Oil ASCS National Tour, and a ninth place finish in Grain Valley, MO highlighted a string of four races in five nights for Bergman.
"It was an up and down stretch for sure," said Bergman. "We seemed to finish right were we started, but we've been pretty good before this so we will rebound, that is a fact."
Starting off Wednesday at the Valley Speedway, Bergman scored a fourth place finish in his heat from the seventh starting spot and found himself starting in the 10th spot for the 30-lap feature.
With the Valley Speedway slicking off, it eventually began taking rubber, and Seth held on to the ninth spot at the stripe.
Thursday night the tour traveled to Greenwood, NE to do battle at the I80 Speedway, and Bergman's rough patch really took off.
"We were okay on Wednesday, but we broke a spark plug on Thursday before the feature and I feel like we just got in a funk."
Fading to fourth from the pole in the B, Bergman did make the transfer to the feature, but as the feature got underway the Washington state native pulled off early and was scored in the 20th spot.
Taking a night off to get to Kansas, Bergman and his team were in action for the Steve King Memorial at the Great American Dirt Track.
Coming from the B, Bergman started deep in the field and fought a loose racecar in the finish and wasn't able to go anywhere as he crossed the line in the 18th spot.
Sunday night ended the mini speedweek, and was the finale of the Steve King Memorial race.
Again finding himself in the B, Bergman won the event and transferred to the feature where he lined up in the 17th spot.
"It's tough any time you race with the National guys, but when you can't get the job done in the heat, you really dig yourself a hole, and we did that all week,' said Bergman.
On the very tight and tacky track, Bergman ended the frustrating week in the 14th spot.
"It was just a rough and long week, and hopefully we learn some things from this and can get better as the season starts picking up here really soon."
Bergman and his Pete Petersen Motorsports team would like to thank Superior Marine, Corridor Electric, Speedmart Inc, Eagle Chassis, ButlerBuilt, and 7 Industries for their support in 2012.
ON TAP: Bergman will now take the weekend off before heading to the Eagle Raceway in Eagle, NE on June 8-9 for the Eagle Nationals.