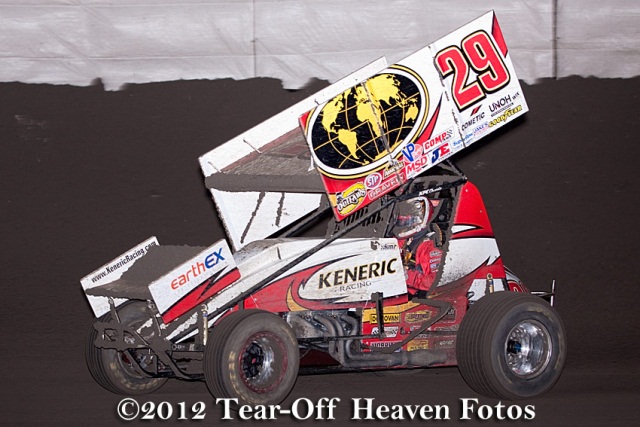 By Bill W
June 6, 2012 – Kerry Madsen and the Keneric Racing #29 team visited a pair of bullrings this past week with the World of Outlaws. The St. Mary's, New South Wales driver registered ninth place finishes at both the I-96 Speedway near Lake Odessa, Michigan and at the Kokomo Speedway in Indiana. This week, he returns to his stateside home of Iowa when the WoO visits the Clay County Fair Speedway in Spencer on Friday, and the Knoxville Raceway on Saturday.
After being rained out at Attica Raceway Park in Ohio, Friday night, the Outlaws traveled north to I-96, where they saw a different racetrack than usual. "I would say it's a quarter-mile," says Kerry of the facility's new configuration. "It was kind of a weird shape. Almost like a circle. We qualified third, so I guess we got around there pretty well. It was the little track on the inside of the one we used to run. It was quite a unique track. It was a pretty heavy cushion coming off of turn four, but we were having a good night."
After finishing fourth in his heat and second in the Dash, Kerry lined up outside of row one, and was running in the top five. "We had a great run going," he says. "We were up to fourth. We jumped the cushion coming out of turn four twice, and we lost a bunch of spots. We ended up ninth."
The tough cushion claimed more drivers than just Kerry. "We were disappointed to end up out of the top five," he says. "I don't think we had a car to win it, but we definitely had a top five car. It was just driver error jumping the cushion."
On Tuesday, the racy Kokomo Speedway in Indiana hosted the WoO. Kerry timed in ninth and finished second in the Dash. "We qualified o.k.," he says. "We were going at it pretty hard with (Donny) Schatz in the heat race. It was a pretty cool race."
Again, Kerry was moving forward. "I was running seventh trying to pass Schatz," he says. "Once again, it got kind of one-lane. Schatz was slower than I was, so I wanted to get past him before someone attacked me. I ended up slipping up, and lost a couple spots, ending up ninth."
The improvements in the team's results have started with their qualifying efforts. "It's all there," says Kerry. "We're getting pretty close. So far, our qualifying package is working out. We just need to translate that into the race. We're going to be based in Iowa for the next month, so I'm looking forward to that."
The team is pumped for Iowa. "I'm really looking forward to Spencer and Knoxville, and the rest of the tracks coming up this month," says Kerry. "We held the track record at Spencer, but it was broken last year. We've always ran good there. I'm pretty confident going into this weekend. We've run strong at the tracks we're going to be at this month."
Follow Kerry Madsen on his Website and on MySpace, Facebook and Twitter!
Follow Kerry Madsen at his website located at www.KenericRacing.com! Also keep up with him on Facebook and Twitter (which also can be accessed at the website) at the following links…
Facebook link = http://www.facebook.com/#!/pages/Official-Fan-Page-for-Kerry-Madsen/101145169933686
Twitter link = http://twitter.com/#!/kmr29
Kerry's Releases
To receive Kerry's Releases, send an e-mail to sprntcar@hotmail.com with "Madsen" in the subject line!
The Team
Kerry Madsen (KMR / Keneric Racing), Bob & Peter Gavranich (Keneric Racing), Earthex, Morrison Motors, KPC Chassis.