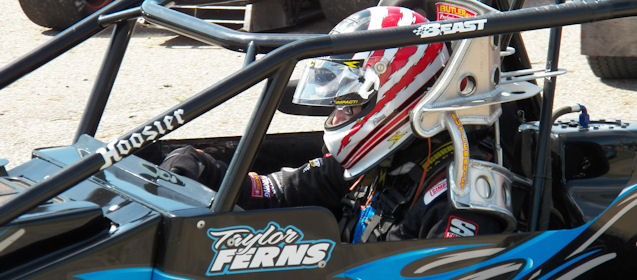 By Ferns Racing PR
Shelby Township, Mich.—June 7, 2012 — For Taylor Ferns, Indiana Midget Week is less than seven days away, and what better way to prepare for the five consecutive nights of racing that to race? That's exactly what the defending USAC Mopar D1 Midget Series champion will do this weekend, as she takes to a pair of dirt tracks with the POWRi Lucas Oil National Midget Series in Missouri.
Ferns will open the weekend on Friday, June 8, at the one-third-mile semi-banked Valley Speedway in Grain Valley, followed by a trip to the high-banked quarter-mile Springfield Raceway on Saturday, June 9.
"It's been quite a while since I've been in a midget on the dirt, and that's one of the cars I enjoy racing the most," said Ferns. "As a driver you want to race as much as you can, so I am really looking forward to the two races this weekend and then all the races next week."
Ferns competed in six events in 2011 with the POWRi Midget Series, which traditionally runs on smaller, tighter dirt tracks. She picked up the best finish of her career with the series last season, coming home sixth at the one-fifth-mile Macon Speedway in Illinois. The native of Shelby Township, Mich., most recently competed with the POWRi Midget Series back in December indoors at The Battle at the Center in DuQuoin, Ill.
"I always have a good time racing with the POWRi Series," shared the 16-year-old. "They put on a great show and have been getting really good car counts this season. I respect the drivers out there and they are fun to race with. It should be a really good weekend for us."
Ferns raced on the dirt five times last season with the USAC Mopar D1 Midget Series in a Spike chassis with a Stanton Mopar engine under the hood, finishing eighth or better in four of those starts, including turning in a stellar fourth-place performance at Kokomo (Ind.) Speedway where she raced wheel-to-wheel with open wheel legend Dave Darland for several laps. She also picked up a Top-Five finish at Montpellier (Ind.) Speedway, which is a quarter-mile, similar to Springfield Raceway, where she'll be racing on Saturday.
"On the smaller tracks the main goal is to keep your nose clean," noted Ferns. "You have to try to avoid the wrecks and take care of your car. I really enjoy racing on the smaller tracks. That's what I grew up on and came from and feel very comfortable on those types of tracks."
While she'll be seeing both Valley Speedway and Springfield Raceway for the first time, Ferns has been watching videos online and studying photos to get a sense of the configuration of both tracks. The winningest female driver in USAC history opened 2012 by competing in a midget at the famed Chili Bowl Midget Nationals for the first time in January, which is held on a track that measures slightly less than a quarter-mile.
"Going from one smaller track to another will definitely help set-up-wise and rhythm-wise," Ferns stated. "It can be tough sometimes when you go from a big track to a small track overnight or vice versa. We should be able to use a lot of what we learn on Friday night on Saturday night."
Ferns, who has crew chief Marc DeBeaumont turning the wrenches this season, competed in the USAC Mopar National Midget Series season-opener at Ace Speedway back in March. She was ninth-fastest in time trials in the finale of that two-night event, and has over 30 midget races on her schedule this year, on both dirt and pavement.
"This will be my third race with Marc (DeBeaumont) as my crew chief and we are turning into a team," said Ferns. "I think the one thing that we have really meshed on is that we go on the track to win. Every single time I go on the track, I want to finish up front and do good and win and it's the same thing with Marc. We both have that fire. I'm really excited and I think we'll have a great year."
Taylor Ferns and Ferns Racing would like to thank their valued partners: Dea Sunglasses, eBay Motors, FK Rod Ends, Frameworks Marketing Group, Lucas Oil, K&N Filters, Lansing Sanitary Supply (LSS), Simpson Race Products, Indy Race Parts, ButlerBuilt, Allstar Performance, Stanton Mopar, Lyn St. James Women in the Winner's Circle Foundation, Race4Girls and Racing2Cure.
###
Keep up to date
For the latest news, results and information on Taylor Ferns and Ferns Racing and to view a full 2012 schedule, visit www.TaylorFerns.com. Follow Taylor on Twitter at www.Twitter.com/TaylorFerns or @TaylorFerns and on Facebook at http://www.facebook.com/pages/Taylor-Ferns/116543998373.