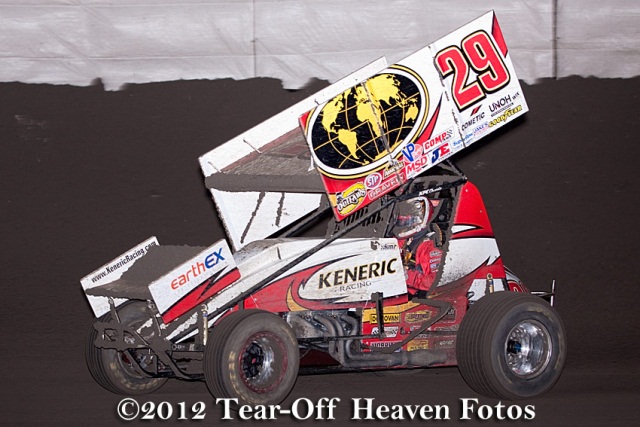 By Bill W
June 13, 2012 – It was a long climb, but Kerry Madsen and the Keneric Racing #29 team made it worth the wait Saturday night, as they captured the World of Outlaws main event at the historic Knoxville Raceway in Iowa. The event served as the final warm-up for August's 52nd Knoxville Nationals. Friday, the St. Mary's, New South Wales native finished a stout fifth with the WoO at the Clay County Fair Speedway in Spencer, Iowa. This weekend, the WoO heads to River Cities Speedway in Grand Forks, North Dakota, and the Red River Valley Speedway in Fargo.
The team was ecstatic about the win at Knoxville. "It couldn't have come at a better time," says Kerry. "Outlaw wins are hard to get anyway, let alone at Knoxville. Everyone in the camp is pretty pumped!"
Things started with a bad pill draw. Kerry came out 29th out of the 43 competitors with a track that was drying fast. Still, he nailed down the sixth quick time of the night. "I felt pretty confident going in," he says. "We were coming back to Knoxville for the second time after we had been improving the program."
The car was a rocket every time it hit the track. Kerry started third in the heat and won it, and third in the Dash and won that. "It was rubber-down in the end, but I felt like we won the race early," he says. "We got a late number, and qualified well. We were strong in the heat and in the Dash. We genuinely deserved to be in the position we were in to win it."
Starting on the pole of the main event, Kerry watched as Sammy Swindell rode the cushion to an early lead. On lap six, he would find some rubber lower on the track and take the lead for good. It was his 17th career win at Knoxville, but his first with the Outlaws. "It wasn't easy with Sammy beside me," he says. "Initially, in the first five lap run, I didn't know whether the top would be quicker, or the rubber was being laid down. It felt good to get by him and get it done."
At Spencer on Friday, Kerry qualified fifth, and ran fourth in his heat and the Dash. "We had a really good car," he says. "We had dropped back to sixth. I started running the bottom, and we were up to second. We were battling (Jason) Sides and he came back on the inside, and I kind of just missed the bottom. That got me out of sync for a corner and dropped me back to fifth."
The fifth place finish was welcome. "A top five was good," says Kerry. "Any time you can finish top five with the Outlaws, you are going well. We are getting solid racecars. We're getting bad qualifying numbers and still doing it. It's a good feeling that everything we've been doing lately is going in the right direction. We're not 100% there, but getting a win, and running good…makes you feel like you are on the right track."
This weekend's shows in North Dakota will again showcase the WoO. "We should have about four wins at Grand Forks, but we don't have any," says Kerry. "We've always run well there and had strong cars. For some reason, we've always had strong cars there and it's agreed with me. I haven't run the new configuration at Fargo yet, so I'm looking forward to that too. The fans up there are unbelievable too. They are just awesome! Our crowds this year have not only been big, they've provided a great atmosphere as well."
Follow Kerry Madsen on his Website and on MySpace, Facebook and Twitter!
Follow Kerry Madsen at his website located at www.KenericRacing.com! Also keep up with him on Facebook and Twitter (which also can be accessed at the website) at the following links…
Facebook link = http://www.facebook.com/#!/pages/Official-Fan-Page-for-Kerry-Madsen/101145169933686
Twitter link = http://twitter.com/#!/kmr29
Kerry's Releases
To receive Kerry's Releases, send an e-mail to sprntcar@hotmail.com with "Madsen" in the subject line!
The Team
Kerry Madsen (KMR / Keneric Racing), Bob & Peter Gavranich (Keneric Racing), Earthex, Morrison Motors, KPC Chassis.