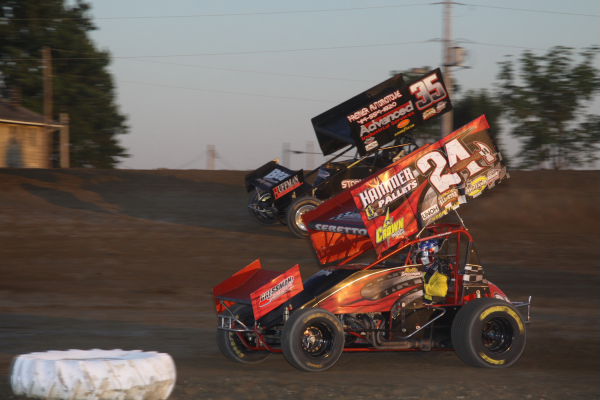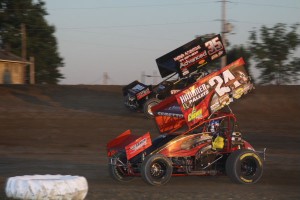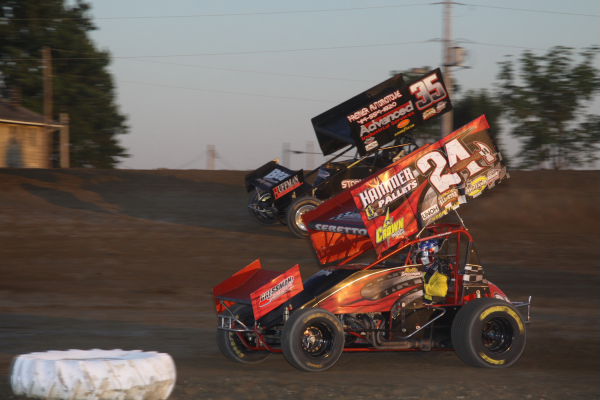 From Brian Liskai
Fremont, OH — (June 17, 2012) — Bryan Sebetto stalked Byron Reed for several laps Saturday at Fremont Speedway. When a lapped machine held Reed up ever so slightly, Sebetto pounced to take the lead and drove off for his second victory of the season at "The Track That Action Built" on Crown Battery Night.
It was a clean sweep of the weekend for the Fremont, Ohio driver, as he claimed the win the night prior at Attica Raceway Park. Sebetto, the defending Fremont Speedway champion, increased his point lead in the $10,000-to-win Kistler Racing Products Fremont Attica Sprint Title (FAST) Championship Series with the back-to-back wins as he looks to repeat as the FAST champion.
"That was my only shot because Byron was good. Once he got by me I was messing around on the bottom in one and two…I was good early in the race but he blew around me on the top so I had to go back up and run the groove he was running. I think I was getting through three and four a little better than he was. I was closing but not by much. I knew it was going to take lapped traffic to win it because I wasn't going to beat him in an open race track," explained Sebetto of his winning move.
"We swept the weekend and won the Australian Pursuit (worth $1,000 from Crown Battery in memory of Alex Burkett)…this weekend is awesome. It was Crown Battery and they are our major sponsor…it was storybook…couldn't get any better," continued Sebetto in the Engine Pro Victory Lane beside his Hammer Pallets, Keizer Wheels, Gressman Powersports, OC Shocks, JLH General Contractors backed machine.
The win – the 19th in Sebetto's career at Fremont – gives his Randy and Lisa Hammer owned team a lot of momentum heading into the 30th Annual Ohio Sprint Speedweek – 9 straight nights of racing across Ohio.
"I want to get out and do some racing. This has been my dream and passion since I was a kid. And now I have the opportunity to get out on the road and see if I have what it takes. I want to get some laps on some different race tracks and learn some stuff so that hopefully when I come back here it makes me that much better," said Sebetto. "This helps my confidence a lot. I can't thank my guys enough. Aaron Hammer my crew chief and Guhn and Timmy P. and Gibbs…everyone that comes down and helps on this thing."
Fremont's D.J. Foos is nearly unbeatable this season. He passed Paige Polyak with eight laps to go and went on to take his third win of the season in the Fremont Federal Credit Union 305 Sprints. Foos has eight wins in 2012 including five at Attica Raceway Park.
"Lapped traffic was hard to get around. I kind of just maneuvered my way around. My brother (Matt) said they were messing everyone up behind me. I couldn't get through turns three and four early. I finally just manned up and drove through it," said Foos beside his Buckshot Farms, Crown Battery, Level Performance, Automatic Fire Protection, Tender Turn Car Wash, Pit Stop Carryout backed machine.
"My dad (Dave) made a call before we went out to take some stagger out of it. I told him I really didn't like that so he made an adjustment to help what he wanted to help and man this thing was a rocket ship so happy Father's Day dad," added Foos, thanking his sponsors Gyro Motorsports, Kistler Racing Products, Linder's Speed Equipment, JLH General Contractors and Schiets Motorsports. "I have to thank Dennis Level, Guy Meyers, Dale Arnold and my brother Matt…they build one awesome motor."
For the second week in a row, Bob Dible experienced mechanical problems while leading. This time, Dan Roepke Jr., last season's rookie of the year, was there to take advantage and he drove away for the victory in the Fremont Fence Dirt Trucks.
"That felt pretty easy compared to how we've been doing. We haven't changed a whole lot on the truck, just switched a few things here and there and it seemed to work out pretty good," said Roepke in the Engine Pro Victory Lane beside his Perkins Tree Service, Village Inn, Johnny's Electric. "It would have been a good race with Bob…I'm not sure who would have gave first because we were both good on the bottom."
Chris Andrews and Brandon Martin would bring the field to the green in the 30 lap feature for the Fort Ball Pizza Palace 410 Sprints. Andrews would charge into the lead with Martin, Sebetto, Reed, Mike Linder and Duane Zablocki in tow. Action would grind to a halt after two laps were scored when Jared Ridge flipped hard in turn three. Ridge was not injured, but repairs had to be made to the catch fence.
Andrews would power away on the restart with Sebetto and Reed driving around Martin. As Andrews went unchallenged up front, Sebetto and Reed began a good battle for second with Martin, Linder, Zablocki, Todd Heller, Brad Bowman, Phil Gressman and 15th place starter Dean Jacobs in tow. With seven laps in the books, Reed would drive around Sebetto for the runner-up soot and two laps later, drove under Andrews exiting turn two to grab the lead.
Sebetto would grab second on lap 11 with Andrews fighting back as they raced side-by-side through the half-way point when the caution would fly when Heller and Craig Mintz got together in turn one. On the restart, Reed had three lapped cars between himself and Sebetto with Andrews, Linder, Martin, Zablocki, Jacobs and Gressman in tow.
Reed would rocket away on the restart, but Sebetto quickly disposed of the lapped cars and began closing while Linder would slip under Andrews for third. With 10 laps to go, the leaders would begin racing into lapped traffic again, and as they flew into turn one, Sebetto made his winning move, using a lapped car as a pick to drive under Reed for the lead.
Reed would stay close over the next couple of laps, but once cleared of traffic, Sebetto would drive away for the win. Reed, Linder, Andrews and Jacobs would round out the top five.
"That is the best running motor in the pit area. This thing makes awesome horsepower, good torque and it throttles…that's the big thing, making it so it drives and throttles. Scott Gressman hit the nail on the head with this thing. It runs in a wet race track, dry race track. I can bury it in the cushion, dry slick…it doesn't matter," said Sebetto of his winning edge.
Alvin Roepke and Jimmy Colvin would pace the field in the 305 sprint feature, with Roepke gaining the advantage at the drop of the green. On lap two, Paige Polyak would drive into second and a lap later fifth starter Foos would grab third. By lap five it was Roepke holding a narrow advantage over Polyak with Foos, Caleb Griffith and Dustin Dinan in tow.
Josh Harrison would coast to a stop in turn two on lap eight to bring out the caution, and on the restart, Polyak drove under Roepke to take the lead. After a lap was scored, the caution would fly for a Nate Dussel spin. On the restart, Foos and Griffith would both get around Roepke as Polyak set sail.
Polyak would hit lapped traffic on lap 14, allowing Foos to close with Griffith, Roepke, John Ivy and Dinan in pursuit. Foos would execute a slide job in turns three and four to grab the lead as they raced to the line to complete the 17th lap. Things would get hairy with four laps to go as the leaders drove into heavy lapped traffic that was racing side by side in front of them. Foos sliced his way through like a surgeon as Polyak and Griffith were held up.
Foos would drive away for his sixth career win at Fremont, with Griffith getting by Polyak for second on the last lap while Roepke and Ivy would round out the top five.
Brad Mitten and Jimmy McGrath Jr. brought the dirt truck field to the green for their 15 lap feature with McGrath leading the first circuit by a nose. Dible would drive from third into the lead on lap two with McGrath in pursuit while Mitten, Steve Sabo, Dustin Keegan, Art Ball, John Ivy and Dan Roepke Jr. waging a tremendous battle for third.
McGrath would slip up the track exiting turn two on lap seven, as Roepke drove from fourth to second. A lap later and Dible's run at the point would come to an end when his left rear wheel came off, handing the lead to Roepke, as the remaining 12 laps would be run caution-free.
On the ensuing restart, Roepke would power away with Sabo, McGrath, Ivy, Mitten, Dustin Keegan, Ball and 20th starter Cory Ward battling hard for second. Roepke would encounter lapped traffic with six laps to go, but his big lead gave him the cushion to take his time picking through the field. Meanwhile, Ivy grabbed second on lap 12 with McGrath and Sabo in pursuit.
Roepke would coast to his fourth career win with Ivy, McGrath, Sabo and Ball rounding out the top five.
There is no racing at Fremont Speedway on Saturday, June 23, but The Track That Action Built will host the University of Northwestern Ohio All Star Circuit of Champions on Wednesday, June 27 for night #6 of the Ohio Sprint Speedweek on JLH General Contractors Night, and the $10,000 to win grand finale of speedweek on Saturday, June 30 on Fort Ball Pizza Palace Night.
Go to www.fremontohspeedway.com for more information.
Fremont Speedway – 6/16/2012
Crown Battery Night
Fort Ball Pizza Palace 410 Sprints (24 Cars)
[#]-Starting Position
Qualifying – Callie's Performance
1. 14H-Todd Heller, 12.996; 2. 55-Brad Bowman, 13.039; 3. 5R-Byron Reed, 13.058; 4. 24H-Bryan Sebetto, 13.096; 5. 9Z-Duane Zablocki, 13.133; 6. 3-Mike Linder, 13.139; 7. 9X-Brandon Martin, 13.236; 8. 16-Chris Andrews, 13.267; 9. W20-Greg Wilson, 13.279; 10. 53-Phil Gressman, 13.294; 11. 40-Caleb Helms, 13.434; 12. 45L-Brian Lay, 13.475; 13. O9-Craig Mintz, 13.487; 14. 2+-Brian Smith, 13.494; 15. 97-Dean Jacobs, 13.518; 16. 12-Jarred Ridge, 13.528; 17. 60-Jody Keegan, 13.564; 18. 3T-Tony Beaber, 13.579; 19. 46AU-Stuart Williams, 13.589; 20. O-Lee Jacobs, 13.589; 21. 14-Chad Wilson, 13.590; 22. 5T-Travis Philo, 13.786; 23. O6-Brandy Bower, 14.139; 24. 35-Stuart Brubaker, 14.228
Heat 1 – (8 Laps – Top 5 finishers transfer to the A-feature)
1. 12-Jarred Ridge[1] ; 2. 53-Phil Gressman[3] ; 3. 9X-Brandon Martin[4] ; 4. O9-Craig Mintz[2] ; 5. 24H-Bryan Sebetto[5] ; 6. 46AU-Stuart Williams[7] ; 7. 5T-Travis Philo[8] ; 8. 14H-Todd Heller[6]
Heat 2 – (8 Laps – Top 5 finishers transfer to the A-feature)
1. 2+-Brian Smith[2] ; 2. 60-Jody Keegan[1] ; 3. 16-Chris Andrews[4] ; 4. 55-Brad Bowman[6] ; 5. 9Z-Duane Zablocki[5] ; 6. O-Lee Jacobs[7] ; 7. 40-Caleb Helms[3] ; 8. O6-Brandy Bower[8]
Heat 3 – (8 Laps – Top 5 finishers transfer to the A-feature)
1. 97-Dean Jacobs[2] ; 2. W20-Greg Wilson[4] ; 3. 3T-Tony Beaber[1] ; 4. 5R-Byron Reed[6] ; 5. 45L-Brian Lay[3] ; 6. 3-Mike Linder[5] ; 7. 35-Stuart Brubaker[8] ; 8. 14-Chad Wilson[7]
Australian Persuit – Dash Sponsor (10 Laps – Top – finishers transfer to the A-feature)
1. 24H-Bryan Sebetto[1] ; 2. 97-Dean Jacobs[2] ; 3. 5R-Byron Reed[3] ; 4. O9-Craig Mintz[4] ; 5. 53-Phil Gressman[5] ; 6. 3-Mike Linder[6] ; 7. 60-Jody Keegan[8] ; 8. 2+-Brian Smith[7]
B-Main – Computer Man Inc. (10 Laps – Top 5 finishers transfer to the A-feature)
1. 3-Mike Linder[2] ; 2. 14H-Todd Heller[1] ; 3. 46AU-Stuart Williams[4] ; 4. 40-Caleb Helms[3] ; 5. O-Lee Jacobs[5] ; 6. 5T-Travis Philo[7] ; 7. 35-Stuart Brubaker[9] ; 8. 14-Chad Wilson[6] ; 9. O6-Brandy Bower[8]
A-Main – (30 Laps)
1. 24H-Bryan Sebetto[4]; 2. 5R-Byron Reed[5]; 3. 3-Mike Linder[8]; 4. 16-Chris Andrews[1]; 5. 97-Dean Jacobs[15]; 6. 53-Phil Gressman[10]; 7. 9X-Brandon Martin[2]; 8. 2+-Brian Smith[14]; 9. O-Lee Jacobs[20]; 10. O9-Craig Mintz[13]; 11. 9Z-Duane Zablocki[3]; 12. W20-Greg Wilson[9]; 13. 40-Caleb Helms[11]; 14. 14H-Todd Heller[7]; 15. 45L-Brian Lay[12]; 16. 60-Jody Keegan[17]; 17. 46AU-Stuart Williams[19]; 18. 55-Brad Bowman[6]; 19. 3T-Tony Beaber[18]; 20. 12-Jarred Ridge[16]
Hard Charger: O-Lee Jacobs[+11]
Fremont Federal Credit Union 305 Sprints (19 Cars)
[#]-Starting Position
Heat 1 – (8 Laps – Top 7 finishers transfer to the A-feature)
1. 5-Dustin Dinan[1] ; 2. 68G-Tyler Gunn[2] ; 3. 9-Jimmy Colvin[3] ; 4. 4X-John Ivy[6] ; 5. 58-Nate Dussel[5] ; 6. 10X-Dustin Stroup[4] ; 7. 5R-Jordan Ryan[7]
Heat 2 – (8 Laps – Top 7 finishers transfer to the A-feature)
1. 40-Caleb Griffith[1] ; 2. 4M-Jamie Miller[4] ; 3. 11F-D.J. Foos[3] ; 4. 10S-Roger Shammo[2] ; 5. 36-Seth Schneider[6] ; 6. 13D-Jeremy Duposki[5]
Heat 3 – (8 Laps – Top 7 finishers transfer to the A-feature)
1. 27-Paige Polyak[1] ; 2. OO-Alvin Roepke[2] ; 3. 25-Jason Keckler[3] ; 4. 8J-Jess Stiger[5] ; 5. 10-Josh Harrison[6] ; 6. 77S-Jim Sipe[4]
A-Main – (25 Laps)
1. 11F-D.J. Foos[5]; 2. 40-Caleb Griffith[6]; 3. 27-Paige Polyak[3]; 4. OO-Alvin Roepke[1]; 5. 4X-John Ivy[7]; 6. 5-Dustin Dinan[4]; 7. 4M-Jamie Miller[8]; 8. 9-Jimmy Colvin[2]; 9. 10X-Dustin Stroup[16]; 10. 5R-Jordan Ryan[19]; 11. 25-Jason Keckler[9]; 12. 58-Nate Dussel[13]; 13. 10S-Roger Shammo[11]; 14. 68G-Tyler Gunn[12]; 15. 8J-Jess Stiger[10]; 16. 36-Seth Schneider[14]; 17. 13D-Jeremy Duposki[17]; 18. 77S-Jim Sipe[18]; 19. 10-Josh Harrison[15]
Hard Charger: 5R-Jordan Ryan[+9]
Fremont Fence Dirt Trucks (22 Trucks)
[#]-Starting Position
Heat 1 – (8 Laps – Top 8 finishers transfer to the A-feature)
1. 88-Dan Roepke Jr.[1] ; 2. 16-Steve Sabo[3] ; 3. 23M-Brad Mitten[2] ; 4. 4X-Brian Sorg[4] ; 5. 3G-Dave Gibbs[5] ; 6. 9-Curt Inks[7] ; 7. 95-Keith Sorg[6] ; 8. 73-Cody Basiner[8]
Heat 2 – (8 Laps – Top 8 finishers transfer to the A-feature)
1. O1-Art Ball[3] ; 2. 94-John Ivy[6] ; 3. 8-Steve Endicott[2] ; 4. 99X-Gene Potridge[7] ; 5. 41C-Chad Stahl[1] ; 6. 115-Ben Good[4] ; 7. 18W-Cory Ward[5]
Heat 3 – (8 Laps – Top 8 finishers transfer to the A-feature)
1. 17-Bob Dible[2] ; 2. 5JR-Jimmy McGrath Jr.[1] ; 3. P51-Willie Keegan[5] ; 4. D1-Dustin Keegan[6] ; 5. 5-Jim Mc Grath Sr.[4] ; 6. 72-Eric Potridge[3] ; 7. 8KB-Kent Brewer[7]
A-Main – (20 Laps)
1. 88-Dan Roepke Jr.[7]; 2. 94-John Ivy[8]; 3. 5JR-Jimmy McGrath Jr.[2]; 4. 16-Steve Sabo[4]; 5. O1-Art Ball[6]; 6. 18W-Cory Ward[20]; 7. D1-Dustin Keegan[5]; 8. 8KB-Kent Brewer[21]; 9. 23M-Brad Mitten[1]; 10. 9-Curt Inks[16]; 11. 8-Steve Endicott[11]; 12. P51-Willie Keegan[10]; 13. 4X-Brian Sorg[9]; 14. 5-Jim Mc Grath Sr.[15]; 15. 99X-Gene Potridge[12]; 16. 41C-Chad Stahl[14]; 17. 115-Ben Good[17]; 18. 72-Eric Potridge[18]; 19. 73-Cody Basiner[22]; 20. 95-Keith Sorg[19]; 21. 17-Bob Dible[3]; 22. 3G-Dave Gibbs[13]
Hard Charger: 18W-Cory Ward[+14]