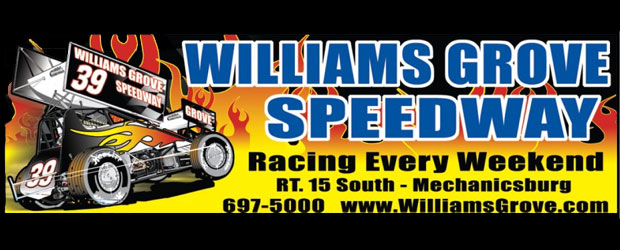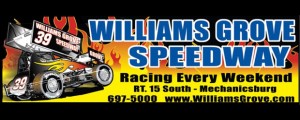 From Williams Grove Speedway
Mechanicsburg, PA — (June 16, 2012) — On an evening with a record-setting crowd, the Williams Grove Speedway Saturday Night Series had three highly competitive features. Scott Geesey won his first of the year in the Super Sportsman, holding off a challenge by Jay Fannasy. Randy Stoudt used a last-lap restart to top Gene Knaub in the 358 Late Models. In the Street Stock feature, Craig Morgan won by a margin of several feet.
Bobby Hockenberry was the leader on the start of the Blazer's Body Shop Super Sportsman 20-lap feature. New Jersey driver Tom Wyckoff was in second with sixth-place starter Scott Geesey in third. By the end of the third lap, Geesey passed Wyckoff for second.
Hockenberry held a 15-length edge over Geesey. Geesey narrowed the lead to seven lengths before a lap 10 caution. After the restart, Hockenberry was in front with Geesey close behind. During the 15th lap, the lead duo swapped lanes several times around the Williams Grove half-mile oval.
Lap 16 found the Hockenberry No. 25 dropping off the pace due to engine problems. Scott Geesey was the new leader with Jay Fannasy in second. A series of cautions over the last four laps allowed Fannasy to make several bids for the lead. Several times Fannasy had his bright red No. 222 beside the black No. 33 of Geesey. Geesey, from Wellsville, held off the challenges to win by one length over Fannasy. Frankie Herr was third with David Socks III in fourth and Steve Fannasy was fifth.
The heat wins for the 35-car field went to Wyckoff, Geesey, Herr, and Hockenberry. Ageless veteran Vance Yinger, racing since 1963, won the consolation.
Travis Mease, the second-place starter, was the leader on the start of the 20-lap Brooks Graphix 358 Late Model race. While Matt Nailor chased the leader, ninth-place starter Randy Stoudt was on the move with the Leinbach NINE. Following a second-lap restart, Stoudt was in third position. The lead trio of Mease, Nailor, and Stoudt staged a close battle for the lead.
On the eighth lap, Stoudt passed Nailor for second. One lap later Stoudt became the new leader with a turns three and four pass of Mease. Stoudt, from Pottstown, gained a comfortable lead. The driver on the move was three-time feature winner Gene Knaub. With five-laps remaining, Knaub was in second. Stoudt's lead disappeared with a caution on lap 18.
The caution returned on the final lap. Stoudt had a strong restart and held a nine-car length edge. Stoudt's blood-red NINE captured feature win number two by seven lengths over Knaub. Mease, Nailor and Jared Miller completed the top five finishers.
Knaub, Jake Jones, and Bernie Beard won the heats for the 26-car field. John Ebersole was the consolation winner.
In what is becoming weekly tradition, the Newville Construction Services Street Stocks had another intense feature. Paul Morgan led the first circuit of the 15-lap feature. Behind Morgan, there was a four-car fight for second between Walt Lemmon, Kevin Sigler, David Walsh, and Greg Diehl. Sigler's Camaro was in second by the end of lap four. Three-laps later, Sigler became the new leader with a turn four pass.
As Sigler set the pace with his white No. 7s, 11th-place starter Craig Morgan was racing in fifth. Morgan, from Halifax, made his move in the final five laps of the race. He was third with two-laps remaining. As the white flag came out Morgan's blue No. 11 Camaro took over second. Leader Sigler's car pushed high in turns one and two. Morgan drove under the leader at the exit of turn two. The lead duo was door-to-door as they raced off turn four. At the finish line, Morgan won his third of the year by several feet over Sigler. Sam Rial, Paul Morgan, and Diehl followed the lead duo.
Craig Morgan, Lemmon, and Sigler won the qualifying races for the 23-Street Stock field.
The Sprint Aces Super Sportsman Hard Charger award went to LeRoy Martin. Gene Knaub won the Anchor Industrial Supply Hard Charger award for the 358 Late Models. Sam Rial was the winner of the Street Stock Anchor Industrial Supply Hard Charger award.
This was "Bring a Friend to the Races Night." Speedway management issued a challenge to the fans and race teams. If the crowd would increase by over 100 people compared to the week prior, management would add an extra $100 to the first place money in all three classes. The fans responded with the largest crowd in the history of the Saturday Night Series. They topped the old record by several hundred. The track's management would like to thank everyone for their continuing support of the Saturday night racing.
This week Williams Grove Speedway presents another three-division show featuring the Blazer's Body Shop Super Sportsman, the Brooks Graphix 358 Late Models, and the Newville Construction Services Street Stocks. The 358 Late Models will be taking part in the Late Model Shoot-Out. This is a three-track series featuring Williams Grove, Lincoln, and Trail-Way speedways. The Saturday night action at Williams Grove Speedway begins at 6:30. Admission is five dollars for adults and all children 12 and under are free.
Super Sportsman Results:
1) 33 Scott Geesey 2) 222 Jay Fannasy 3) 99 Frankie Herr 4) 45 Dave Socks III 5) 11 Steve Fannasy 6) 66 LeRoy Martin 7) 77 Russ Mitten 8) 88w Eric Walker 9) 3B Mike Enders 10) 93 Carmen Perigo Jr. 11) 35 Gary Johnston II 12) 64 Stan Wanner 13) 14 Cody Fairchok 14) 20y Vance Yinger 15) 49 Mallie Shuster 16) 13 Cory Shifflett 17) 5 Dave Berkheimer 18) 2 Ken Keyton 19) 69 Jim Shuster 20) 25 Bobby Hockenberry 21) 30 Scott Dellinger 22) 77w Tom Wyckoff 23) 59 Steve Wilbur DNS: 91 Lanny Hake DNQ: 18 Rich Eichelberger, 4 John Stoner, 888 John Wolfe, 70D Bill Devine, 97 Jim Hulse, 21 Pete Lattanzio, 1ST Tom Tomasko, 17 Brian Gontz, 16 Jeff Leisey, 22 Jaremi Hanson, 00 Rick Barr
358 Late Model Results:
1) NINE Randy Stoudt 2) 1 Gene Knaub 3) 116 Travis Mease 4) 19 Matt Nailor 5) 15 Jared Miller 6) 43 Jake Jones 7) 5H Matt Henry 8) 25 Sam Gallagher 9) 69 Justin Ehrhart 10) 0 Larry Baer 11) 1w Billy Wampler 12) 14 Tyler Horst 13) 62 Devin Frey 14) 29 Steve Clabaugh 15) 71 JR Rodriguez 16) 17G Mike Goodwin 17) 78 John Ebersole 18) 25 Tommy Blackwell 19) 50c Dave Lightner 20) 7 Todd Leonard 21) 75 Chad Julius 22) 67x Bernie Beard 23) 99w Chaz Walls 24) 26 Chase Billet DNQ: 64 Grant Adams, 79 Mike Altobelli Jr.
Street Stock Results:
1) 11 Craig Morgan 2) 7s Kevin Sigler 3) 11D Sam Rial 4) 1B Paul Morgan 5) 80D Greg Diehl 6) Super 7 Tim Drawbaugh 7) 16 Walt Lemmon 8) 00 Pat McNeal 9) 4 John Greider 10) 29 Jeff Haag 11) 21R Steve Hastings 12) 99 Chad Smith 13) 5 Dustin Hollinger 14) 9 Jim Gross 15) 43 Eric Tripp 16) 27 Doug Hoffman 17) 86 Scott Strickler 18) 55 Lori Croop 19) 71 Adrian Barnhart 20) 77 Doug Bennett 21) 20w David Walsh 22) 22 Steve Dove DNS: 25H Brian Hauenstein