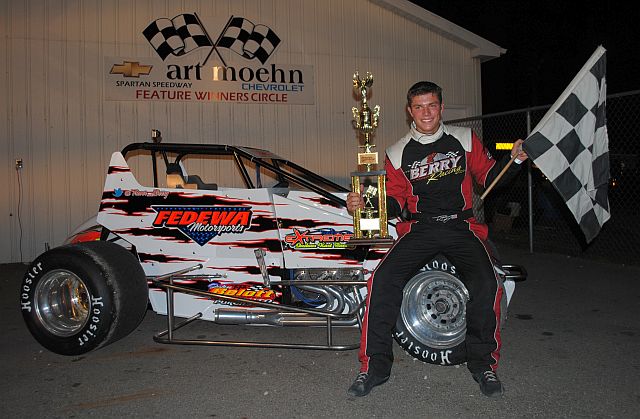 By Matt Pruier
Clio, Michigan (Monday, June 18th, 2012): It's becoming old hat for 19-year-old Trevor Berry in the Non-Winged Sprint Cars division at Spartan Speedway in Mason, Michigan. For the third time in just four career starts, the Clio, Michigan driver would steer his #7 Fedewa Motorsports machine into victory lane after scoring another Feature Win to extend his lead in both the Overall and Rookie of the Year title chases.
"The car was fast right off the truck, so we were able to try some new things and we found even more speed." The 'super rookie' explained after his latest win. "It was a great points day for us and our chances of winning the championship are real good at this point in the season, to win that as a rookie and my first season in a Sprint Car would be incredible. I can't thank everyone enough that came out to support me and I hope we can keep our momentum going." He added.
The next race in the Non-Winged Sprint Car is set for Friday, June 29th back at the ¼ (0.250) mile semi-banked paved oval located south of Lansing in Mason, Michigan. The next race overall for Berry will see him climb back behind the wheel of his open-wheeled Modified as he'll venture over to Berlin Raceway, located west of Grand Rapids in Marne, Michigan to run with the Top Speed Fabrication Modifieds Series.
The Mods will be there in support of the 4th annual Rowdy 251 for the ARCA/CRA Super Series as the race will feature NASCAR Sprint Cup Series star, Kyle Busch. Then a few days later on Saturday, June 23rd it's off to his home track of Auto City Speedway in his hometown of Clio, Michigan for the Digger Don's Dual featuring Twin 30-Lap Features for the Modifieds.
"We're really looking forward to the Modifieds portion of the Rowdy 251, it brings in a ton of people and it would be nice to have a good run for the fans even though we are not the main show." Berry continued. "I'm also looking forward to heading back to Auto City this weekend too. It's a fun place to race so hopefully we can have a good run in front of the hometown fans." He ended.
The entire Berry family is still in great spirits after learning a couple of weeks ago that the patriarch of Berry Racing Incorporated, Trevor's Father, Car Owner, and Crew Chief, Legendary Super Late Models star Dennis Berry will be elected into the Michigan Motorsports Hall of Fame Class of 2012 Inductees. The elder Berry will formally be inducted into the HOF on Sunday, November 4th in Mt. Pleasant, Michigan.
For the rest of the 2012 racing season, Berry's #7 Non-Winged Sprint Car from the Fedewa Motorsports stable as well as his #7 open-wheeled Modified with a Port City Racecars chassis has sponsor decals on each machine from; Extreme Indoor Kart Racing, Rat-Tech Engine Service, Davis Racing Equipment, Joe Gibbs Driven Racing Oil, Go Pro Cameras, Monogramming by Martha, Andrea's Place Styling Salon, and M.P.H. Promotions.
For more information about Trevor Berry and the Berry Racing Team and to inquire about additional sponsorship opportunities for the remainder of the 2012 season, log onto the website at: www.berryracing.com. You can also follow Berry on his Facebook Fan Page by going to: www.facebook.com and search for "Berry Racing Incorporated and click on "Like". Finally you can also follow the team on the Twitter page by going to: www.twitter.com/trevor_berry and click on the "Follow" button.