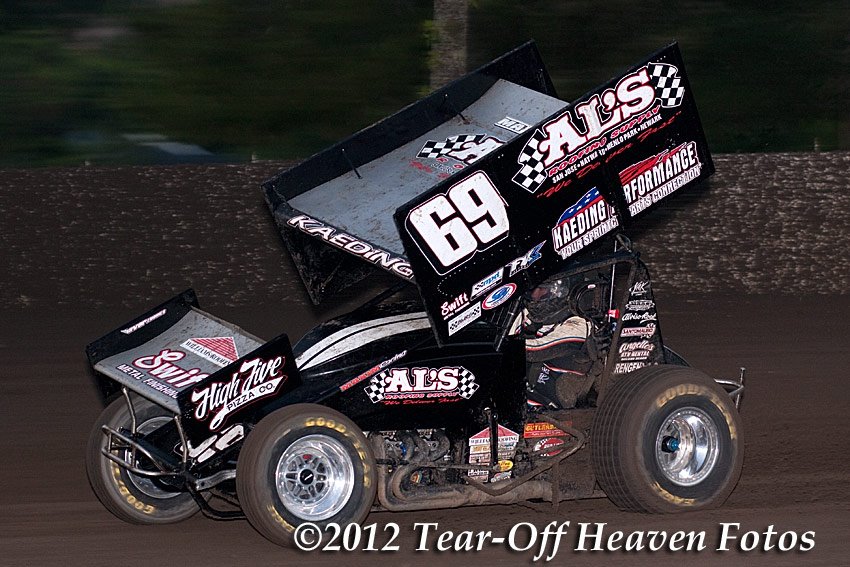 By Gary Thomas
Antioch, CA – June 20, 2012…Two-time Golden State 410 champion Jonathan Allard of Chico, California will lead the Cancen Oil KWS Series presented by Goodyear into the always entertaining Antioch Speedway on Saturday night, for what will be the 12th round of action in the 2012 season.
Allard is currently in his eighth season driving for Oakhurst, CA based car owners' Morrie & Katie Williams and has raced to three victories so far this year at the helm of the familiar No. 0 sprinter. The five-time "Dave Bradway Jr. Memorial" winner comes into the weekend holding a 23-point advantage at the top of the standings.
The season-opener for the Cancen Oil King of the West Sprints was held at Antioch Speedway on April 7 and Allard drove to a runner up finish behind last year's champ Tim Kaeding during the night. So far this year "JA" has been a consistency machine, scoring eight podiums out of 11 races and he will look to continue that on Saturday.
National Sprint Car Hall of Famers Brent Kaeding and Jimmy Sills will be searching to make headlines themselves on Saturday in Antioch. Kaeding has always been a favorite at the Contra Costa County Fairgrounds facility and came close to winning last July with the series at the track. The driver of the famed Al's Roofing Supply No. 69 ranks fourth in the KWS points, but is only three-markers out of third.
The event on Saturday will mark Sills' fourth start of the season driving for Dan Simpson Racing and he'll be gunning to continue the speed shown thus far. "The Professor" has been impressive at times during his three prior appearances with the Cancen Oil KWS Series presented by Goodyear and will have much attention on Saturday at Antioch Speedway.
Opening night winner Tim Kaeding currently stands second in the Cancen Oil KWS Series presented by Goodyear standings and is the most recent winner with the tour on June 8 in Medford. Completing the top-five in KWS points going into Antioch are third place Evan Suggs and fifth place Bobby McMahan. Both Suggs and McMahan have been quick in recent events at the track and will be looking for their first win of the season.
Drivers rounding out the top-10 and also searching to break their way into victory lane on Saturday will include Clovis, CA's Peter Murphy, Grass Valley's Jason Statler, Sacramento's Willie Croft, Placerville's Andy Gregg and Fresno's Craig Stidham. Just 23-points separate sixth through eighth in the standings and will be a battle to watch at the Antioch Speedway.
Murphy is fresh off winning opening night of the "Jim Raper Memorial Dirt Cup" last Thursday, while Statler is coming off a season-best KWS finish of second at Medford on June 9. Croft was the fast time qualifier at the Medford event and also won the dash during the night. Gregg and Stidham will be looking to rebound after tough outings during the KWS "Road to Dirt Cup" shows.
Others drivers expected to do battle with the KWS unlimited 410 Sprinters on Saturday will include Fremont's Shane Golobic, Fair Oak's Chad Compton, Oakhurst's Doug Gandy, Rio Vista's Danielle Simpson, Grass Valley's Pat Harvey, Redding's Tyler Wolf, Elk Grove's Sean McMahan, Rio Linda's Cody Lamar and more.
On Saturday June 23 the front grandstand gate will be open at 5pm. Hot laps are scheduled for 6pm, with qualifying at 6:30pm and racing anticipated to start around 7pm. Tickets will be available the day of the race with adults being $20, children 6-12 $10, seniors 65 & older $10 and children 5 & under free. A family pack with two adults & two children will also be available for $50.
The KWS pre-race autograph session this Saturday will include Jason Statler, Shane Golobic and Danielle Simpson. Be sure to catch "KWS Tonight" this Thursday on http://www.kwssprints.com for interviews with Statler, Simpson and Jimmy Sills.
Antioch Speedway is located on the Contra Costa County Fairgrounds at the corner of 10th and L Streets in Antioch, California. Take SR-4 East (Highway 4) to the Somersville Road North Exit. Follow Somersville Road to 10thStreet. Turn Right on 10th Street. The address for the track is 1201 W. 10th Street Antioch, CA 94509. More info about the track can be found at http://www.ovalmotorsports.com/category/antioch/
Don't forget to "like" the Cancen Oil King of the West Series on Facebook at http://www.facebook.com/kingofthewestsprints and follow us on Twitter @kwssprintracing for the most timely and up to date information on the series.
Also check out our official website http://www.kwssprints.com for the latest news, results, history and more on the Cancen Oil King of the West 410 Sprint Cars presented by Goodyear.