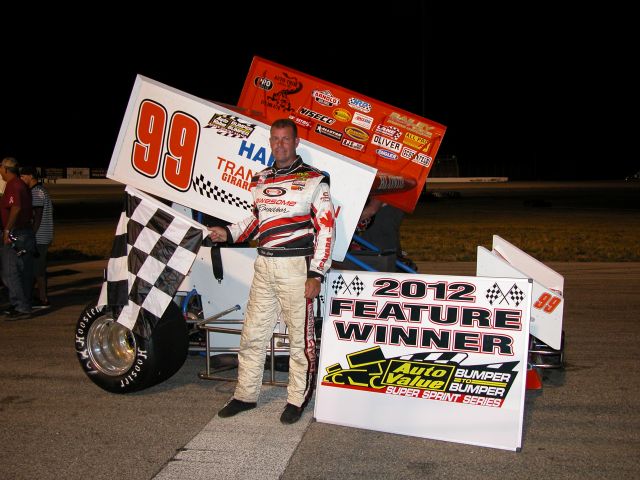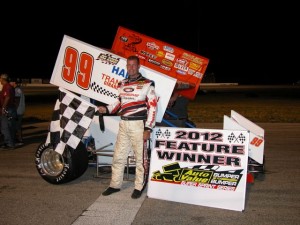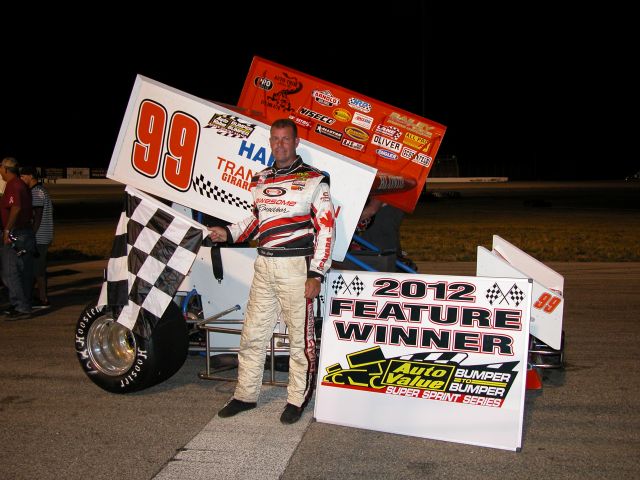 From Duane Turner
Birch Run, MI — (June 29, 2012) — Mike Ling from Mt Brydges, Ontario, Canada scored his eighth Auto Value Bumper to Bumper Super Sprints feature by leading all 30 laps at Dixie Motor Speedway. "I just have to thank Wayne and Todd Stickney for letting me drive for them." Stated Ling in victory lane. We were fast all night, and it feels great to get the win for them. We need to thank Harry's Transmission, TJ Rampit USA, Arnold Auto Parts and Auto Trim."
Mike Ling and Jeff Bloom would lead the field to take the green flag to start the 30 lap main event. When the green waved, Ling quickly took over the point, with third starting Ryan Litt in tow. Bloom would settle in to third with Troy Decaire in fourth. On the Third circuit DeCaire would move to the outside of Bloom taking over the third position and quickly closed on the second place car of Litt.
A couple laps later, fast qualifier Derek Snyder would move to fifth, closing in on Bloom for the fourth position. With the top three pulling away from the rest of the field, all eyes were on the 42 of Litt as he began to close on the leader. Just as it appeared that Litt would challenge for the lead, he began to get loose from the center to exit of the corner. Ling would take advantage of this, pulling away on the corner exit.
As Ling slowly increased his lead, DeCaire made his presence felt as he closed in on the back bumper of Litt for the second position.  With seven laps to go, the leaders entered lapped traffic. Ling moved to the highside, disposing of the lapped cars leaving Litt and DeCaire to fight for second. With five laps to go, DeCaire moved to the inside of Litt, but a lapped car would halt his progress moving him back behind Litt.  One lap later, DeCaire would try to bottom again on Litt, this time making it stick making the pass on the bottom down the frontstretch.
With just three laps to go, Ling was in complete command with a 15 car length advantage.  DeCaire, on the other had was not about to let Ling cruise to the victory. As the white flag flew, DeCaire was closing in on the race leader, bringing the crowd to their feet. As the duo entered turn three, DeCaire was on the back bumper of Ling, but was unable to challenge for the lead as the duo race under the checkered flag. Litt would cross the line in third, but the action was for the fourth position.  As Bloom raced through turn four, his car would slow, allowing Derek Snyder to slip past, but Dorman Snyder would have no where to go, spinning in to the infield bringing out the caution. With the caution waving after the leader finished the race, the rest of the finish would be determined by the previous lap scored.  Derek Snyder would be forth, Bloom in fifth, with Bill Tyler, Dorman Snyder, Hank Lower, Kevin Feeney, and Geoff Kaiser rounding out the top ten.
In heat race action, Bill Tyler would claim the first heat, with Dorman Snyder taking the second heat race. In a twist of normal AVSS procedures, and fast car dash would be run, with Troy DeCaire claiming the win. In the Australian Pursuit, Bill Tyler would lead all seven laps to grab the win. Up next for the Auto Value Bumper to Bumper Super Sprints is a visit to the Ovid, MI 3/8th mile of Owosso Speedway on Saturday, July 7th. For more information, log on to the official AVSS website at www.supersprints.com
Qualifications
1) 22 Derek Snyder 12.493 2) 61 Kevin Feeney 12.724 3) 7 Troy DeCaire 12.734 4) 14 Dorman Snyder 12.743 5) 37 Hank Lower 12.856 6) 42 Ryan Litt 12.935 7) 26 Jeff Bloom 13.065 8) 99 Mike Ling 13.079 9) 24 Bill Tyler 13.081 10) 61k Kyle Feeney 13.329 11) 7s Geoff Kaiser 13.426 12) 3a Mike Astrauskas 13.933 13) 3 Phil Rutledge 15.681
Dash:
1) 7 Troy DeCaire 2) 14 Dorman Snyder 3) 22 Derek Snyder 4) 61 Kevin Feeney
Heat Race 1:
1) 24 Bill Tyler 2) 7 Troy DeCaire 3) Hank Lower 4)3a Mike Astrauskas  5) 22 Derek Snyder 6) 26 Jeff Bloom  7) 7s Geoff Kaiser
Heat Race 2:
1) 14 Dorman Snyder 2) 99 Mike Ling 3) 42 Ryan Litt 4) 61 Kevin Feeney 5) 3a Mike Astrauskas 6) 61k Kyle Feeney
Australian Pursuit:
1) 24 Bill Tyler 2) 99 Mike Ling 3) 42 Ryan Litt 4) 37 Hank Lower 5) 3a Mike Astrauskas 6) 26 Jeff Bloom 7) 3 Phil Rutledge
30 Lap A-Main:
1) 99 Mike Ling 2) 7 Troy DeCaire 3) 42 Ryan Litt 4) 22 Derek Snyder 5) 26 Jeff Bloom 6) 24 Bill Tyler 7) 14c Dorman Snyder 8) 37 Hank Lower 9) 61 Kevin Feeney 10) 7s Geoff Kaiser 11) 3a Mike Astrauskas 12) 3 Phil Rutledge   DNS – 61 Kyle Feeney