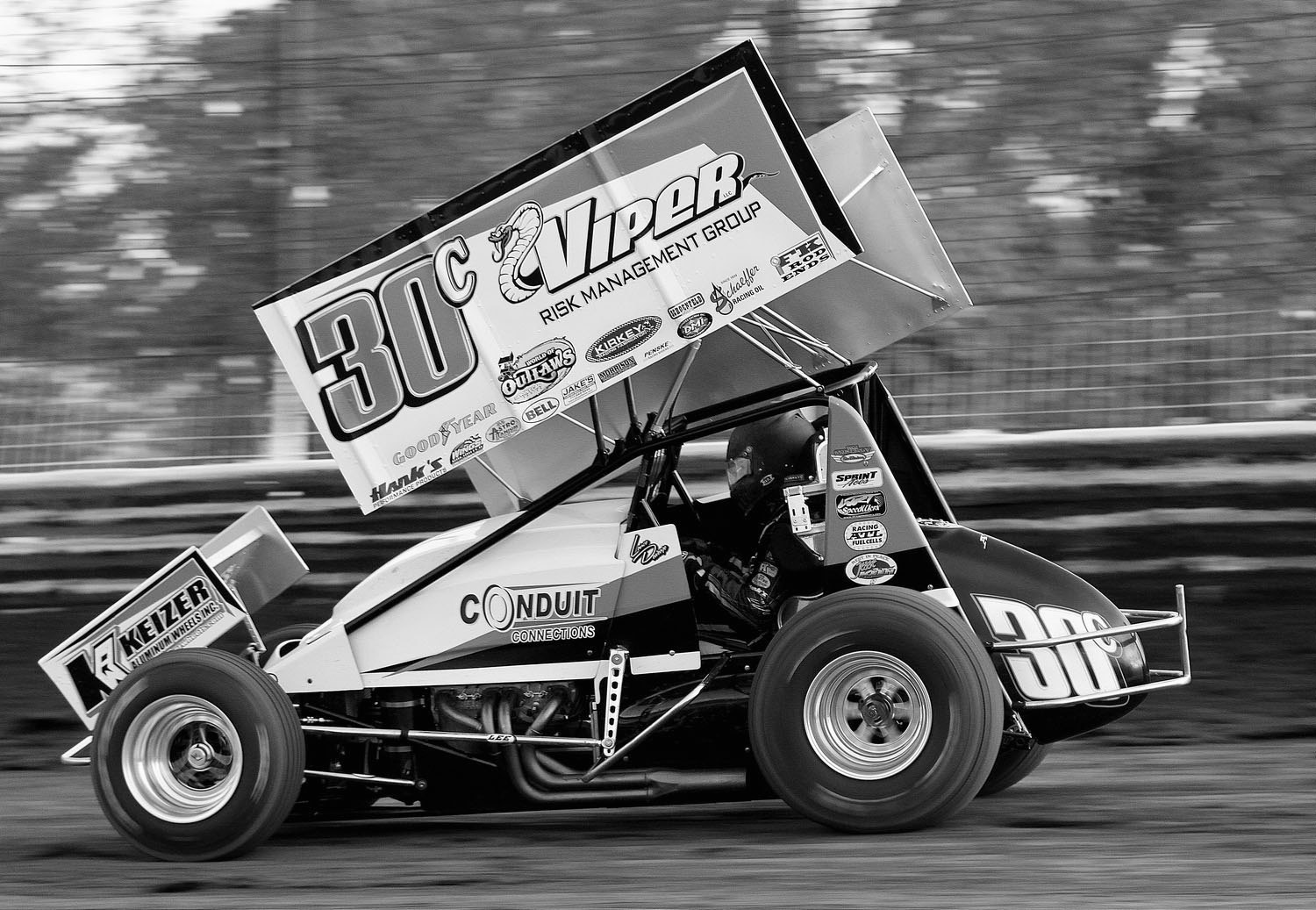 PETERSEN MEDIA
Fayetteville, PA product, Lance Dewease closed out one of the busiest stretches of his 2012 season with an exclamation point as he picked up the win at Selinsgrove and closed the 2012 PA Speedweek fourth in the standings.
"It wasn't the greatest speedweek we've ever had, but it is sure nice to close it with a win," said Dewease. "No it's time to relax and catch our breath before we get back at it again this weekend.
Getting back to action on Tuesday at Grandview, Dewease went on to time in 13th quick and proceed to win his heat.
The way the cards fell, Dewease put his Viper Risk Management/Wings Unlimited/Morrison Racing engines in the fourth row for the feature event.
As the race wore down and Lance ran in the eighth spot on the very rubbered up racetrack, he lost a tire with just four laps to go and ended up in the 21st spot.
Wednesday night, Speedweek invaded the Hagerstown Speedway, and Lance started the night off by timing in very well as he was third quickest on the speed charts.
Getting through his heat, Dewease found himself starting in the second row, on what was a very slicked off track.
Getting into the third spot early, Dewease tracked down second running, Cody Darrah, as they both had their eyes on Keith Kauffman, the race leader.
Dewease used a monster run off of turn two to get around Darrah down the backstretch, as his Hanks Performance Products/ViperVenom Fuels/Penske Racing Shocks entry seemed to come to life towards the ladder part of the feature.
LD did all he could to track down Kauffman, but settled for the second spot, and sat seventh in speedweek points after Wednesday as they headed into Williams Grove for two nights of action.
A late draw qualifying on Thursday night put him in the fourth row of his heat race.
Getting up on the wheel in his heat, Dewease was able to narrowly grab the final transfer spot as he finished in the fifth spot, and lined up in the 21st position for the feature.
No stranger to Williams Grove, Dewease put his machine up on the cushion as he worked his way through traffic at will.
Dewease quickly worked his way into the top ten, and eventually maneuvered his way to the seventh spot to salvage a rough night.
Friday night saw Dewease again at Williams Grove, and his Williams Grove qualifying struggles continued as he was 20th fastest against the 42 total entrants.
Dewease again worked his magic in the feature event as he was able to carve through traffic and salvage another top-ten finish as he was scored in the ninth spot.
Saturday night at Port Royal was nearly an identical showing to his two previous nights at 'The Grove" as he timed in mid pack, and worked from the tenth row all the way up to ninth to pocket his fourth consecutive top-ten finish.
Selinsgrove was the sight of the finale, and Dewease closed out the wild week emphatically.
LD30c set his night up perfectly as he timed in with the fastest lap in time trials, putting him in the second row of his heat.
Lining up in the fourth spot, Dewease quickly worked into the second spot where he ran for six laps before rocketing to the lead on lap number eight.
Once in front, Dewease simply left the field as he worked his way up to a straight away lead, as most of the feature went without any stoppages.
Dealing with a trio of cautions with less then five laps remaining, Dewease was flawless on his restarts, and was never challenged for the lead as he picked up his lone speedweek win, and fifth overall in 2012.
The win vaulted Lance up to fourth overall in PA Speedweek points.
"Man what a week," Dewease said. "We started it off pretty good, and then surprisingly enough really struggled at Williams Grove and Port Royal, two places we have been pretty good at all year, and then rallied back on Sunday and picked up a win. I can't thank everyone enough for all of their help this week, and I know everyone is looking forward to a break."
Dewease would like to thank Viper Risk Management Group, Wings Unlimited,
Hank's Performance Products, Schaeffer Racing Oils,
Penske Racing Shocks,
FK Rodends,
Keizer Aluminum Wheels,
DMI Racing Components,
Astro Titanium,
Morrison Racing Engines,
Tom Shockey Collision, Kirkey Seats, FW Graphics,
WRT Web Designs,
WRT SpeedWerx, ViperVenom Fuels, and Schoenfeld Headers for their continued support.
ON TAP: Dewease and his team will be back in action this Friday and Saturday night at Williams Grove and Port Royal!
STAY CONNECTED: Stay up to speed with Lance by visiting his website, www.lancedewease.com.