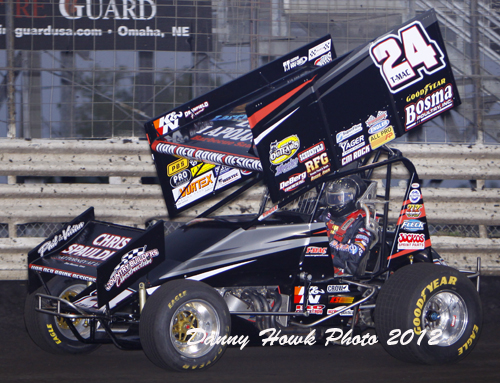 By Bill W
July 17, 2012 – Terry McCarl didn't think he would be able to even run with the MOWA series in Donnellson, Iowa last Wednesday night, but an all-night scramble to put a car together paid off with a win. This weekend, he'll return to Knoxville and Huset's Speedway, where he ran fifth and sixth last week.
The Altoona, Iowa driver borrowed a car from Lynton Jeffrey just to compete the week prior. "I didn't have a spare car after junking the one at Huset's (July 3)," says TMAC. "My guys (Austin McCarl, Carson, McCarl, Alex Johnson) stayed up all night the night before. We want to support any 410 shows around here. They barely got it done in time. We had some problems with the driveline. We almost didn't go. It makes it special that we were able to get the win."
Drawing the pole of his heat race at Lee County Speedway in Donnellson, TMAC was able to win to put himself in the Dash. "(Wife) Lori drew a good number," he says. "You can tell it wasn't me. We have a good setup for that place. It had a good top and bottom and you could move around. They missed it on the racetrack when Carson ran there (with the Sprint Invaders), but I think they learned from it."
The Dash went well for TMAC. "We started sixth," he says. "It took a couple of laps to get going, but once we did the car was good and we were able to get up to second. That put us on the front row of the feature, which is always good."
TMAC put himself out front and held on for the win in the main event. "You never count those guys out," he says of the MOWA competitors. "I looked up at the board and saw Jim Moughan in second halfway through the race. Jim is a crafty veteran, and has beaten us plenty of times. We were running as hard as we could, and we were fortunate to get out of there with the win."
Returning to southeast Iowa is always fun. "It was fun, because we got to see some people down there that we don't get to see often," says TMAC. "I'm glad they had the 410's back. It's the kind of show we really need back around here for the sport."
A fast, heavy track greeted competitors at Knoxville on Saturday. TMAC timed in second quick, before running sixth in his heat. "It was ridiculously heavy and rough," he says. "I don't know exactly why. In the heat, something came off of Bronson's (Maeschen) car. I have a rock screen, but it hit me so hard, it about knocked me out. It smashed the rock screen almost back into my helmet. It was just rough and choppy. We ruined a front wing, put holes in the hood and in the top wing in the heat. It was more concerning for a young guy like Carson running out there. You don't want to tear up any equipment. He made it through."
TMAC started and finished fifth in the feature. "It moved up a bit in the feature," he says of the racing groove. "Unhooking the racecar and running loose is not really my thing. I had a really good start and I felt good on the bottom. After the yellow the tires went away. We were able to hold onto fifth. We were chasing (Mark) Dobmeier, and it looked like he was having a difficult time too."
The highlights of Sunday's trip to Huset's Speedway included setting quick time. "We haven't been qualifying as well as usual up there," says TMAC. "It was good to get quick time. I think the Lunstra/Dobmeier team is one of the top five teams in the nation really. He's been qualifying well, so it shows you we are better."
The biggest highlight came when son, Austin, won the feature. TMAC ran sixth by the way. "Austin did a great job," he says. "He showed last year he can get around there. There is a lot of great competition. I don't think I've worked as hard as this in my life in sprint cars, and he has worked harder than me this year. He works on my car and Carson's car. And he works on his car so he can race once a week at Huset's. It was good for him to get a reward for that."
To check out opportunities to partner with TMAC Motorsports on a nightly basis, visit www.TerryMcCarl.com or call 515 957-0020!
Websites for the McCarl Gang!
Driverwebsites.com develops the websites for the McCarl boys. Check out www.TerryMcCarl.com, as well as www.AustinMcCarl.com and www.CarsonMcCarl.com!
In"Terry"gation
Dan Graham asks: Why do you enjoy running at the Lee County Speedway so much?
TMAC says: I love that racetrack. I think we had a stretch for about seven years where we didn't lose there. I went there when I was a little boy living in Keosauqua, Iowa. My dad worked for a company in Bonaparte building racecars. We have some people down there that we love to spend time with from back then when my dad raced in the area. It is a really fun racetrack. It's why we took Carson to run down there a month or so ago.
Got a question for TMAC? Send it to us at sprntcar@iowatelecom.net , and we may answer it in this section! Put "? for TMAC" in your subject line.
This Month in TMAC History!
On July 21, 2001, TMAC started fifth, and drove by pole-sitter, Manny Rockhold, on lap three to take his fifth win of the season at the Knoxville Raceway. Kerry Madsen was second, followed by Don Droud Jr., Ricky Logan and Rockhold.
"Tuesdays with TMAC"!
"Tuesdays with TMAC" is an up close and personal look at colorful sprint car veteran Terry McCarl. To receive "Tuesdays with TMAC", send an e-mail to sprntcar@iowatelecom.net with "TMAC" in the subject line.
TMAC Motorsports would like to thank sponsors "Lord I Apologize BBQ Sauce", Deanfield Farms, Bosma Poultry, Eagle Chassis, DeBerg Concrete, AmeriCashAdvance.com, RFG, Phil and Vivian, Ryan Yager Trucking, 212 The Boiling Point Bar & Grill, Vortex Racing, Hoosier Tire, Chris Spaulding – Attorney at Law, Schoenfeld Headers, K&N Filters, Don Ott Engines, HRP, All Pro Cylinder Heads, Bob and Beulah Elder, Country Builders Construction, Engler Injection, Superflow Technologies, T&P Brothers, Larry Fleck Trucking, Winters, DriverWebsites.com, CM Rock, Jocko's Sprint Parts, Sander, Brown and Miller, Chase Graphics, Pro Shocks, Ben Cook, Bell Helmets, Burnett's Rock and Landscaping, Fatheadz Eyewear, Van Der Brink Designs, Morgan Strawberry Farms, Bulldog Pest Control, Aurora Rod Ends, Crow Safety, Justice Brothers, KSE Steering, Strange Performance, Saldana Racing Products, Scribner Plastics, Waterman Fuel Pumps, Weiland Racing, Butlerbuilt, PBS Bushings.
Copy of DSC_2990 copy