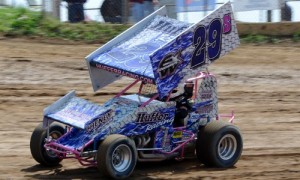 From Matt Prieur
Eagle, Michigan (Thursday, July 19th, 2012): As much as Eagle, Michigan driver, Marques Huffer loves to climb behind the wheel of his Winged Sprint Car, sometimes an opportunity comes about that can potentially pay huge dividends down the road and in turn valuable lessons can be learned by turning over the controls of your machine to another competitor.
Goshen, Indiana veteran, Brett Mann, will step into Huffer's familiar #29s for two races within the Engine Pro ASCS Sprints On Dirt Presented by ARP Series. His first time in the Huffer Racing entry will be this Friday, July 20th at Cherry Raceway in Fife Lake, Michigan while the second race of the weekend will be on Saturday, July 21st at Crystal Motor Speedway in Crystal, Michigan.
The Two-Time Sprints On Dirt Series Champion comes into the weekend second in the series points and very recently found himself without a ride in the series despite a Feature Win in the series back on June 30th at Merritt Raceway in Lake City, Michigan while he was still driving for Jim Wohlfiel and his familiar #3w machine.
"All of us here at Huffer Racing are extremely excited about this incredible opportunity with 'The Hoosier Rocket' behind the wheel." Stated Regular Driver Marques Huffer. "We're very honored to give Brett this opportunity and for him to be able to continue to chase after his third Sprints On Dirt Championship." He added.
The 42-year-old Mann began racing at 16-years-old in 1986 and over his stellar 26-Year career, he has collected over 70 career feature wins, as well as four Track Championships with three of those coming at I-96 Speedway in Lake Odessa, Michigan with the other one coming at Hartford Motor Speedway in Hartford, Michigan. In addition to being a Two-Time SOD Champion, he is one of the biggest fan favorites in Winged Sprint Cars racing throughout the Midwestern United States.
Tentative Plans are for Huffer to climb back behind the wheel of the #29s later this season and make as many appearances as possible with the Engine Pro ASCS Sprints On Dirt Presented by ARP as well as the NRA Sprint Invaders Tour. In addition, Butler Speedway will fill up the remainder of the schedule on Saturday nights when Huffer Racing is not on the road with either SOD or NRA.
For this weekend, Mann will steer Huffer's #29s Winged Sprint Car carrying sponsorship support from Huffer Racing as well as Rutan Racing Engines, AFCO Racing Shocks, Lane Automotive, Smartt Innovations, Imagine Design Now, M.P.H. Promotions, T.S. Lettering & Graphics, Premier Custom Trailers, and Edgewraps.com.
To learn more about the entire Huffer Racing Team and to also inquire about additional sponsorship opportunities available for the remainder of the 2012 season, log onto the Huffer Racing Website at: www.hufferracing.com You can go to the Huffer Racing Facebook Fan Page for race day updates at: www.facebook.com and search "Huffer Racing"