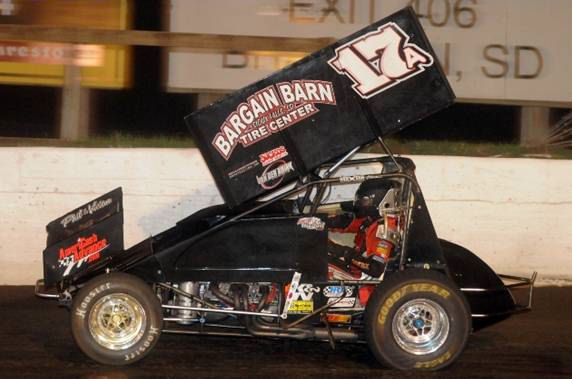 By Bill W
July 26, 2012 – Austin McCarl scored another win at the Huset's Speedway in the Bargain Barn Tire Center/TMAC Motorsports #17A on Sunday night. The Altoona, Iowa sprint car driver led every lap for the second week in a row. A busy week of 360 racing was halted after motor problems the first night in Sioux Center, Iowa, unfortunately. Austin will be back this week competing with the All Stars at Huset's on Sunday night.
Austin had teamed with Mike Sandvig to run JSTS Speedweek which ran four consecutive nights. Things didn't get past the heat race in Sioux Center. "We were really fast hot lapping and we were leading the heat," he says. "We were driving away, and something happened with the motor. The excitement and game plan for the whole week was out the window after that one."
So the wait was a long one until Sunday at Huset's, where Austin timed in eighth quick. "I wish we were qualifying a little better," he says. "Maybe I could have been a little better. It is tough competition up there. It becomes a little bit of an engine competition. The way the draw has gone, it hasn't been in my favor. But we've been fast come feature time when the track slicks off a bit and it's more about car and driver."
A fifth place run in the heat was no big deal. "I was just kind of cruising and saving the tire," says Austin. "I was working some different lines. You just have to finish and not tear anything up. It's a good opportunity to try some things with the car. The track didn't change much before the feature, and there's nothing to lose."
Austin was fast come feature time and dominated to win his second week in a row. "I was on the front row for the second week in a row," he says. "I hope they don't start giving me crap for that. I don't care, we seem to do well. We had been fast before I won. Being on the front row helps a lot though."
The team headed to Hibbing, Minnesota to run with the All Stars Tuesday night. "I had never been there and never seen it," says Austin, who timed in 16th. "I don't think anyone had. It could have been a cool little joint, but it was really slick. Qualifying, I was probably a little too cautious."
The heat was a tough one. "I won the first start," says Austin, who started on the pole. "We had a complete restart and the second did go as well. The top was the place to be and we were on the bottom. (Danny) Lasoski kind of snookered me on that. (Marty) Perovich got me and then I went to slide Lasoski in three and four. I got in a position where I was going to hit him or spin out, and I chose spinning out. I did a 'Tommy Tipover' and restarted."
The feature resulted in a DNF. "In the feature, we weren't good," says Austin. "We figured we must have cracked something in the heim. After a couple of laps the dust settled down. I thought the right rear tire went down, went off the bead or something broke. I pulled in. The heim in the right rear arm broke in half and I had no suspension."
Visit Austin on the Web!
Keep up to date on Austin's exploits and check out the new look at www.AustinMcCarl.com!
Austin's Releases
If you'd like to be included via e-mail, shoot one to sprntcar@hotmail.com with "Austin" in the subject line.
Austin would like to thank Bargain Barn Tire Center of Sioux Falls, AmeriCashAdvance.com, Sweeter Construction, Rossie Feed and Grain, DeBerg Concrete, Deanfield Farms, Phil and Vivian, Bosma Poultry, Vortex, Kosama of Altoona, Chris Spaulding-Attorney at Law, CM Rock, 212 Bar & Grill, Maxim Chassis, Van Der Brink Designs, Engler, HRP, Aurora Rod Ends, Butlerbuilt, KSE, Hoosier Tire, BRMS, K&N Filters, Sander, Jocko's Sprint Parts, Crow Safety and Bell Helmets for all their help!