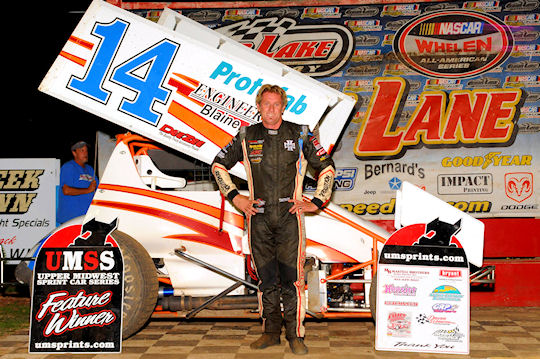 New Richmond, WI — (July 28, 2012) — The annual Summer Sprint Car Spectacular at the Cedar Lake Speedway on Saturday July 28 featured both the Upper Midwest Sprintcar Series (UMSS) winged sprints and the Traditional Sprint Car Series (TSCS) non-winged sprints in action on the high-banked 3/8 mile western Wisconsin dirt oval.  With the spring race raining out on three attempts, it would end up being the first race of the season at CLS for both UMSS divisions and the weather was perfect.  When the final checkers waved, it was Brooke Tatnell in a dominating performance for the win in the winged sprints while Jeff Pellersels earned his first-ever CLS feature win and second career TSCS victory in an exciting non-winged main event.
For former super stock driver turned sprint car racer Jeff Pellersels, it was especially satisfying to pick up his first CLS feature win ever.  "Racedoc" as he is known to many fans and competitors has been trying for many years to get that elusive first CLS victory, and on this night he accomplished that goal.  Commenting after the race, Pellersels said that "coming up on the group of four lapped cars in the final couple of laps was going to make things interesting.  I didn't really know how I was going to get through that pack, and I knew Kevin Bradwell was right behind me.  As it turned out, that late caution gave me a chance to try and catch my breath and regroup.  It's great to finally get a feature win at my home track CLS."
The 20 lap TSCS non-winged sprint car feature would see defending champion Kevin Bradwell and Jimmy Kouba bring the 11 car starting field to the green.  Bradwell blasted into the early lead over Kouba with sixth starter Mark Chevalier quickly moving to third.  On lap four entering turn one, Chevalier rode up over the right rear tire of Kouba and launched skyward into a spectacular and wild-looking series of flips.  The crash destroyed the John Morris owned car, but Chevalier was able to walk away and later praised his head and neck restraint system for doing its job and protecting him inside the car.  Kouba's car sustained right rear damage and was also out of action.
On the restart, Bradwell continued to lead with rookie driver Lucas Milz running in second.  Two laps later Jack Clark spun in turn one to bring out the caution.  On lap seven, Pellersels got by Milz for second and set his sights on Bradwell.  Two laps later Pellersels drove around Bradwell for the lead.  The race continued under green and eventually the leaders came upon a group of four cars battling for the final four spots.  Things were going to get interesting for sure, as Lucas Milz quickly closed in on the leaders coming to the white flag.  Bradwell moved up the track just past the flag stand and did not realize Milz had a tremendous run off of turn four.  The two cars made contact and Milz sustained front end damage while Bradwell continued on.  Pellersels held off Bradwell over the remaining two lap dash to the finish.  Rookie Mike Huesmann turned in his most impressive run so far this season with a solid third place finish followed by veteran racer Jack Clark and rookie driver Denny Stordahl.  The ageless wonder Tom Porter and rookie Katrina Sautbine also finished with Milz, Brad Nelson, Kouba and Chevalier not around at the end of what turned out to be a very entertaining feature event.  Heat races were won by Pellersels and Chevalier, as the top three finishers in each heat redrew for feature race starting spots.
In the UMSS winged sprint car division, the 20 lap feature race had barely gone green when front row starters Leigh Thomas and Andy Jones crashed together.  Several cars were collected in the melee, but nobody tipped over.  Jones' car was out of the race with front end damage while Thomas changed a tire, Chris Graf changed a top wing, and both Scott and James Broty made repairs to their cars to tag the tail.  On the realigned starting grid, Jerry Richert Jr. and Brooke Tatnell moved up to the front row.  Tatnell gained the advantage over his brother-in-law Richert in the first turn and it was all over after that.  Tatnell went on to dominate the feature event which was slowed twice more for spins on laps four and five.  The final 15 circuits ran nonstop with Tatnell lapping up through Scott Broty.  2011 Champion Richert, Sye Anderson, Jared Goerges, and Jason Tostenson completed the top five.  Rounding out the top ten were Scott Broty, Tony Kaus, 2009 Champion Leigh Thomas, Jennifer Eriksen and Chris Graf.
The UMSS utilized its usual double-round of qualifying races with Thomas and Tatnell earning heat race wins while Richert and Tatnell topped the Challenge Races.  For Tatnell, it was a clean sweep for the night en route to a $1,000 payday thanks to some bonus money from GRP Motorsports.  A smiling Tatnell commented in the pits following the races, "the Nelson Motorsports crew really had the car dialed in tonight.  I'll be running their car at the 360 Nationals at Knoxville next weekend and then driving for Guy Forbrook at the 410 Knoxville Nationals the following weekend.  This was a nice way to kick off what will be some serious sprint car racing in the next couple of weeks down at Knoxville."
The UMSS winged sprints will take next weekend off and return to action on Friday August 10 at the St. Croix Valley Raceway.  The TSCS non-winged sprints are in action next Friday at their home track St. Croix Valley Raceway and then make their inaugural appearance on Sunday August 5 at the Granite City Speedway in Sauk Rapids. Fans can keep tabs on the championship point races, race results and check out the remaining race schedules on the UMSS website at
www.umsprints.com
or become a friend of the UMSS on their Facebook page, as the season has plenty of racing action still to come in the next couple of months.
UMSS Race Results – Cedar Lake Speedway July 28, 2012 (Race #10)
Alpha Apparel & Promotions Ultimate Sprint Heat #1 (7 laps): Leigh Thomas 29, Scott Broty 34, Jerry Richert Jr 63, Sye Anderson 37, Tony Kaus 3TK, Jason Tostenson 36, Anna Kouba 5.
Meeks Video Ultimate Sprint Heat #2 (6 laps): Brooke Tatnell 14, Andy Jones 73, Chris Graf 20G, Jennifer Eriksen 10x, James Broty 33, Jared Goerges 9.
Driverwebsites.com Challenge Race #1 (8 laps): Richert, Jones, Kaus, Thomas, Goerges, Eriksen, Kouba DNF.
Mastell Brothers Trailer Service Challenge Race #2 (8 laps): Tatnell, Anderson, Scott Broty, Graf, James Broty, Tostenson (DQ-light at the scales).
GRP Motorsports A Main (20 laps): Tatnell, Richert, Anderson, Goerges, Tostenson, Scott Broty, Kaus, Thomas, Eriksen, Graf DNF, Kouba DNF, James Broty DNF, Jones DNF.
Lap Leader: Tatnell 1-20
Cautions: (3)
TSCS Race Results – Cedar Lake Speedway July 28, 2012 (Race #14)
Sprintsource.com Heat #1 (6 laps): Jeff Pellersels 1, Jimmy Kouba 5, Kevin Bradwell 95, Katrina Sautbine 13k, Mike Huesmann, Brad Nelson 7N.
Sprintsource.com Heat #2 (6 laps): Mark Chevalier 17, Jack Clarks 41s, Lucas Milz 60, Denny Stordahl 34, Tom Porter 53.
Mora Motorworks & GRP Motorsports A Main (20 laps): Pellersels, Bradwell, Huesmann, Clark, Stordahl, Porter, Sautbine, Milz DNF, Nelson DNF, Kouba DNF, Chevalier DNF.
Lap Leaders: Bradwell 1-8, Pellersels 9-20.
Cautions: (3)