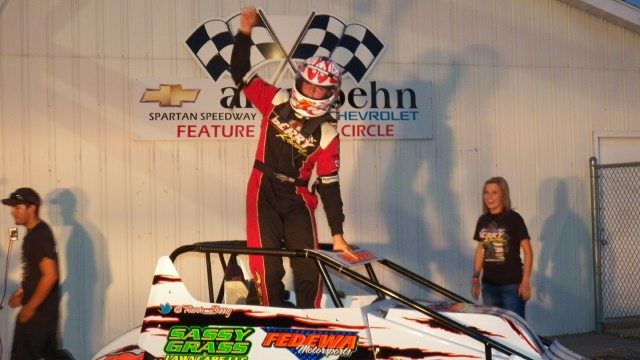 By Matt Prieur
Clio, Michigan (Tuesday, August 21st, 2012): All Trevor Berry had to do was start the 2012 Season Championships Feature for the Non-Winged Sprint Cars at Spartan Speedway, located south of Lansing in Mason, Michigan on August 17th and the 2012 Track Championship was officially his. The 2012 Rookie of the Year crown was already sewn up the last time the Non-Winged Sprints were in action back on August 3rd.
So what did the 19-year-old do on Championship night? Only what he's done all season long; Dominate! After winning his fifth Fast Qualifier Award of the season and finishing second in his Heat Race, the Clio, Michigan driver put an exclamation point on his dominating 2012 racing season by winning his Sixth Feature in Eight Starts to stamp his mark on one of the most successful rookie seasons in Spartan Speedway's long history.
"What a day, the car was fast when we unloaded and stayed fast all afternoon, I cannot thank my team enough for all of their hard work this season." The excited driver stated in an emotional victory lane. "I never had a bad car all year which made my job easy. The goal to begin this year was to win Rookie of the Year. But to win six out of eight races, to win the championship and rookie of the year titles in my rookie year; Honestly I'm lost for words, all I can do is thank everyone who has helped me get to this point and I can't wait until 2013." He added.
After securing the Track Championship and Freshman title at Spartan, the Berry Racing Incorporated Team loaded up their open-wheeled Modified and made the five hours trip down to the legendary ½ (0.500) mile high-banked paved oval of Winchester Speedway in Winchester, Indiana for the Top Speed Fabrication Modifieds Tours' appearance as part of the tracks' Old-Times Weekend on August 18th. After Qualifying 11th out of 23 cars, Berry would come home with a seventh place showing.
"Unfortunately we struggled all afternoon with the setup. We just couldn't get the car to quit dragging going into turn one which made us really tight." He explained. "When we finally got that figured out, the car was really good, just hard to pass there. I really love Winchester, and I look forward to going back there in a couple weeks! Special thanks to (Spotter) Chad Finley and the whole team, they worked there tails off all afternoon to get the car good. Can't thank them enough for their effort we will get it figured out." Berry stated.
The next race in the Modified is at Berry's home track of Auto City Speedway just a couple of miles down the road from the B.R.I. race shop in Clio, Michigan on Friday, August 24th as the Full Throttle Modifieds Series (Similar to the Top Speed Fabrication Modifieds Tour) makes their first ever appearance in Michigan. "Really looking forward to running with the Full Throttle Modified Circuit, should be a really good show. It's always nice to come back to Auto City, with them dropping the Modifieds from their weekly program we don't get to run there as much as we would like. Hopefully we can get a win in front of the hometown crowd!
For the remainder of the 2012 racing season, Berry will focus his efforts on his #7 open-wheeled Modified with a Port City Racecars chassis has sponsor decals on each machine from; Extreme Indoor Kart Racing, Rat-Tech Engine Service, Davis Racing Equipment, Joe Gibbs Driven Racing Oil, Go Pro Cameras, Monogramming by Martha, Andrea's Place Styling Salon, and M.P.H. Promotions. For now, the #7 Non-Winged Sprint Car from the Fedewa Motorsports stable will sit idle for the time being.
For more information about Trevor Berry and the Berry Racing Team and to inquire about any other additional sponsorship opportunities for the rest of the year, log onto the website at: www.berryracing.com. You can also follow Berry on his Facebook Fan Page by going to: www.facebook.com and search for "Berry Racing Incorporated and click on "Like". Finally you can also follow the team on the Twitter page by going to: www.twitter.com/trevor_berry and click on the "Follow" button.