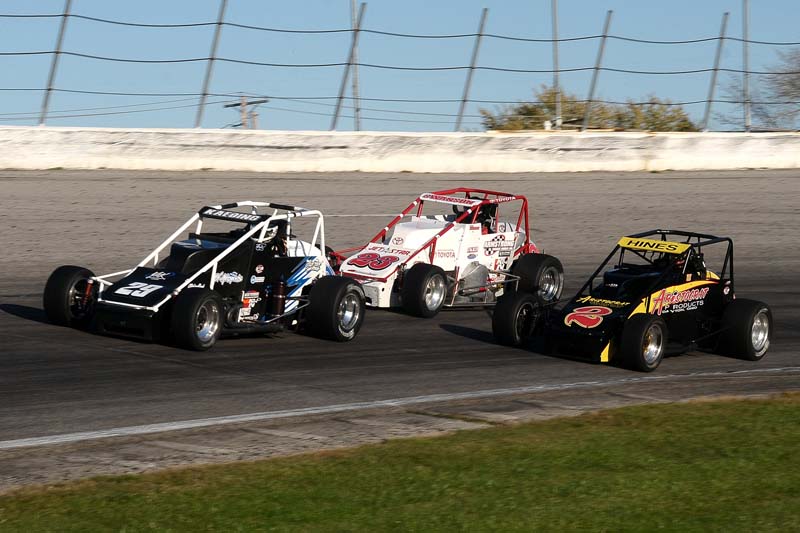 PETERSEN MEDIA
During one of the biggest races of the year at the Ocean Speedway Watsonville, Bud Kaeding piloted the Werbach Motorsports No.20 machine to a third place finish in what was a wild 50-lap feature event.
With limited starts at the speedway during Johnny Key Qualifying events, the third generation driver was forced to qualify for the feature event through one of three B main events.
Qualifying 11th fastest, Kaeding put the immaculate No. 20 machine of the pole of the second B, needing to finish inside the top six for a shot at the 50-lap feature event. Taking advantage of the front row starting spot, Kaeding picked up the win, and earned a birth into the feature event, looking to pick up his second career Key win, and first since 1996.
Starting in the 16th spot, Kaeding would have his work cut out for him, but fans would be entertained as his father, Brent, started in the 15th spot, and his brother, Tim, started in the 17th spot.
Getting off to a slow start, Kaeding steadily worked his machine around the Ocean Speedway Watsonville, looking for openings as he ran inside the top-15.
With a long way to go, the third generation wheelman inched closer to the front as he was in the top-10 as the red flew on lap 25 for a scheduled stop.
When the race restarted, things got wild as the flagman wore the yellow flag out with tangles and spins and a rapid pace.
In five laps, Kaeding had put himself in the fifth spot through cautions and restarts. With one long green flag run at the end of the race, Kaeding was able to work around Shane Golobic for the third spot, as he looked to chase down Rico Abreu and race long leader, Tommy Tarlton.
Though it wasn't for lack of effort, Kaeding ended his night with a very impressive 16th to third place effort.
"What a wild race," said Bud. "We had a pretty good car, and I think that was evident during the first 25. The second 25 felt like we never got going, but we were still able to gain spots on restarts, and put us in contention for the win with a couple laps to go. I have to thank this entire Werbach Motorsports team for their effort tonight."
Kaeding would like to thank Kaeding Performance, Sprint Car Innovations, Alviso Rock, BZE, Factory Kahne Shocks, Racing Optics, K&N Filters, Yak Graphics, ButlerBuilt, and Brown and Miller for their continued support.
STAY CONNECTED: Stay connected with Bud by visiting www.budkaedingracing.com, www.facebook.com/budkaedingracing or following @Bud_Kaeding on twitter.