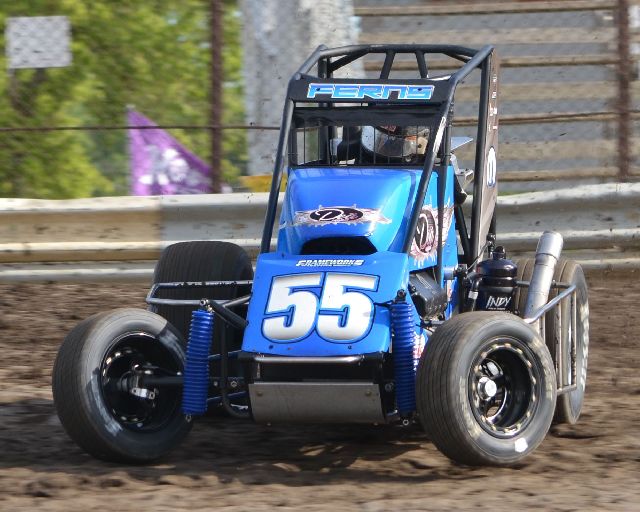 By Ferns Racing PR
Shelby Township, Mich.—September 14, 2012 — Getting laps and set time in a midget on the dirt has been the main objective for Taylor Ferns and her team for a large portion of this season. That trend will continue this weekend as she takes to the track tonight with the Lucas Oil POWRi National Midget Series at Jacksonville Speedway in Illinois for the Herb Barlow Memorial.
Ferns will be making her first start in a midget at the high-banked quarter-mile bullring on Friday, Sept. 14, as she pilots her family-owned No. 55 Dea Eyewear Spike. The race will mark the second event of the season for POWRi at Jacksonville Speedway, which is located in West Central Illinois.
"I'm ready to get back on the track," said Ferns. "It's been a couple of weeks since I raced, so I'm excited climb in the car. We're really focusing on the dirt program to get a better handle on it toward the end of the season. My last five races have all been on the dirt and I feel more and more comfortable each start I make in the midget on the dirt."
Ferns, who is the reigning USAC Mopar D1 Midget Series champion, made her most recent start at Angell Park Speedway in Sun Prairie, Wis., on Sept. 1, during the track's annual Pepsi Midget Nationals. She was running in the Top-10 when a flat tire forced her to the work area. Ferns was able to get the tire changed, get back on the track, and pass several cars to finish 12th in the 30-lap A-Feature.
"Sun Prairie is a little bit bigger of a track than Jacksonville," she noted. "A few of the things we learned at Sun Prairie might apply at Jacksonville. You definitely have to be on your toes at all times on a small, tight track like Jacksonville. It should be a good learning experience and a fun race. Just being in the car and behind the wheel is what's most important."
Ferns has competed in four races this season with the Lucas Oil POWRi National Midget Series, which runs a format based on a draw for starting positions in heat races rather than time trials. Passing points are utilized in the heat races and ultimately determine the starting lineup for the main event.
"There is a lot of strategizing in the heat races with the format they run," explained Ferns. "When you qualify, you are just worried about going flat out and running the fastest lap you can. In some ways it's the same, because you always want to get the most speed out of the car, but in a heat race you have to kind of harness and control that speed."
The native of Shelby Township, Mich., has made 18 starts this season in a midget, with the majority of those coming on dirt tracks. In addition to racing with the Lucas Oil POWRi National Midget Series, she has also competed with the USAC Mopar National Midget Series and the Badger Midget Auto Racing Association. Ferns earned her best-career USAC Mopar National Midget Series finish with a 10th-place performance at Plymouth Speedway in Indiana. The 16-year-old will compete in a number of midget events down the stretch in 2012 on the dirt, beginning this weekend at Jacksonville Speedway.
"The main goal for the weekend is to have a good finish each time I'm on the race track," Ferns shared. "If I can pass cars and have a good result each time I'm out there, then it will be a good weekend. To continually get laps and get a good feel for the car is what we're looking for."
Taylor Ferns and Ferns Racing would like to thank their valued partners: Dea Eyewear, eBay Motors, FK Rod Ends, Frameworks Marketing Group, Lucas Oil, K&N Filters, Lansing Sanitary Supply (LSS), Simpson Race Products, Indy Race Parts, ButlerBuilt, Allstar Performance, Stanton Mopar, Lyn St. James Women in the Winner's Circle Foundation, Race4Girls and Racing2Cure.