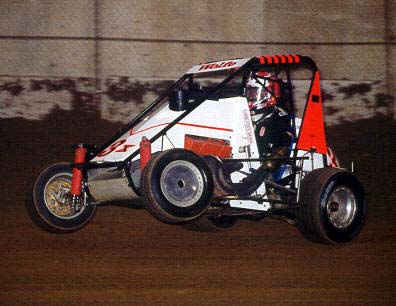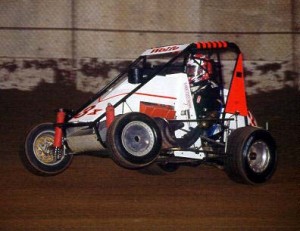 During our first trip to the Chili Bowl Nationals in 2001 we were phoning in updates to be posted on the website.  This process consisted of T.J. running back and forth to a payphone in the Tulsa Exposition center after every race (or two races on feature night) and calling his father Bob who typed up the updates and posted them on the website.  Here is a sampling of the updates from Saturday night of the 2001 Chili Bowl.
January 14, 2001 at 1:05 A.M. EST: A main Finish: 1)Jay Drake, 2) Danny Lasoski, 3) Sammy Swindell, 4) Aaron Fike, 5)Keith Rauch, 6) Paul McMahan, 7) Kevin Doty, 8) Ted Hines, 9) Matt Westfall, 10) Shane Cottle, 11) Steve Knepper, 12) Randy Koch, 13) Wayne Chinn, 14) Chad Farmer, 15) Michael Lang, 16) Travis Miniea, 17( Barry Reed, 18) JJ Yeley, 19) Donnie Beechler, 20) Tony Elliot, 21) Rich Camfield, 22) Kasey Kahne, 23) Jerry Coons, 24) Dave Darland, 25) Jason Leffler
Drake lead the first two laps, until Aaron Fike got around him. On lap ten Darland and Leffler both flipped hard but were okay. Drake passed Fike on lap twenty-six to retake the top spot. Swindell, Lasoski and Fike had a tremendous battle for second the rest of the way. With five laps to go JJ Yeley spun and closed the field up. Lasoski passed Sammy on the last lap for second with Fike finishing third.
The track was excellent for the feature with great racing and many wheelstands.
January 13, 2001 at 12:41 P.M. EST: A Main Top Five: 1) Jay Drake, 2)Danny Lasoski, 3)Sammy Swindell, 4) Aaron Fike, 5) Keith Rauch
More in a few minutes
January 13, 2001 at 11:53 P.M. EST: B Main # 1: 1)Travis Miniea, 2)Dave Darland, 3) Barry Reed, 4)everbody Wayne Chinn from 16th
Some cars that didn't make it. Boorse, Shane Stewart, Critter Malone, Mark DeBeaumont
B Main #2: 1)Kasey Kahne, 2) Rich Camfield, 3) Steve Knepper, 4) Chad Farmer
Drivers not making the feature from this one, Tracy Hines, Sarah McCune,Craig Dollansky, John Wolfe
Steve Knepper finished third but flipped at the finish. Not sure how much damage he suffered.
They are digging up the track again for the A Main.
A Main Lineup
1) Jay Drake (2) Sammy Swindell
3) Aaron Fike (4) JJ Yeley
5) Tony Elliot (6) Jerry Coons Jr
7) Shane Cottle (8) Paul McMahan
9) Ted Hines (10) Matt Westfall
11) Randy Koch (12) Keith Rauch
13) Donnie Beechler (14) Michael Lang
15) Danny Lasoski (16) Kevin Doty
17)Travis Miniea (18) Kasey Kahne
19) Dave Darland (20) Rich Camfield
21) Barry Reed (22) Steve Knepper
23) Wayne Chinn (24) Chad Farmer
January 13, 2001 at 10:37 P.M. EST: D Main #1: 1)Glen Carson, 2) Bill Baue, 3) Mike Farmer, 4) Jimmy Stitzel
Two flips in this one
D Main #2: 1)Dennis Mann, 2) Tyce Carlson, 3) Wes Carner, 4) Robert Marfia
Smoke got collected in one of the wrecks and is done for the night. Leffler will take a provisional
C Main #1: 1) Thomas Meseraull, 2)Dave Strickland Jr, 3)Gary Wright, 4)Jack Hewitt
Three cars turned over with no injuries.
C Main #2: 1) John Starks, 2) Joe Boyles, 3) Roger Miller, 4) Ricky Shelton
Two more flips makes 54!
A main hot laps have taken place with Lasoski fast. But the track slicked off pretty bad and caused lots of crashes. Right now they're digging up the track and going to water it.
It's going to be non-stop once they get the B's going, so TJ may not call until the A is over.

January 13, 2001 at 8:19 P.M. EST: TJ reports that Jack Hewitt has raised over $4,400 for Tulsa area abused children from rides in his two seat sprint car. Tonight Hewitt has the wing on and is running some very fast laps.
So far this week 44 cars have found themselves upside down. If a flip is not of a serious nature, the red flag is not used and the cars are routed through the infield
January 13, 2001 at 8:13 P.M. EST: E Main #1: 1) Kelly Pendleton, 2)Jerry Kobza from ninth, 3) David Fuhrman in a Kenyon midget, 4) Kenny Bernard
Doug White, that transfered from the F flipped as did Fireball Hartley. Neither were injured.
E Main #2: 1)Edwin Wilson, 2) Smoke Johnson, 3)Robert Marfia, 4) Dean Franklin in for Mike Fulper
Smoke went from last to 3rd in three laps, but Robert Marfia gave him all he could handle.
Four cars transfer to the D mains.
January 13, 2001 at 6:50 P.M. EST: F Main #1: 1) JD Turner, 2) Doug White after a good battle with Jim Sawyer
#72 Chris? Tarrant flipped
F Main #2: 1) Smoke Johnson, 2)Robert Marfia.
It's reported Smoke is the long lost son of Ted Johnson, and is related to Fireball Hartley and was racing to help Fireball pay for the catch fence after going out of the park the other night

January 13, 2001 at 5:33 P.M. EST: Smoke Johnson will start at the tail of the second F main shortly. Jack Miller says " whoever this kid is, he is GOOD!"  Smoke will drive a WilkePAK car.

January 13, 2001 at 5:25 P.M. EST: Racing is about begin in Tulsa with a host of features ready to roar into action.
Two F Mains: 10 laps with the top two to the E (14 cars)
Two E Mains: 10 laps with the top four to the D (14 cars)
Two D mains: 12 laps with the top four to the C (18 cars)
Two C mains: 15 laps with the top four to the B (18 cars)
Two B mains: 20 laps with the top four to the A (18 cars)
All 180 or so cars will race tonight, filling out the 24 car feature field. Feature is 50 laps
A main top 16 thus far
1) Jay Drake (2) Sammy Swindell
3) Aaron Fike (4) JJ Yeley
5) Tony Elliot (6) Jerry Coons Jr
7) Shane Cottel (8) Paul McMahan
9) Ted Hines (10) Matt Westfall
11) Randy Koch (12) Keith Rauch
13) Donnie Beechler (14) Michael Lang
15) Danny Lasoski (16) Kevin Doty