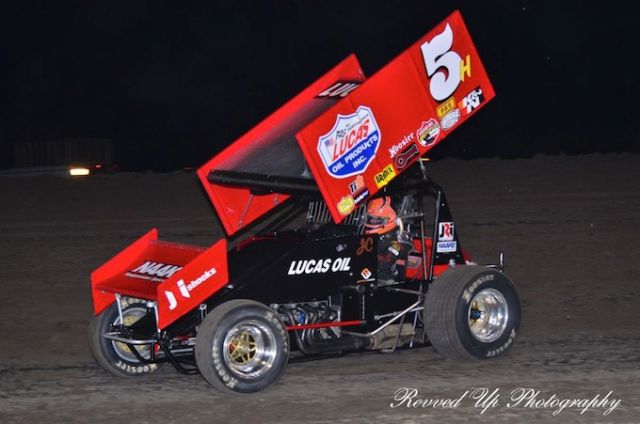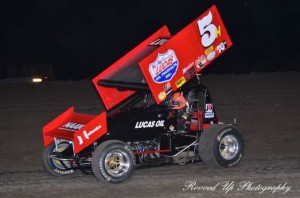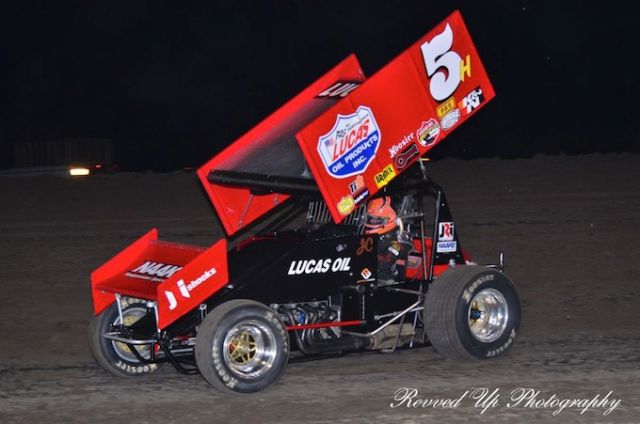 From Peterson Media
Making his first start at the Silver Dollar Speedway in nearly a year, Justyn Cox and his Harley Van Dyke Motorsports team turned in a solid weekend as they scored fifth and sixth place finishes.
"It was nice to have solid finishes on back to back nights," Cox said. "We had a really strong car on Saturday, I just took too long to get off the bottom, and we kind of got freight trained."
On polar opposite racing surfaces, Cox shined on both nights showing the speed he has shown at the speedway in years past.
Friday night greeted cox with heavy, rough racing surface, which tested the condition of the drivers.
With 29 cars checked into the pit area, Cox timed his K&N Products/JSI Shocks/Rodgers Racing Engines machine in seventh fastest, putting him fifth in the third heat race.
Working the bottom of the speedway looking to get into a transfer spot, Cox's No. 5h, biked, and the youngster nearly tipped over, but did lose a left rear tire. He would make the change, but would come up just short, and finish fifth.
Starting fourth in the B, Cox let it all hang out, as he gained a couple spots, and put his machine in the second spot, behind Andy Gregg, and transferred to the feature where he lined up in the sixth spot.
On what was a very wild feature event, Cox held on tight, as he bounced around the Silver Dollar Speedway, and got up into the fourth spot with just a few laps to go.
Working in traffic, Cox got held up for a split second, and slipped back to fifth, where he would end up finishing.
"It was a tough track, but we had it free enough where I just had to drive it hard to keep it from biking to much," he said.
Saturday night saw a completely opposite track, that was slick from the sunny, windy day.
Again qualifying seventh, Cox started fifth in the third heat but this time he was able to make a great move on Brandon Wimmer exiting turn four, which put him in the lead on the third lap. He would go on to win the heat, and ultimately start on the pole.
With the track extremely slick, Cox grabbed the early lead, as he worked the bottom of the speedway.
Out in front, a few cars behind him elected to try the top side of the speedway, and it worked out for the, but Cox slipped back, to fifth in just one corner.
After he was freight trained, he too moved up to the top, but was back in the sixth position.
Working the cushion, Cox maintained, but wasn't able to get back in the top five, and settled for a sixth place finish.
"I would of never guessed that race would of gone around the top," he said. "I thought we were good on the bottom, but once guys went up stairs, I was a sitting duck until I saw room and moved up."
Justyn and his VanDyke Motorsports team would like to thank K&N Products, JSI Shocks, Rodgers Racing Engines,  JRD Endeavors, Sacramento Theatrical Lighting, and College Cyclery for their support during the 2013 season.
2013 BY THE NUMBERS: Races-7, Wins-0, Top 5's-1, Top 10's-2
ON TAP: Cox and the Van Dyke Motorsports team will be in action on Saturday night at the Marysville Raceway Park for the California Civil War Series season opener..
STAY CONNECTED: For the latest news on Justyn become a fan of his on facebook at www.facebook.com/JustynCoxRacing or follow him on twitter @justyncox_jc.