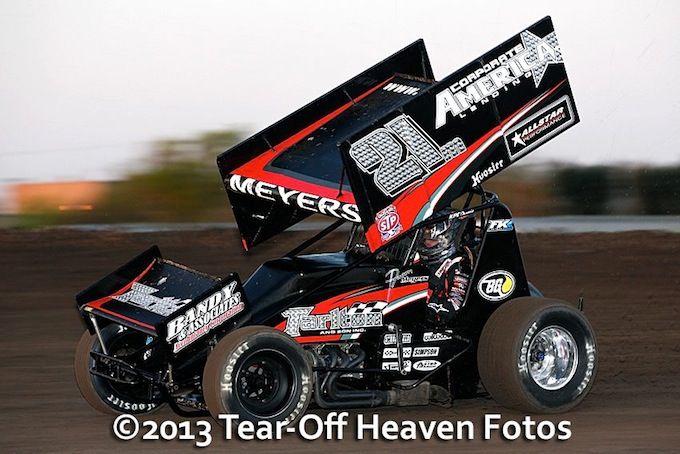 PETERSEN MEDIA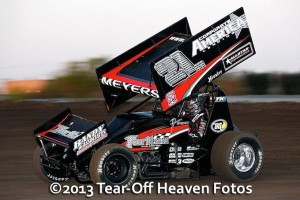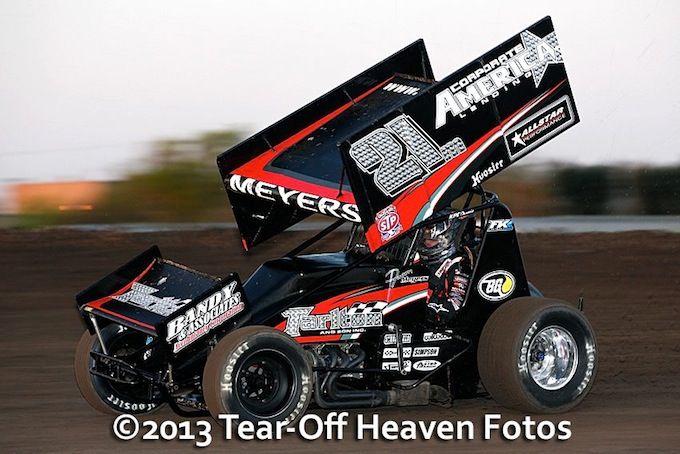 A narrow track and a bad starting position led to Jason Meyers and his Tarlton Racing team scoring a 15th place finish with the World of Outlaws Friday night at the Merced Speedway in Merced, CA.
A 14th place qualifying effort by Meyers aboard his Corporate Lending America/Tachi Palace and Casino/Tarlton and Son entry narrowly missed the heat inversion, and lined him up in the third row of the second heat.
With passing at a high premium through much of the night, Meyers held on to his fifth spot, and would take the automatic transfer to the 40-lap feature event.
"The track was narrow most of the night, and we knew the bottom would be the preferred line heading into the feature, so we knew we would have to maintain, and hopefully capitalize on some mistakes," Meyers said.
When the 40-lap feature got underway, cars jockeyed for position, as they fought for real estate on the bottom of the Merced Speedway.
Working back in the 14th and 15th spots, Meyers battled with the likes of Terry McCarl and Steve Kinser as they swapped spots, and alternated bouncing off the infield berm.
With single file restarts being used due to the tight track confines, restarts were not as beneficial, and Meyers would end his night with a 15th place finish.
"We knew it was going to be tough starting in the back, and know we need to time in better," he said. "Our was okay most of the night, it was just nearly impossible to get moving forward, unless people dropped out in front of you."
Tarlton Racing would like to thank Corporate Lending America, Tachi Palace and Casino, Tarlton and Son, Bandy and Associates, Pro Signs, BG Lubricants, All Star Performance, Winters Performance, XYZ Machining, Factory Kahne, Carillo Rods, Victory Valves, Kinser, Fel Pro, Bosch, Brown and Miller, and Astro Titanium for their continued support.
2013 BY THE NUMBERS: Races-8, Wins-0, Top 5's-, Top 10's-2.
VIDEO: Check out the action from Tulare by clicking over to- http://petersenmediainc.com/up-and-down-weekend-for-meyers/
ON TAP: Jason and his Tarlton Racing team will return to action this coming Friday at the Antioch Speedway, before heading to the Calistoga Speedway on Saturday night.
STAY CONNECTED: Stay connected with Tommy by visiting www.tommytarlton.com or follow @Tarlton_Racing on Twitter.