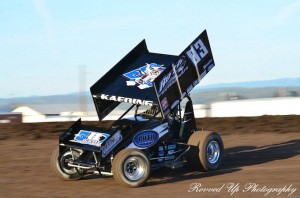 From Peterson Media
Tim Kaeding continued his hot streak with the World of Outlaws, as he scored his seventh top five with the series in nine starts, by way of his fourth place effort on Friday night at the Antioch Speedway.
"I am having a blast driving this Roth Motorsports car right now," Kaeding said. "It's awesome to be so competitive with these guys (World of Outlaws) on a nightly basis."
TK started the night off by timing his Roth Enterprises/HR Livestock Transportation/3H Cattle machine in with a very strong third quick on the lightning fast track.
Starting in the second row of his heat, Kaeding was able to get a big run in turns one and two to jump into the second spot, as he chased down Jason Meyers.
Settling for second, Kaeding would qualify his Mobil1/FK Rod Ends/Weld Wheels backed entry for the dash, and transfer directly into the feature event.
Starting in the sixth position in the dash, TK would get in line and go, as the track was still very fast, and he wound up finishing fifth, putting him in the third row for the feature.
When he hit the loud pedal, as the green light flashed, Kaeding worked into the fourth spot, where he battled with Cody Darrah and Sammy Swindell early in the feature.
Getting around Swindell for good, TK had lost ground to Darrah as he looked to take over the third spot.
Getting the position at the halfway point, the duo continued to 'duke-it-out' as they chased down Joey Saldana.
With lapped traffic playing a huge factor in the race, TK made a wrong choice with just two laps remaining, and lost the third spot to Darrah, and went on to finish in the fourth spot.
"I can't thank Dennis and Teresa Roth enough for this team they have surrounded me with, and this great equipment," he said. "Troy and my guys worked hard all night, and it's nice to get another top finish."
Tim and his Roth Motorsports team would like to thank Roth Enterprises, HR Livestock Transportation, 3H Cattle,  Mobil1, FK Rod Ends, Weld Wheels, Brown and Miller Racing Solutions, Kent Performance, Kaeding Performance, and Astro Titanium for their support in 2013.
2013 ROTH MOTORSPORTS BY THE NUMBERS: Starts-9, Wins-2, Top 5's-7, Top 10's-9.
ON TAP: TK and his team will be back in action on Friday night at the Kings Speedway in Hanford, CA, and then on Saturday night at the Perris Auto Speedway in Lake Perris, CA.
STAY CONNECTED: Stay connected with Roth Motorsports by checking out their new website, www.rothmotorsports83.com. You can also follow Tim on Twitter by following @tkaedingracing.