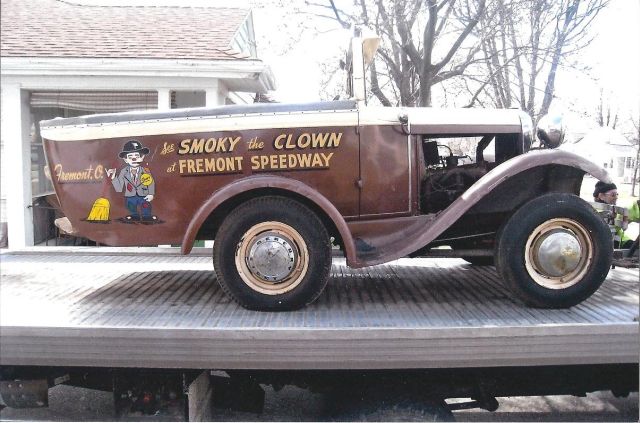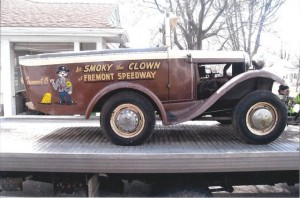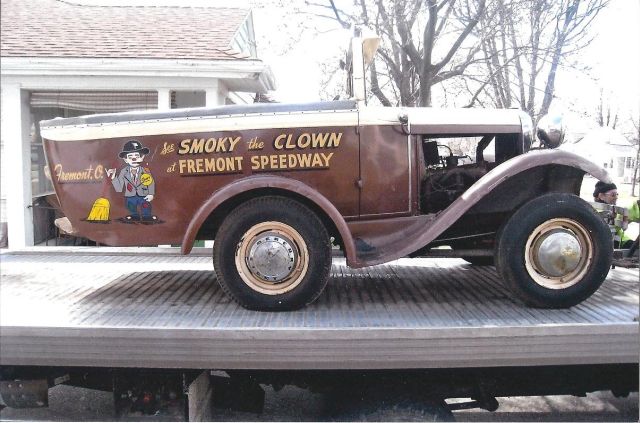 From Brian Lisaki
Fremont, OH — (April 9, 2013) — The Fremont Speedway Historic Club – thanks to the family of Phil Huss aka Smokey the Clown – has added to its collection, the 1931 Model A Ford "Leapin' Lenna and the 1947 Crosley. These cars will be used for special occasions at Fremont Speedway and local parades, etc. The family of Phil Huss has also donated many items of Smokey's to be displayed in the hall of fame.
The 2013 Fremont Speedway Hall of Fame Induction Ceremony will be held Saturday, June 8 at 2:30 p.m. (rain or shine) under the covered grandstands. Induction class for the Fremont Speedway Hall of Fame for 2013 – drivers, Al, Steve and Dick Liskai, Paul Dewald, Bill Hahn, Gordon Holbrook and Randy Ford; mechanics Sonny Conger and Mervin Keegan; car owners Larry Keegan and Don Eckhardt; and special service Phil Huss (aka Smokey the Clown).
The 2013-14 Fremont Speedway Historic Club memberships will be on sale June 8. Currently there are 130 members and we would like to see that number grow. It is a minimum donation of $20 for a year membership and the members vote on who is inducted into the Hall of Fame.
The Fremont Speedway Historic Club's gun ruffle to raise funds for a wheel chair lift to transport fans to the covered grandstands is under way. Tickets are $10 each for a chance to win a model #37 Ithea Shot Gun custom engraved with the Fremont Speedway logo and the Hall of Fame logo with gold inlay. The gun has a AAA fancy black walnut stock. The winning ticket will be pulled Saturday of the Jim Ford Weekend, Sept. 14.
For more information contact Fremont Speedway Historic Club members Randy Mapus at mapus09@aol.com or Brian Liskai at liskai2x@roadrunner.com