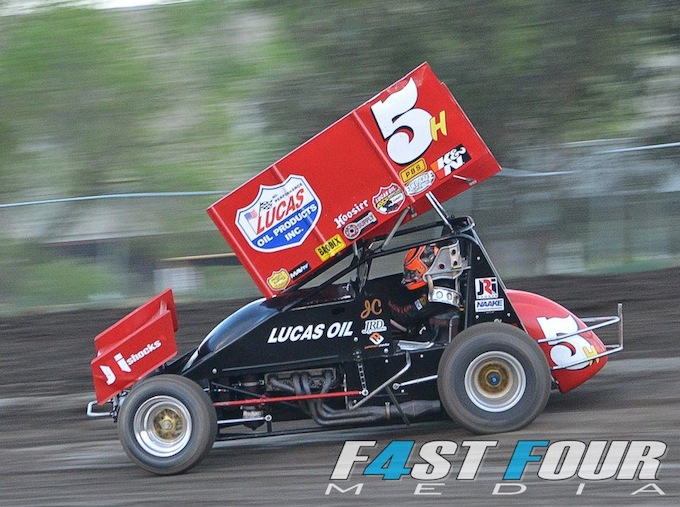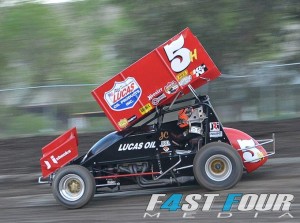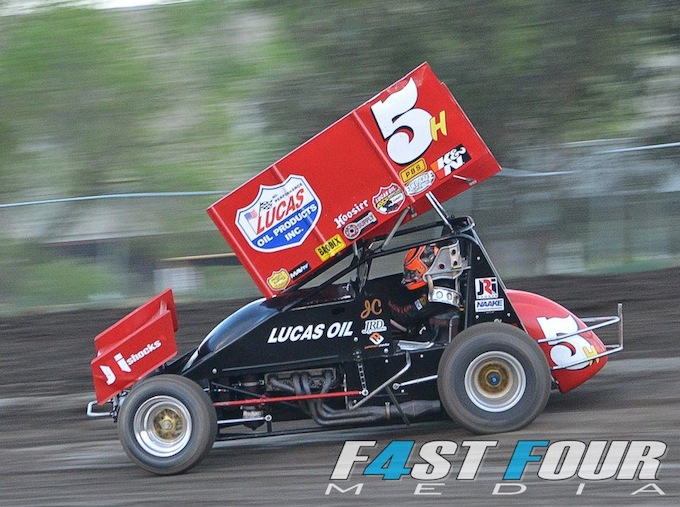 From Peterson Media
With a pair of strong finishes under his belt from Hanford and Tulare, CA, Justyn Cox and his Van Dyke Motorsports team headed to the Petaluma Speedway on Saturday night, and left the track with the trophy as they earned their first win of the year.
Timing in third quickest, Cox lined his Lucas Oil/K&N Products/JSI Shocks machine up in the third row of his heat, and scored a third place finish on what was a very slick racetrack.
Starting on the front row for the feature event, Cox looked to score his first career win in his home state.
When the green light's flickered, Cox got the jump and immediately dove to the bottom of the speedway, and he worked to a comfortable lead.
Getting into traffic by the fifth lap, Cox had near disaster as his Rodger Racing Engines powered machine got into a slower car, and Cox's No.5H got up on two wheels, and he lost a few spots, however, he was bailed out by the yellow flag.
The ensuing restart saw Cox motor away from the field as he led the next six non-stop laps before the caution bunched the field back up for the final time on lap 12.
Committed to the bottom, Cox looked to fend off a pesky Bradley Terrell, who was making ground up by using the top, as he closed in on Cox with just five to go.
With a gaggle of lapped cars in front of him, Cox guessed wright, and ended up taking home his first win of the year, and his first win in the Golden state.
"It is awesome to get a win, and keep this momentum behind us," Cox said. "With this race being in Petaluma, I have to dedicate the win to Marcus Johnson, and the Johnson family. Chase (Johnson) is a good friend of mine, and was the champion here last year, so I really take pride in winning here. Harley and Fez and working hard, we are all clicking, and hopefully we can keep this rolling."
Justyn and his VanDyke Motorsports team would like to thank Lucas Oil,  K&N Products, JSI Shocks, Rodgers Racing Engines, K1 Safety Gear, JRD Endeavors, Sacramento Theatrical Lighting, and College Cyclery for their support during the 2013 season.
2013 BY THE NUMBERS: Races-10, Wins-1, Top 5's-4, Top 10's-5
ON TAP: Cox and the Van Dyke Motorsports team will return to the Thunderbowl Speedway on Saturday night.
STAY CONNECTED: For the latest news on Justyn become a fan of his on facebook at www.facebook.com/JustynCoxRacing or follow him on twitter @justyncox_jc.